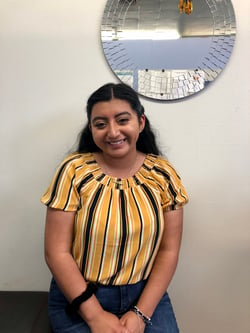 "When one person mentors, two lives are changed."
This quote, attributed to author Kevin Sessums, played a key part in Amanda's scholarship submission. The fourth year student with San Francisco State University's HSS Peer2Peer mentorship program was quite eloquent about how being a mentor had changed her, saying, "through mentoring, I've learned to become more outgoing - because it was my role to reach out to my mentees and to check in on them regularly. So it really pushed me."
When it came time to create a guide for advising others along their mentorship journey, Amanda created a beautiful brochure highlighting "6 Tips for Becoming a Supportive Mentor." Peppered with motivational quotes like the Sessums' one above, it also featured thoughtful and actionable advice for budding mentors like "Set goals and expectations" for the mentorship experience, "take care of yourself" as you share your heart and mind with your mentees, and one of our favorites across all the submissions: Allow your mentee to make decisions. She went on:
It may be tempting to tell your mentee exactly what to do in situations. Your role as a mentor is to help them through these situations by supporting them, rather than figuring it out for them. This is important because it allows the mentee to think for themselves and create important skills.
Today, we congratulate Amanda for her exceptional submission, share our gratitude for her willingness to help other mentors and mentees thrive, and look forward to hearing of her progress as she pursues her goal of becoming a Speech and Langauge Pathologist working with diverse families and children. Thank you for sharing your journey and experience with us and the Mentor Collective community!
The Mentor Collective Scholarship is an ongoing initiative designed to help first-generation students fund their educational pursuits with a onetime grant for its winners. This year's winners each received $750 for their submissions, which featured a testimonial of their mentorship experience and a mentorship guide to help new mentors and mentees make the most of their time together.