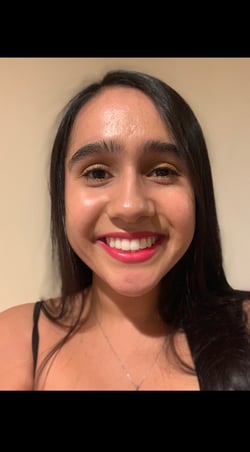 It's a wonderful thing to be able to see potential in someone, and Bella's scholarship submission was an unmistakeable display of what's to come for the third year student at California State University, Northridge.
Bella told us that her goals include graduating with degrees in Child and Adolescent Development and Early Childhood Development. And believe it or not, we saw those qualities shine through in her submission! Her mentorship guide featured six tips for success as a mentee, and included a measured and patient walk through of the resources Mentor Collective has to offer its participants. We really appreciated getting to not just see what Bella valued from her mentorship experience, but also how she carefully considered how to convey these lessons to newer mentees.
One of our favorite tips addressed a challenge we often hear from mentees: what to do if your mentor checks in but you're doing okay. Bella's advice for this was concise and thoughtful: respond, in brief! "Keep in mind, it doesn't have to be long!" she shared. "If you're busy and you just want to let them know where you are in your walk, you can tell them. It doesn't have to be long if you're short on time."
Bella, we want to take the time to thank you for sharing your story with us, express appreciation for your willingness to guide new mentees on the first steps in their walk, and wish you luck in all that you plan to pursue! Trust us, you're off to a fantastic start.
The Mentor Collective Scholarship is an ongoing initiative designed to help first-generation students fund their educational pursuits with a onetime grant for its winners. This year's winners each received $750 for their submissions, which featured a testimonial of their mentorship experience and a mentorship guide to help new mentors and mentees make the most of their time together.