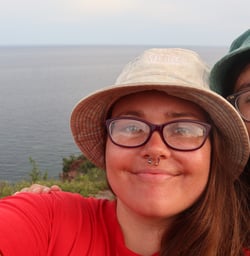 It's incredibly rewarding for the team at Mentor Collective to see our mentors and mentees attribute their growth to these powerful relationships. With that in mind, it's easier to understand why this sentence from Brianne's submission grabbed our attention: "The experience provided me perspective on how far I've come, which is really motivating during times when I'm really burnt out."
Brianne was speaking about the chance to help guide a mentee through a difficult academic experience that echoed her time with that course years ago. Now in her fifth year of coursework at California State University Northridge and working in pursuit of a teaching credential, Brianne really appreciates the opportunity to share these lessons with other students. "Mentors are aids of growth and support to mentees. And mentorship is rewarding because altruism just feels good."
Brianne mentioned that she loves creating videos; that love shone through brightly in her submission, a video guide for new mentors. We're particularly appreciative of the advice the shared for if a mentee stops responding to messages, a challenge that occasionally frustrates mentors:
If any of your mentees stops responding to messages, stay calm and try not to take it personally. Everyone is going through different struggles and you never know what may have happened. Reach out once [and] be kind and supportive, before reaching out to Mentor Collective to let them know you need help.
Brianne, we're grateful for your patience and altruism, and for your willingness to share your earned wisdom with the Mentor Collective community. Best wishes as you complete your coursework - if your materials are a preview of what you'll bring to the classroom, you're about to have some very lucky students!
The Mentor Collective Scholarship is an ongoing initiative designed to help first-generation students fund their educational pursuits with a onetime grant for its winners. This year's winners each received $750 for their submissions, which featured a testimonial of their mentorship experience and a mentorship guide to help new mentors and mentees make the most of their time together.