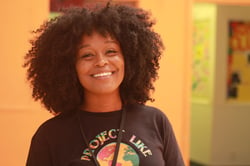 Although an emphasis is often put on mentorship for younger students, Mentor Collective believes it can have value at all levels of education, including students studying at the graduate level and adult learners. So we were thrilled to see Edwina, a first year Ph.D. student at University of San Diego speak so highly of her experience.
As she shared with us, mentorship was crucial for helping her return to the classroom and balance this new role with the rest of her life. The result? A stunning early academic record as well as a new relationship that fortifies her life ("Thank you Anita, for your support and time!", she asked us to share).
In her submission, it was clear that mentorship made life for Edwina, among many other things, easier. So it came as no surprise that her mentorship guide carried the same kind of simplicity. "The 5 Cs of Mentorship" is a poster she designed to help mentors and mentees think quickly about how to best position their relationships for success. It was a wonderful moment to see her final C - Champion: "The mentor and mentee should advocate and champion the cause for mentorship programs to thrive."
Edwina, we're so grateful to have a champion for our work - and we're honored to have it play a role in your successful Ph.D. journey to date. As you continue along the path toward your degree in Education for Social Justice, and to eventually bring your expertise to the community college classroom, we're sending our best wishes for all your success!
The Mentor Collective Scholarship is an ongoing initiative designed to help first-generation students fund their educational pursuits with a onetime grant for its winners. This year's winners each received $750 for their submissions, which featured a testimonial of their mentorship experience and a mentorship guide to help new mentors and mentees make the most of their time together.