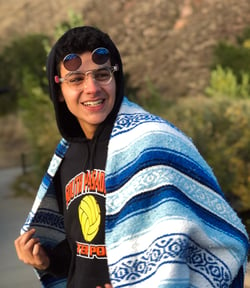 When first year students embark upon a residential college experience, it's valuable to remember that they'll be adjusting to new expectations for classwork, making new friends, and calling a new place home.
Henrique knows this experience firsthand, as a native Californian who relocated to Colorado for school. After successfully transitioning and feeling comfortable in Boulder, he actively sought out ways to help other first year students feel at home too. As he put it, "In came the mentorship program." He went on to share in his submission,
I love teaching these incoming students about my home in Boulder, and I've found that the personalized tips and tricks that mentors acquire over the years are crucial in helping these incoming students assimilate to their new home.
And yet, he also paid close attention to where he could be the most helpful, and where he might need to cede ground in favor of more expertise. An important tip that he shared for emerging mentors in his mentorship guide: "Some mentee problems might be past your skill level. Know when to get outside help!"
This instinct to help, be it by sharing his own learnings or by reaching out to those around him, seems to come naturally to Henrique. When we asked him if there was anything additional he'd like us to share, his response was simple: "If you have the means to help…why not help!"
Henrique, we're grateful that you chose to use your energy, insight, and kindness in ways that help new students make CU-Boulder their home. It was a pleasure to get to learn from you, to let others learn from you, and we send you all our best as your future goals come together!
The Mentor Collective Scholarship is an ongoing initiative designed to help first-generation students fund their educational pursuits with a onetime grant for its winners. This year's winners each received $750 for their submissions, which featured a testimonial of their mentorship experience and a mentorship guide to help new mentors and mentees make the most of their time together.