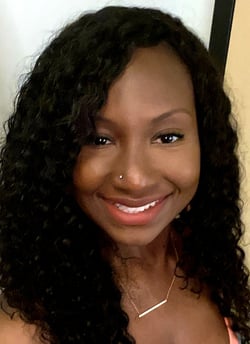 We saw a lot of eloquent depictions of the mentor and mentee experiences across the 100+ scholarship submissions that our committee reviewed, but we'll admit: Jer-Lynn hit us with some pretty impressive wordplay.
Her mentorship guide, "Spilling the Men-Tea: Piping Hot Advice for Mentees" walked mentees new to the experience of mentorship through five minutes of exceptional insight about how to ready oneself for the experience. And with what Jer-Lynn told us about her own mentorship, those who see her guide will be learning from the best.
In her submission, Jer-Lynn was vocal about how her mentor Barron was instrumental in helping her learn the ropes of school after being away for many years - both logistically, and emotionally. "There were many moments when my self-doubt plagued me, and Barron gently steered me back on track by reiterating that I was on the right path and that—in his words—'[you should] stop worrying; you're going to do fine.'"
Jer-Lynn, we have to agree with Barron - we're grateful to have you sharing all that you've learned from your first year in mentorship with him, and appreciate you sharing it with new mentees in such a thorough way. We know your long-term goal is to become a Chief Human Resources Officer and help organizations create strong strategic teams and individuals; we're so glad to know that mentorship is playing such an impactful role in helping you reach it. Best wishes as you continue to work toward that goal!
The Mentor Collective Scholarship is an ongoing initiative designed to help first-generation students fund their educational pursuits with a onetime grant for its winners. This year's winners each received $750 for their submissions, which featured a testimonial of their mentorship experience and a mentorship guide to help new mentors and mentees make the most of their time together.