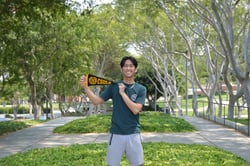 A key part of being a mentee, is learning that you don't have to go through life or reach for your goals on your own. And for Matthew, this revelation was a crucial one - one that helped him not just learn to accept help, but also evolve into the sort of person excited to provide it.
The second year Criminal Justice major shared with us in his scholarship submission,
When the first year of college was over, I knew I had to share my knowledge with other first-generation freshmen. My experience shaped my view of the importance of mentorship by showing me that there are people who are similar to me who are willing to help me succeed in [my] education, and that I don't have to do it by myself.
For someone who identified as "shy and soft-spoken," mentorship was an opportunity to stretch beyond his comfort zone in a few ways. Learning to offer and provide help made the advice in his mentorship guide ring all the more true. Illuminating some of what he likely went into his own mentorship with, he advised new mentors to "recognize and validate mentees' experiences. It is important to empathize with them so that they feel like they belong in a community."
Matthew, we're heartened to see that, in your words, "participating in a mentorship program [...] led you to a community of individuals, regardless of where they came from." What you're bringing to the community of mentors and mentees with GenExcel is valuable, and we can't wait to hear more about how you spread this message.
The Mentor Collective Scholarship is an ongoing initiative designed to help first-generation students fund their educational pursuits with a onetime grant for its winners. This year's winners each received $750 for their submissions, which featured a testimonial of their mentorship experience and a mentorship guide to help new mentors and mentees make the most of their time together.