We are happy to welcome guest writer, Polly Goss, Advisor at Mentor Collective.
It has now been a whole year since universities and colleges worldwide first pivoted to online and hybrid learning. An industry typically slow to change was forced to innovate at a rapid pace and on a scale never seen before. What have we learned in this past year about higher education and student success?
We took this question to a panel of senior leaders from higher education to find out:
Escape the Perfectionist Mindset Trap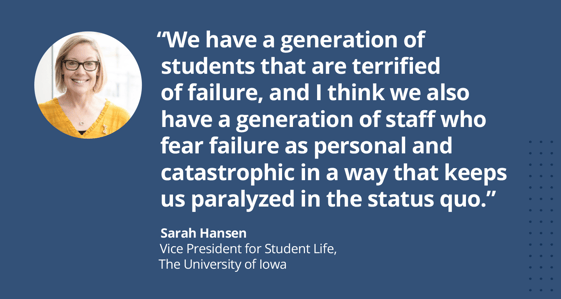 The past year's intersecting crises have shown higher education that a lot is broken, and there is no one-size- fits-all solution. Sarah Hansen, Vice President for Student Life, The University of Iowa, called for higher education leaders to break away from an absolutist mindset and adopt an iterative approach to change advocated by innovative companies like Google. "We have a generation of students that are terrified of failure, and I think we also have a generation of staff who fear failure as personal and catastrophic in a way that keeps us paralyzed in the status quo," she said. "There are no solutions, only strategies," she said, adding that "incremental change is still change, better is better."
Higher education has proved its ability to "innovate and pivot." Still, Lori Reesor, Vice Chancellor for Student Affairs at The University of Wisconsin-Madison, fears that institutions are already starting to revert to their old ways. Administrators and faculty need to be comfortable with piloting new student success initiatives, gathering feedback from students, and iterating over time to drive positive change.
Peer Mentors Ensure Student Success is Not Left To Chance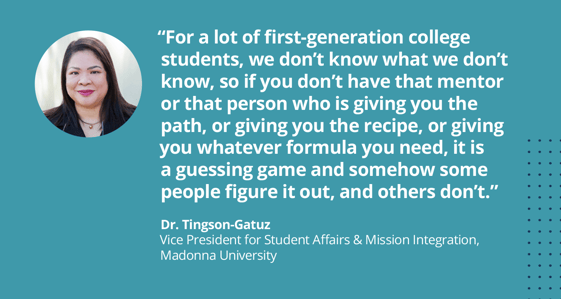 Dr. Connie Tingson-Gatuz shared that Madonna University is focused on "demystifying the path to success." She said: "For a lot of first-generation college students, we don't know what we don't know, so if you don't have that mentor or that person who is giving you the path, or giving you the recipe, or giving you whatever formula you need, it is a guessing game and somehow some people figure it out, and others don't."
Dr. Caryn Chaden, Associate Provost for Student Success & Accreditation, shared that DePaul University has seen some "really exciting" impacts from utilizing peer mentorship to empower traditionally underrepresented students. DePaul partnered with Mentor Collective to support the STARS program, which supports incoming first-year students who identify as first-generation college students, students of color, or pell-eligible. "Students of color, in particular, benefited, and the evidence for that is that more of them came back for their second year than the general population, which was really exciting," she shared.
DePaul University launched Mentor Collective this year to increase student support and success for transfer students. Dr. Chaden shared that of the 25% of the class who opted-into the program, the impact on their Fall-Winter retention was startling. 94.8% of those students continued into the Winter quarter, compared to an 88.3% transfer student retention rate across the university.
Engage Alumni To Mentor Students in College and Beyond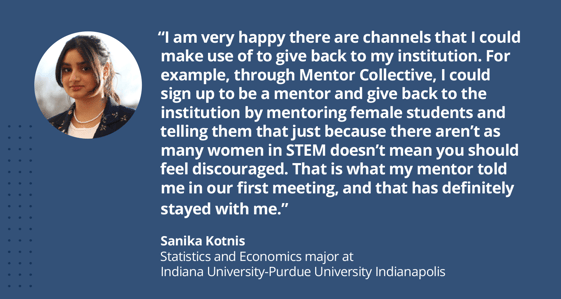 Sanika Kotnis, a Statistics and Economics major at Indiana University-Purdue University Indianapolis (IUPUI), articulated her expectations that her institution will support her throughout her life, not just until commencement. "As an alumnus, I expect to get the resources that are needed to start my professional career," she said. She is also excited to give back to her institution and support future students to be successful. "I am very happy there are channels that I could make use of to give back to my institution. For example, through Mentor Collective, I could sign up to be a mentor and give back to the institution by mentoring female students and telling them that just because there aren't as many women in STEM doesn't mean you should feel discouraged. That is what my mentor told me in our first meeting, and that has definitely stayed with me. And this is something I would like to tell other female students, especially after I have graduated from the institution."
To access the University of Iowa and Mentor Collective roundtable recording, see here. Or get in touch with Mentor Collective today to discuss how we can empower your students through mentorship.