We are happy to welcome guest writer, Polly Goss, Advisor at Mentor Collective.
Mentor Collective and North Carolina Agricultural and Technical State University (NCA&T) recently hosted a virtual roundtable convening leaders from Historically Black Colleges and Universities (HBCUs) across the country to discuss strategies for student success during COVID-19. Here are three key takeaways from the event:
Physical and mental well-being are the top priorities.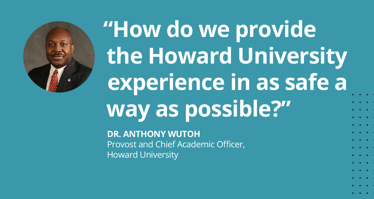 Dr. Anthony Wutoh, Provost and Chief Academic Officer at Howard University, posed the question that universities and colleges have been grappling with since March 2020: "How do we provide the Howard University experience in as safe a way as possible?" He added, "the vast majority of students want to be on campus, want to be able to socialize and get a full academic experience. The majority of our faculty and staff tend to be older, and because we are critically aware of the disparate impact that the pandemic has had on our populations, we have been really careful to try and protect our faculty and staff as much as we could."
The pandemic has put a lot of people's mental, as well as physical, health at-risk. Students across the country have reported struggling with loneliness and anxiety. Dr. Wutoh said, "We are also critically aware of the impact that this has had on our undergraduate students, dealing with issues with mental health, trying to create ways for them to be engaged as a community is something we have really had to think very hard about." Dr. Wutoh urged senior leaders to be mindful that faculty, staff, and students may be struggling with their mental health and well-being during the pandemic. Howard University held student and faculty town hall meetings on mental health to provide support and a safe space for students and faculty to voice their concerns.
Connection is critical.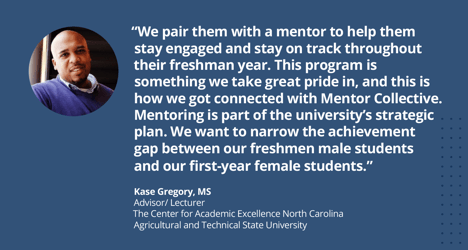 Kase Gregory, Advisor/ Lecturer at The Center for Academic Excellence at NCA&T, shared that their center chose to prioritize intrusive advising and mentorship because they "know that a connected student is one that tends to stay around." Mentor Collective supports the Aggie M.E.N (Male Empowerment Network) by providing incoming freshmen with alumni mentors to connect them to the broader campus community and succeed in their first year. Mr. Gregory shared that the impetus for the partnership was to leverage the high-impact practice of mentorship to increase student success: "We pair them with a mentor to help them stay engaged and stay on track throughout their freshman year. This program is something we take great pride in, and this is how we got connected with Mentor Collective. Mentoring is part of the university's strategic plan. We want to narrow the achievement gap between our freshmen male students and our first-year female students."
Dr. Kimberly Scott, Vice President of Student Affairs, Tuskegee University, echoed the importance of keeping students connected. She shared that Tuskegee University started to "collect data as soon as we went online in March" to get a better understanding of the challenges students are facing. Students at Tuskegee University, like students across the country, have faced challenges around financial, housing, and food insecurity, lack of access to technology, and "a lack of proficiency with online learning in some cases." Dr. Scott added that the student data they collected revealed that some students struggled academically and socially in the online environment. Students who are dropping out are doing so because they lack the relationships and sense of belonging that connects them to the institution. "That desire to leave is really based around connection," she said.
Adopt a holistic approach to technology to increase student engagement.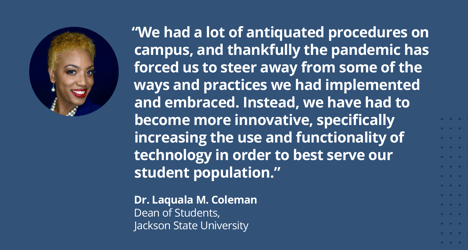 Dr. Laquala Coleman, Dean of Students, Jackson State University, raised the pandemic's potential to act as a catalyst for change across higher education. "We had a lot of antiquated procedures on campus, and thankfully the pandemic has forced us to steer away from some of the ways and practices we had implemented and embraced. Instead, we have had to become more innovative, specifically increasing the use and functionality of technology in order to best serve our student population," she said. Dr. Dawn Nail echoed Dr. Coleman's comments, sharing that NCA&T also had many "antiquated procedures," which were being disrupted due to the pandemic. "We have been enlightened because a lot of the processes, policies, and procedures that we had done previously, simply were antiquated." She signaled the importance of using technology to "meet students where they are at."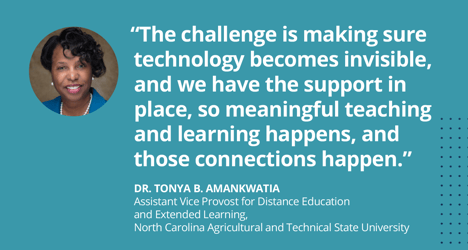 Dr. Tonya Amankwatia, Assistant Vice Provost for Distance Education and Extended Learning at NCA&T, raised the importance of having a "holistic approach to leadership, especially technology adoption, because it is never just about technology." She added that "the challenge is making sure technology becomes invisible, and we have the support in place, so meaningful teaching and learning happens, and those connections happen." She shared how the university extended "the distance education infrastructure to the traditional population" to help prepare students for online learning. NCA&T enrolled traditional students in the online orientation that had previously only been attended by distance education students to increase their self-efficacy around online learning.
The full recording of the roundtable discussion is available here. To start a conversation about how to utilize mentorship to engage and support your students, contact Mentor Collective today.