Adult and online education is on the rise. Some schools are struggling to best support these students. We spoke to a few students in our program, Victoria Upton, an online student at Lehigh University, Misty McElligott, a student at Washington University in St. Louis, and Steven Soares about their experience. They helped us to understand their needs and what schools should consider when advocating for adult and online learners to best serve this growing student population.
Online and Adult Learners are Not Synonymous
The majority of efforts are designed with a "traditional" student in mind ﹣ someone learning on-campus, enrolled with a "full time" course load, and between the ages of 18 and 22. However, Dr. Brian Bourke of Murray State University believes this mindset needs to shift. The National Center for Education Statistics (NCES) reports that 39% of undergraduates are over 25, and the gap in numbers of "traditional" versus "nontraditional" students by age is closing. What's more, online learners aren't by default also adult learners.
Victoria Upton, a student attending Lesley University, shifted into a fully online program after a semester in on-campus classrooms. Contrary to online learner stereotypes, Victoria lives close to her institution -- and could go on campus if she wished. But the online program's flexibility was extremely attractive. Brian used Victoria's story to highlight the need to reframe the definition of "nontraditional" learner:
"...there are seven markers that we usually associate with nontraditional students. And age isn't one of them. We see things related to delayed enrollment, maybe having dependents, enrolled while working full-time, and so on. It's important as we think about who students are today, that we try to reframe [who counts as a non-traditional learner]."
Per NCES's 2016 data, 33% of undergraduates enroll in at least one online course during their college career, and that number increases each year. This means not only are more students taking advantage of this learning method, but that students who engage in these spaces are in need of more support.
Whereas schools may have justified a divided focus on these learners based on numbers, they won't be able to for much longer. There are far more online learners, and the institutions that best engage them will thrive in enrollment, retention, and graduation rates.
Include Innovative Opportunities for Students to Connect
Victoria feels mostly disconnected from her institution. She mentioned on the occasions she drives by with friends who will point and say "That's your school!" there's an initial moment of confusion. Unlike students who prefer a sense of distance from campus, Victoria mourned the gap that exists. "I feel a real lack of connection to the school," she admitted. Looking through the lens of social capital theory, the disconnect that Victoria speaks of implies a lack of generalized norms (how should online students interact with one another?), togetherness (are they truly classmates?), and everyday sociability (what do outside the "classroom" interactions look like, if they're happening at all).
Misty McElligott, a student at Washington University in St. Louis, is strongly benefitting from aspects of social capital theory. In addition to classmates, she also counts advisors as "huge" in ensuring her persistence. Misty is slated to add a Mentor Collective mentor to her network. Her mentor will serve a unique purpose: whereas advisor support may have set boundaries, and familial support might come with less understanding of the challenges at hand, mentorship bridges the gaps of each to offer collegial and targeted help.
There are some quick opportunities schools can take advantage of to improve connection ; for example, Victoria never received a student ID, but expressed that she would feel far more welcome at campus events and accessing facilities. Other changes, such as adding infrastructure for online coffee hours or periodic socials for distance-based learners, may take more time to put together.


Ask Students What they Need
Students are frequently inundated with assessment measures designed to tell us what they're using or how they're doing. But far less common, particularly for adult and online learners, are measures of need. "Sometimes it's a matter of asking students, 'What do you want? What do you feel like you need?'[...] How are we asking questions that can inform our practice in a more deliberate manner?" Brian posed toward the end of the webinar.
Victoria would love a way to get to know classmates as more than just names on a roster or in a comment thread on a message board. Misty, having a greater connection to campus, would like a way to better understand a seeming deluge of available campus resources. "Just trying to find all the resources has been my biggest challenge, even over balancing with family," she shared. In each case, these answers aren't easily obtained by instruments commonly put in place to measure the student experience. In each instance, mentorship emerged as a possible solution. Mentors can provide a sense of connection and tools for creating new social ties, as well as context for someone seeking to navigate their new environment. Faculty, staff, administrators, and mentors all have a role in addressing the answers that students present - and in creating real change inspired by what they articulate.
Mentor Collective mentor and mentee, Steven Soares, talked about mentorship as something all students can benefit from, adult and online students in particular. Of the roles that mentors can play, he believes they are instrumental in goal setting. "[They help students] set time to meet needs for success," he shared, "Breaking it out into milestones and little wins." Given that adult and online learners often keep these types of goals front of mind, a mentor to help guide that process is instrumental in meeting their needs -- and garnering their satisfaction.


One Thing You Can do Today to Improve The Experience of Adult and Online Learners
The easiest thing we can do as practitioners and supporters of this segment of students, is to acknowledge just how diverse their experiences are. "We tend to attempt to fit things in a 'one-size-fits-all' approach," Brian noted. But that approach is no longer effective on campuses, and it's especially ineffective for a type of learning that attracts so many different people. Jackson mentioned that the need for a differentiated approach: "One of the challenges that comes to mind is the diversity of need -- the incredible flexibility of mentoring models is that the larger the network of volunteers, the more diverse the available backgrounds."
Whether your aim is to get to work developing a mentorship program, establishing "virtual coffee hours," or creating more comprehensive resource directories, Brian says the first move as interested administrators is simple: "It comes down to listening to students, and then being willing (as faculty and staff) to get out of our own way to do these things."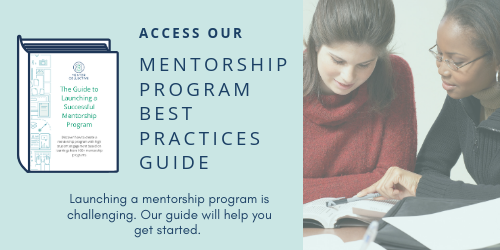 Learn more on uncovering the unique challenges that adult and online learners face in higher education by watching our on-demand webinar here.