How can colleges engage and support all students to be successful in the "new normal"?
In July, Mentor Collective and Dr. Michael Heithaus, Dean of the College of Arts, Sciences & Education at Florida International University, convened over 50 senior higher education leaders from across Florida to discuss student success strategies for Fall 2020 and beyond in the face of COVID-19.

Here is what we learned:

Center diversity, equity, and inclusion.
The shift to a virtual college environment has increased the access and opportunity gaps faced by many students, specifically those students who have been historically underrepresented and underserved. Dr. Heithaus highlighted that for an institution to reach "the base-level" of operating in a remote setting, they need to first ensure all students have access to the technology and Wi-Fi to participate in online learning. The panel discussed the critical role of advisors and mentors in uncovering the barriers students are facing during the pandemic. These mentors and advisors should then be equipped to relay this information to leadership, so students can receive the resources and support they need to be successful within the virtual college setting.
Mr. Antonio Farias, Chief Diversity Officer and Advisory to the President at the University of Florida spoke out about the need for higher education leaders to adopt an "equity mindset", and not to use language that "triggers stereotype threat" when discussing strategies around student engagement and success. Farias said, "We had to unchain from that old concept that we are trying to fix students, or students are 'at-risk'. This is the kind of racist language that is built-into and encoded into our systems [...] that is the white savior model. So we flip that, we flip that model, not to say how do we help students at-risk? But instead, we think about reframing this through thinking how are we as an institution, a primarily white institution historically, how are we putting BIPOC students at risk? That is a different sort of reframing, re-chunking that gets us to see things that before we weren't seeing."
Train and empower your faculty to be ambassadors for student success.
With the shift to a remote learning environment now more than ever, faculty play a critical role in engaging students and ensuring their success. Alongside advisors, faculty are on the front-lines, interacting with students and helping them to navigate the new virtual college experience. Dr. Genyne Henry Boston, Associate Provost for Faculty Affairs and Academic Initiatives/Chief of Staff Florida A&M University, discussed how Florida A&M University had provided online instructional training for all faculty teaching in the summer to ensure "that our faculty were readily trained and equipped and empowered to provide quality online instruction." Dr. Boston shared how central to their faculty's training was ensuring faculty interfaced with the leaders of different support services across the institution. Faculty were then readily able to direct students to the specific support services they need to be successful.
Listen to your students, and meet them where they are at.
A central theme of the panel was the opportunity for innovation afforded by disruption. A key area where university leaders are changing their practices in the light of COVID-19 is how they communicate with students. Ms. Janice Stubbs, Vice Provost, Student Services, Broward College, shared how Broward College was taking advantage of social media platforms like Facebook Live Fridays, as well as text messaging services to build community and gather feedback from their 65,000+ students. Ms. Stubbs advocated for higher education leaders to pay attention to students' voices, "We have to listen to our students because sometimes they have the answers, and they have a sense of what they need." Broward College's advising team's emphasis on relationship building and creating multiple channels for student engagement has resulted in more students meeting with their advisors (virtually), than in previous years.
Today's students, particularly those who are part of generation Z/ younger millennials, are typically more active on social media than via email. Ms. Maria Rosado, Senior Director of Academic Advising Support Services, Florida International University, noted the importance of "finding where the students are and going there, and making sure information is available on these platforms."
Embrace change.
Despite the challenges that higher education institutions, their staff, faculty, and students, are facing right now, the panelists offered an optimistic message to the audience to welcome the potential for change.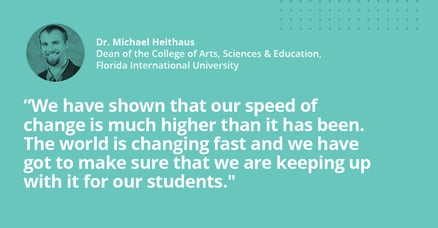 Colleges and universities enacted rapid changes in the Spring of 2020, and have continued to alter how they teach and communicate with students to create an online student experience. Dr. Heithaus reflected on some of the broad learnings for higher education from the pandemic so far, stating that the speed at which higher education adapted to the pandemic demonstrates that the pace of change can be much faster than many higher education leaders previously believed possible: "We have to get rid of this 'this is the way it has always been done' thinking, and get to 'this is the way it should be done. We have shown that our speed of change is much higher than it has been. The world is changing fast and we have to got to make sure that we are keeping up with it for our students."
To view this roundtable's full recording or to start a conversation about how to best engage and support your students, contact Mentor Collective today.