We are happy to welcome guest writer, Polly Goss, Advisor at Mentor Collective.
The University of California Riverside (UCR) partnered with Mentor Collective to launch Campus Collective in September 2020 to connect incoming students with upper-level students serving as peer mentors. Over 2,000 students volunteered to be peer mentors, 67% of whom identify as first-generation students. In the six months since launch, 2,100 pairs have logged 7,000 conversations and exchanged 40,000 text messages.
Here's how UCR Riverside and Mentor Collective created a sustainable virtual mentorship community:
Cast a Wide Net to Engage a Diverse Group of Mentors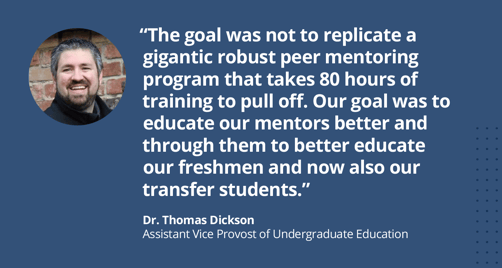 UCR did not impose strict criteria on who could volunteer to be a mentor in the program; instead, they offered the vast majority of returning students the opportunity. "The goal was not to replicate a gigantic robust peer mentoring program that takes 80 hours of training to pull off. Our goal was to educate our mentors better and through them to better educate our freshmen and now also our transfer students," said Dr. Thomas Dickson, Assistant Vice Provost of Undergraduate Education. Mentor Collective provides a live 45-minute training session for mentors to onboard them to the program and their role as mentors in the Campus Collective.
The most common reason cited for volunteering is that students wished they had support like this when they were new. "I'm volunteering because I would have loved to have someone with more experience than me explaining to me common things that sometimes can be scary to ask. Basically, I would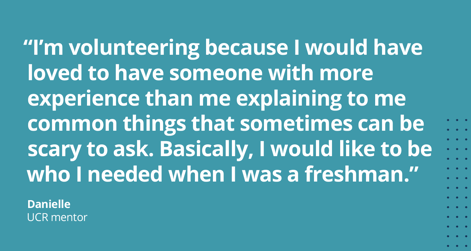 like to be who I needed when I was a freshman," reported Danielle, a UCR mentor.

Create a Mentorship Resources Website
Lisa Des Jardins, M.S. Coordinator in the Office of Undergraduate Education at UCR, wanted to ensure mentors could knowledgeably refer students to campus services. "One of the things that we want is to empower the mentors themselves to solve their mentees' problems, instead of having mentors email us and say, 'My mentee has this problem—can you fix it for us?'" After noticing that many Insight Flags addressed similar topics, she worked with the UCR team to create a specific resource page for mentors. They have received positive feedback on the mentor resource website, and Lisa is now "pretty aggressively sending mentors back to this website."
Share Data-Driven, Timely, Communications to Peer Mentors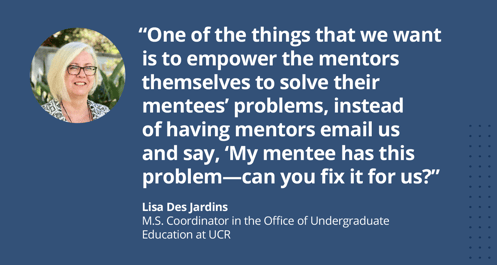 Mentor Collective provides universities with insight into the student experience. UCR is utilizing the conversation trends reported between mentors and mentees to guide their communication to students. "We are seeing that students are logging different topics depending on where they are in the lifecycle of our quarters," Ms. Des Jardins said, adding, "we are able to get behind those trends and reach out to students en masse. We actually send out a monthly newsletter that has timely critical information for students."
Mentor Collective enables schools to send text message nudges to mentors to remind them about specific upcoming events or resources to share with their mentees. UCR utilizes these MC flash text messaging campaigns to supplement their monthly newsletter, helping to ensure mentors get the information they need when they need it.
Embed Mentor Collective Within Your Ecosystem of Student Support
"We launched with the idea of trying to make Mentor Collective something that would be a massive benefit to some of our existing programs," Dr. Dickinson said. UCR directs mentors to other campus resources to help triage individual student issues and to help create an ecosystem of support around students. "We know that students believe peers far before they believe us, so we use Mentor Collective to direct students to Keep Learning, to ScottyBot, to ask.ucr.edu, and a wealth of other campus resources, so that students can find the resources they need to succeed," he said. All of these resources, as well as UCR's pandemic response page, have worked in concert to help students understand the multiple support networks available to them—including Mentor Collective.
To access a copy of the UCR and Mentor Collective webinar recording, see here. Or get in touch with Mentor Collective today to discuss how we can empower your students through mentorship.