Dr. Jeanette Mendez takes the plight of first-generation college students personally.
Her duties as the Interim Provost of Academic Affairs at Oklahoma State University (OSU) call for her to support the progress of all students, but as a first-generation college student herself, she knows firsthand how challenging it is to navigate the hidden curriculum of college without a strong support system.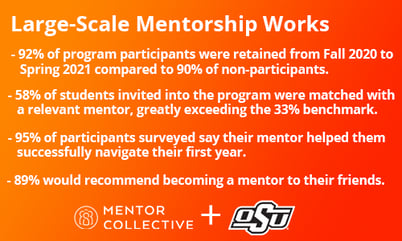 "I'm only where I am today because of mentorship," Mendez said. "I was a first-generation college student on full scholarship. Once I was in college, I relied on my peers to help guide my choices in classes, majors, everything. I ended up loving college and learning because of my peer and faculty mentors."
Because of her understanding of how shared experiences can help build trust and connection, she urged fellow leaders at OSU to deploy a large-scale, structured mentorship program in June 2020 to strengthen how they support incoming students.
"We decided to go all-in and launch a partnership with Mentor Collective for every single one of our incoming 4,100 students," said Mendez. "We had almost 2,300 students sign up, and another 1,700 upperclassmen sign up to be mentors. The numbers are far exceeding what we thought we would get, and we are looking forward to what comes of this. I love seeing every week the number of students that are engaged at a time when engagement is very tough. I think that our partnership with Mentor Collective gets at that land-grant institution mission and who we are trying to serve here at Oklahoma State."
Common Experiences, Uncommon Results
College enrollment rates dropped 4% nationwide in 2020, and many institutions fear a further decline in 2021. Universities have been trying to use virtual events to engage prospective students and bring a sense of enjoyment back into the college experience. However, many students are burnt out from virtual events and are looking for more authentic ways to connect with universities.
Combine these declines in enrollment and authentic connections with the fact first-time college students just experienced the strangest and most challenging first semester in modern times, it's refreshing to see how successful OSU's structured mentorship program—a program that prioritizes relationships built on common experiences—has been in terms of engagement and enrollment.
Building a Culture of Mentorship
Although the numbers may speak for themselves, the experiences of the students involved in OSU's structured mentorship program paint a better picture of the culture of mentorship OSU is building at their institution.
Allison Metzger, a Psychology Major, says that she volunteered to mentor because of the warm welcome she received when she was new at OSU:
"I want to volunteer because when I came to OSU, I had really good friends that came with me and helped me out my first year. I recognize that not everybody has that, and I want to help them find a home at OSU as much as I did my first year here."
Derrick Brown, a Mentor, described his experience and motivation for volunteering:
"I would like to show students that adversity of ANY kind can be overcome when you are offered and utilize the correct resources. I'd also like to be a light to those who don't think 'they are cut out for college.' Learning the overall college way of life does take time, but it's nothing you couldn't do if you were utilizing your resources in the proper ways. Also, taking advantage of the abundant opportunities that OSU has to offer will only make things easier in the long run for the student."
When asked if having access to a structured mentorship program as a freshman would've been a deciding factor for him when choosing between Big 12 schools, Derrick added:
"In the middle of a pandemic, definitely! Having people reach out to me before I started school would provide me a sneak preview of their college and that outreach would help 'psychologically' validate my college decision."
Ella Bingle, a Sports Media Major, spoke to how the program helped her connect with her peers:
"My mentor helped me find out more ways to get involved on campus!"
The Mentor Collective Experience
OSU's structured mentorship program hasn't only benefited students.
Mentor Collective's one-of-a-kind platform helped OSU's admin and staff bring the most effective mentoring models into a scalable, campus-wide system. And because the platform is backed by research and a team of mentorship experts, the team at OSU was able to feel confident that the program design, implementation and assessment were in good hands.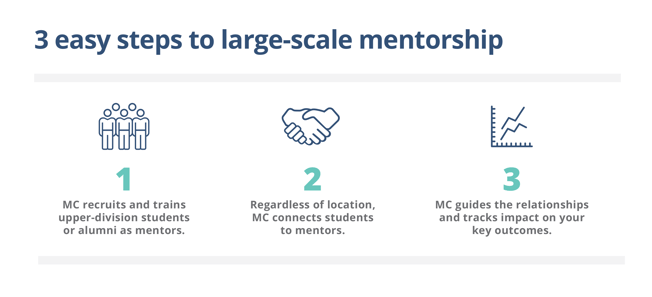 To learn more about Jeanette's approach to engaging students, check out the key takeaways from the roundtable discussion she co-hosted with us in October. To talk to one of our mentorship experts about how you can launch a structured mentorship program, contact us today.