A Fall Full of Uncertainty
In August, Mentor Collective hosted a webinar with Dr. Lisa Slattery Walker, Associate Dean for Advising and Graduation at UNC Charlotte, and Dan Murphy, Director of Student Orientation and Transition Programs at Penn State, to discuss how to welcome students amidst the current uncertainty. Here are some of our key takeaways from the conversation.
Keep it personal
Dr. Walker recommended that higher education administrators "focus on personal touches" to help students feel welcome and supported this Fall. She noted, "easy but important touches of personal emails, text messages...really make a difference rather than the blanket communication that assume students will take the initiative to come to you with their questions. Reach out and ask students if they have questions."
UNC Charlotte has been thinking about how to personalize the student onboarding experience for over a year. "Onboarding" for the Student Success team at UNC Charlotte is the student journey from their first touchpoint with the university through application, enrollment, and the entire first-year experience. Dr. Walker shared how, throughout these conversations, they "kept coming back to peer mentoring as the solution," recognizing that students need a "guide", someone to listen to them and connect them with resources.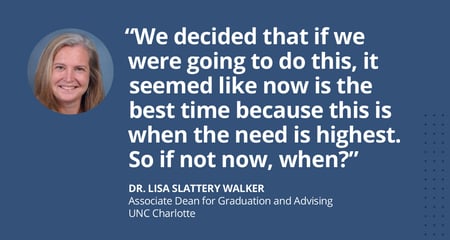 UNC Charlotte, in partnership with Mentor Collective, rolled out a large-scale peer mentoring program to all incoming first-time-in-any-college undeclared students this Summer. Dr. Walker described the response from new students and the 200 upper-division students who volunteered to serve as peer mentors, as "absolutely unbelievable". The disruption to the traditional campus experience this Fall accelerated UNC Charlotte's timeline to launch Mentor Collective. "We decided that if we were going to do this, it seemed like now is the best time because this is when the need is highest. So if not now, when?" The university recognized the struggle that many undeclared students face in feeling a sense of belonging—a trend that is likely to increase in the current uncertain climate—and wanted to provide them with a personal mentor to help them feel connected.
Listen to your students as you create the new college experience.
Murphy advised higher education leaders "to invest your time, energy and resources in working with students to elevate their ideas and to create those opportunities to connect that they are asking for."
Striking a balance between synchronous and asynchronous delivery was a key theme of the discussion. Murphy remarked how, for orientation at Penn State, they had focused on "prioritizing real-time activities with people and then prioritizing asynchronous opportunities with information and resources." Murphy shared that one of the key learnings from virtual orientation was that, "our time in real-time, whether than be in-person or via Zoom or some other tool, should be focused on connection, and sharing information in ways that help build relationships with each other and the institution."
Act as a Higher Education Collective to drive student success
A lot of the discussion around the Fall has focused on the experience of new, first-time first-year students; Murphy, however, highlighted the impact for transfer students as well. Penn State is focused not only on the experience for students transferring from a different institution into Penn State but also on students who change campuses within the Penn State system. Transfer student success is a core issue, not just during the pandemic, but for the future of higher education. Murphy urged higher education institutions to work together to support transfer students. "If it is our goal to graduate educated and enlightened citizens we need to work together as a collective higher education community to help get those students over the finish line, even if it is not at our college or university. That is not easily attained but if we really think about best practices for supporting transfer students, who are going to be the demographic that will allow colleges and universities to continue to operate into the future, we really need to think about how we are better preparing them for that transition, and how we are receiving them."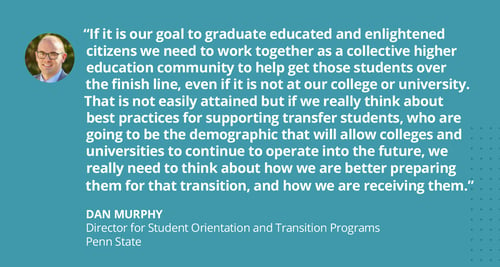 Penn State, in partnership with Mentor Collective, offers over 1,000 students transitioning from one of the regional campuses into University Park, the largest campus, an opportunity to connect with a peer mentor to help them navigate this transition. Being paired with a peer mentor was shown to significantly impact student retention and sense of belonging, demonstrated in the Mentor Collective pilot program at Penn State last year. These promising results, coupled with the hands-on support Mentor Collective provides, motivated the decision to expand the program to ensure change-of-campus students benefit from personalized mentorship and have a smooth transition into their new campus. As Murphy shared, "those of us who work in orientation, transition and retention really understand that initial connection is critical toward students' sense of belonging, feeling connected, and building relationships."
To start a conversation about how to engage best and support your students, contact Mentor Collective today.