We are happy to welcome guest writer, Polly Goss, Advisor at Mentor Collective.
Mentor Collective has facilitated more than 80,000 mentorships across 400+ mentorship programs in the past five years. On December 15th, 2020, we hosted our first virtual masterclass to share best practices about designing, implementing, and managing mentorship programs across the Collective. Here are three of our key takeaways from the event:
Peer Mentorship as Social Mentorship
Traditionally, mentorship in higher education was considered chiefly through an academic lens. The idea of the "older professor" serving as a mentor and the talented "young protégé" in the role of the mentee persists in the popular imagination. Academic mentorship is an essential component of mentorship and higher education; however, the concept of mentorship has expanded to include personal, social, and professional mentorship in recent decades. Mentor Collective supports universities and colleges to harness the social capital within their student and alumni communities to support holistic student development.
Dr. Kim Harvey, Assistant Vice President for Student Engagement at Nazareth College, shared that the pandemic meant that her institution, like many others, became sharply focused on students' "sense of wellbeing." Nazareth College partnered with Mentor Collective in the Summer of 2020 to launch the Big Flyer/Little Flyer Program. Through their partnership with Mentor Collective, all incoming first-year students are given the opportunity to be matched with a trained peer mentor. Students matched with mentors expressed that they felt the program had helped their transition. Students matched with a mentor were shown to be less likely to melt over the Summer than their non-mentored peers.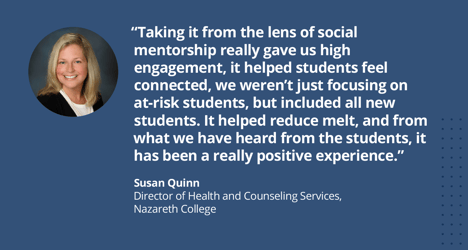 Critical to the Big Flyer/Little Flyer program's positive outcomes is the fact that Mentor Collective is available to all incoming first-year students. Susan Quinn, Director of Health and Counseling Services, shared: "taking it from the lens of social mentorship really gave us high engagement, it helped students feel connected, we weren't just focusing on at-risk students, but included all new students. It helped reduce melt, and from what we have heard from the students, it has been a really positive experience."
Create a Community of Care for Peer Mentors and New Students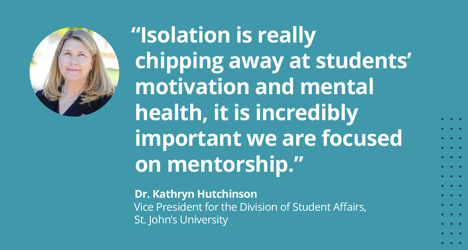 Dr. Kathryn Hutchinson, Vice President for the Division of Student Affairs at St. John's University, commented on the increased need for mentorship in the current climate. "I think that mentorship will be more important now than ever, especially for our first-year students," she said. By the end of January, she does not expect to be readily able to identify who is a first-year student on campus because, for the most part, everyone should be settled into the community. However, Dr. Hutchinson does not expect that will happen this academic year. "Isolation is really chipping away at students' motivation and mental health," she said, adding, "it is incredibly important we are focused on mentorship." One way that St. John's helped new students get connected to the university was by launching the MC peer mentorship program before classes started. Mentor Collective has seen that participating in our programs can increase both mentees' and peer mentors' sense of belonging to the school community.
Dr. Farrah-Marie Gomes, Vice Chancellor for Student Affairs, University of Hawaii, Hilo, characterized UH Hilo's approach to supporting its diverse student population as "communication and care." UH Hilo partners with Mentor Collective to run two peer mentoring programs for incoming students; one to their entire incoming class, and a smaller program specifically tailored to incoming Native Hawaiian students. Dr. Gomes commented on her strong belief in the importance of "mutual benefits for the mentor and the mentee." We are "really looking at that culture of mentorship in a more holistic way and including faculty and staff within that," she said. UH Hilo has seen very positive outcomes from the program to date, including a significant impact on retention with mentored students retained at a 16% higher rate than non-mentored students.
Career Mentorship: Looking Beyond the First-Year-Experience
The economic downturn, coupled with the increased scrutiny on post-graduation outcomes, means that students and schools face increasing pressure to ensure students find work after graduation. Dr. Hutchinson highlighted that St. John's University has "a program connecting alumni to juniors" through Mentor Collective, adding, "it is incredibly helpful we already have that in place." Both alumni and students participated at higher rates this year. Dr. Hutchison attributed this to the fact that many alumni have more flexible schedules to mentor during the pandemic, and students are anxious about finding internships and jobs.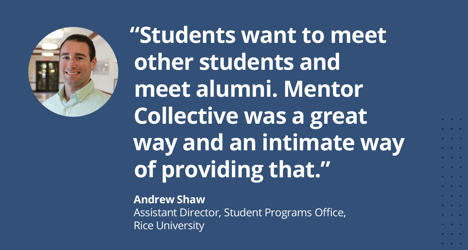 Rice University's Jones Graduate School of Business launched Mentor Collective in the Summer to provide first-year MBA students with a peer or alum mentor. For MBA students, the program has been an essential tool to build their personal and professional networks, "students want to meet other students and meet alumni. Mentor Collective was a great way and an intimate way of providing that," Andrew Shaw, Assistant Director, Student Programs Office, Rice University, said. Additionally, the program has helped to open up new internship opportunities for students. Andrew Shaw, shared how Rice University "worked with these mentors to figure out what companies they are working in, which opened up new avenues for our students that they wouldn't have thought about." Mr. Shaw added that "giving our students more opportunities to be interns is crucial for our rankings and crucial for our student job placement when they graduate."
The full recording of the discussion is available here. To start a conversation about how to utilize mentorship to engage and support your students, contact Mentor Collective today.