We are happy to welcome guest writer, Polly Goss, Advisor at Mentor Collective.
Florida International University's College of Arts, Sciences & Education (FIU CASE) partnered with Mentor Collective to increase first-time-in-college students' sense of belonging through peer mentorship. The partnership is spearheaded by Dr. Michael Heithaus, Dean of the College of Arts, Science & Education, and Dr. Maricel Cigales, Associate Dean of Undergraduate Studies at Florida International University (FIU).
Over 200 upper-division students volunteered to serve as peer mentors and completed training with Mentor Collective. 42% of the targeted students opted to participate in the program, resulting in more than 300 mentorships created since the start of the academic year. On average, mentors' and mentees' sense of belonging increased throughout the program. These findings present a stark contrast to the national trends that suggest students' sense of belonging and well-being is in sharp decline due to the pandemic.
Why peer mentorship?
Dr. Cigales and Dr. Heithaus expressed that peer mentorship had been on FIU's "radar for years" and was internally recognized as a "missing piece" in their student support ecosystem. Dr. Heithaus shared that students who drop out frequently report that "they don't have any connection" to FIU. He continued that peer mentors are a critical "bridge" to "help those students get more involved in opportunities, whether it is getting involved in research opportunities or student groups and clubs."
Why adopt Mentor Collective's model of mentorship?
Dr. Cigales and Dr. Heithaus explained that before partnering with Mentor Collective, they had attempted a departmental mentorship model, where each department was responsible for creating and managing their own peer mentoring programs. While some individual faculty could initiate successful student mentoring relationships, it was challenging to sustain and scale these programs. Inevitably "someone would get busy, and it would fall off," Dr. Heithaus remarked. Dr. Cigales started researching large-scale models of peer mentorship: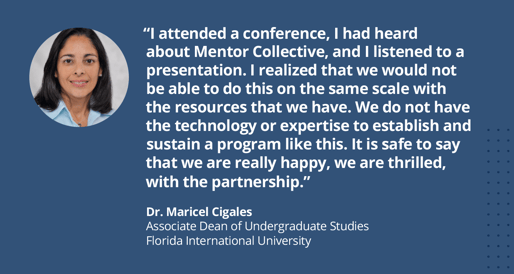 "I attended a conference, I had heard about Mentor Collective, and I listened to a presentation. I realized that we would not be able to do this on the same scale with the resources that we have. We do not have the technology or expertise to establish and sustain a program like this. It is safe to say that we are really happy, we are thrilled, with the partnership."
Dr. Cigales explained how the Mentor Collective program complements and informs the work of advisors. In particular, she highlighted the importance of Insight Flags. Insight Flags allow mentors to report to administrators if they believe their mentee needs additional support or resources in a specific area. Dr. Cigales explained that "the Insight Flags allow our advisors to be even more proactive and catch potentially challenging situations for students very early on to get them to the right resource."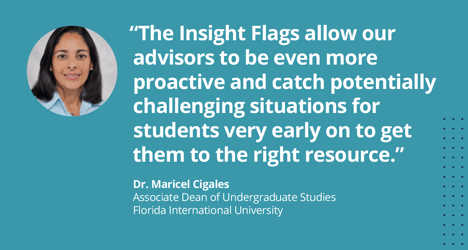 As Dr. Heithaus remarked, a critical barrier to sustaining large-scale peer mentoring programs is staff time. Dr. Cigales shared that she has been pleasantly surprised by the level of personalized support from the Mentor Collective team. "This really takes very little administrative time on our part," she said.
What has been the impact of peer mentorship on student success at FIU?
A critical success metric for Dr. Cigales was student participation in the program, as this shows that students believe they "are getting something out of it." Previously it had been difficult for administrators to gain insight into the level of student engagement in the department-run mentoring programs. Mentors and mentees have reported over 1,000 conversations and exchanged over 5,000 text messages in the FIU CASE Mentor Collective to date.
On average, mentors and mentees reported feeling a stronger sense of belonging within FIU after participating in the program. Valeria, a volunteer peer mentor, shared that being a mentor helped her develop her leadership skills. Frequently, mentoring programs only measure the impact of mentorship on the mentee. Mentor Collective has seen, however, that participating as a peer mentor can increase students' confidence and connection to the institution. Dr. Cigales noted that following MC's best practices, FIU CASE did not restrict the opportunity to be a mentor to only the "high-achieving students." Recruiting from a diverse mentor pool increases the likelihood of finding the optimal match between mentors and mentees. An effective mentor can relate to their mentees and understand their challenges.
David's mentor helped him navigate starting college, from giving him advice on the best places to buy his books, to registering for classes; his mentor has been there to provide ongoing support. Dr. Heithaus recommended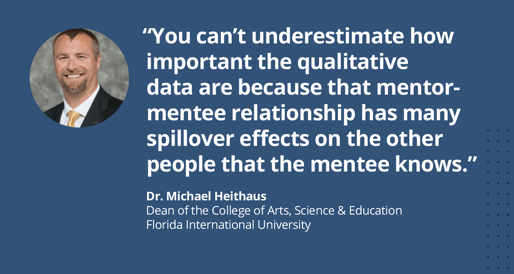 harnessing student voice data to understand the efficacy of mentorship programs. "You can't underestimate how important the qualitative data are because that mentor-mentee relationship has many spillover effects on the other people that the mentee knows." He added that the power of mentorship lies in the "sense of belonging" and support mentees experience because they know "someone is there to listen to them."
You can access a recording of the webinar with Dr. Heithaus and Dr. Cigales here. If you would like to know more about how Mentor Collective can support your institution, contact us today.