With most college enrollments still struggling to retain pre-COVID levels, the often-overlooked group of transfer students is becoming a more important population for institutions. Data shows that while overall higher education lost about 8.4% of transfer students in the 2020-2021 academic year, upward transfers (or those moving from two-year to four-year colleges) fared better, with only a 1.3% decline.
On May 12, 2022, Mentor Collective held a virtual roundtable discussion with higher education experts from a range of institutions and backgrounds to discuss their key strategies for success in prioritizing and centering transfer students as a critical student population.
The roundtable was co-hosted by the University of North Carolina Greensboro (UNC Greensboro)—a minority-serving institution with a commitment to service and one-on-one student care—with guest speakers:
Samantha L. Raynor, Ed.D., AVP for Strategic Students Success Initiatives, UNC Greensboro
Alfred Herrera, AVP & Director, Center for Community College Partnerships, UCLA
Katie G. Burke, Ph.D., Executive Director, New Student Transitions & Family Engagement, Florida Atlantic University
Michele Igo, Associate Dean of Undergraduate Programs, UC Davis
Is Your Institution "Transfer-Receptive"?
Keynote speaker Alfred Herrera, AVP and director for the Center for Community College Partnerships at UCLA, led roundtable participants through the foundations of creating an institutional culture that values transfer students—whether you're on the pre- or post-transfer side of the table.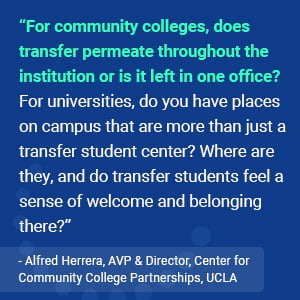 A key element of Herrera's five-part breakdown of building a transfer-receptive culture (TRC) is ensuring that support of and commitment to transfer students is an institutional priority.
"To get a sense of whether transfer is an institutional priority at your school, ask yourself 'Is campus leadership onboard?'" said Herrera, author of Power to the Transfer: Critical Race Theory and a Transfer Receptive Culture. "For community colleges, does transfer permeate throughout the institution or is it left in one office? For universities, do you have places on campus that are more than just a transfer student center? Where are they, and do transfer students feel a sense of welcome and belonging there?"
After expounding more on the crucial elements of the TRC (which can be learned by watching the full recording of the webinar), Herrera encouraged participants to create an action plan to develop or enhance support for a transfer culture on their campus by choosing one goal to pursue that will make an impact.
Establish Relationships across the Table
Next, moderator Dr. George White, inaugural managing director of student access and success (retired) and Professor Emeritus at Lehigh University, led panelists through a deep discussion about key tactics for supporting transfer students in effect at their institutions.
One strategy that surfaced again and again was developing relationships between two- and four-year institutions built on a common goal and prioritizing the transfer student experience.
"Partners want to know 'If I send my students to you, are you going to take care of them?'" said
Samantha L. Raynor, Ed.D., AVP for Strategic Students Success Initiatives at UNC Greensboro and co-host of the event. "'Are they going to graduate? Are they going to feel welcome?' Being able to address those concerns and talk with people about your philosophy of success and why you're interested in transfer students is important. It starts with that first conversation."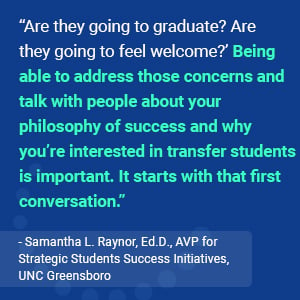 To aid in forming these relationships, UNC Greensboro has applied for and received several sub-awards on collaborative projects that allowed them to work closely with local community colleges and see those relationships flourish. They have also used funding to make investments in personnel and offer financial aid specifically for transfer students.
Include Transfer Students in Mentoring Programs
In another arm of transfer support, UNC Greensboro has partnered with Mentor Collective to create their Transfer2Transfer mentoring program, which Raynor says "fills a huge gap in the 'transitionology' of our transfer students." Supporting 25 percent of incoming transfers, the Transfer2Transfer program helps support a sense of belonging and institutional care by normalizing outreach for help in areas such as academics, career coaching, and mental health counseling.
"Our transfer population represents a wide range of diversity," said Raynor. "Sometimes as institutions we make the mistake of thinking of transfer students as a similar group—for us, we have military-affiliated students, parenting students, adult learners, those studying completely online. There are a wide range of individuals we need to be mindful of when thinking about creating a campus of transfer responsiveness."
Florida Atlantic University (FAU) is another Mentor Collective partner who is growing their mentoring programs to include—and prioritize—the transfer student population.
"Mentoring is a high-impact practice, and if we train mentors the right way, they're the most one-to-one, trusted, engageable audience for transfer students to work with," said Katie G. Burke, Ph.D., executive director of New Student Transitions & Family Engagement at FAU.
"We have a long history of mentoring at FAU, and transfer students told us they wanted to be included in our mentorship offerings. Mentor Collective is helping us scale our First Year Connections program to give them the level of mentoring they deserve."
FAU is proof positive that transfer students want and need mentoring that works for them. In the pilot year of their First Year Connections program, the number of transfer student seeking mentoring exceeded the number of first-time-in-college (FTIC) students.
Mentor Collective roundtables encourage conversation and peer- to-peer interaction. The insights offered were valuable to university leaders as we collectively work to ensure student success. Mentor Collective strives to empower every student to form the relationships they need to build resilience, self-efficacy, and a sense of belonging.
The full recording of the roundtable discussion is available here. To start a conversation about how to utilize mentorship to engage and support your students, contact Mentor Collective today.