We're pleased to present to you the winners of our 2021 Mentor Collective scholarship contest. In the coming weeks, we'll share snippets of essays and videos that our winners shared with us, painting a picture of what mentorship has looked like in this unprecedented year—and how it has provided the support crucial to surviving and thriving through it.
Today, we're saying congratulations to a pair of students whose submissions earned an honorable mention from our scholarship team - Cristina Lee-Castro of California State University - Long Beach's GradMentor Program, and Tristan English of University of Colorado Boulder's A&S Mentor Collective.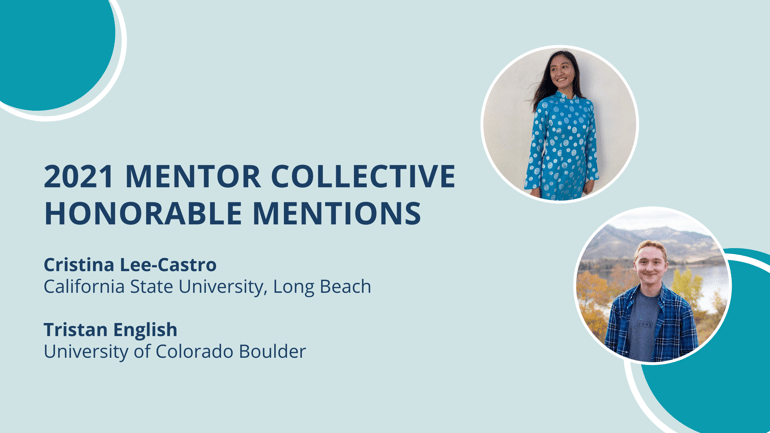 "Before COVID-19, I had never been a mentee because I was always in the position of mentoring and leading others."
This was a truth that Cristina Lee-Castro chose to share with the committee in her scholarship essay - and her position of caring for others was compounded in light of her additional role as a first responder. But thankfully, she chose to take on a mentor to help her manage her first year of graduate school with a demanding job and other family responsibilities. In her video, it became clear that her mentor Lluvia Lastra has given her so much in their short time together
Cristina has big and altruistic goals for herself; when asked, she shared:
My professional goal is to become a Licensed Clinical Social Worker and obtain my Pupil Personnel Services Credential so I can provide therapeutic resources in both a facility and school setting. I want to provide services to people of all races, backgrounds, genders, classes, and abilities.
We couldn't be happier to hear just how much having a mentor helped Cristina on the journey to her goals. After years of being the go-to person in her circles, the sense of relief that came with a new person in her support system was immensely helpful. "I immediately felt the weight off my shoulders fall because I was no longer bearing my burdens alone. I'm incredibly grateful to have been connected to this program because it's been a tremendous support to me."
And speaking of support, first-year Tristan English found himself needing more than he expected during his first year at CU Boulder. Like many students, Tristan found himself navigating the more traditional struggles associated with a first semester (balancing a five course load, finding resources in a difficult class) alongside more atypical circumstances - like caring for grandparents during a natural disaster and mourning the loss of a family member.
As he put it, "I've had to deal with many unfriendly challenges that I couldn't have seen coming. Given these unpleasant circumstances, I can easily say that my mentor has been instrumental in helping me navigate my first semester of college." By reaching out to his mentor Bianca Roman for help, something he admittedly doesn't do often, he got exactly what he needed to help weather this challenging moment.
While it might seem simple, Tristan is overwhelmingly grateful for the support to get his academics back on track. With aspirations of working in animation and VFX (ideally for Pixar), strong grades will be paramount. And he knows now that asking for help along the way will be an important part of that experience:
Through every single one of [my] challenges, Bianca was always there to help. She was nearly always available to talk and suggest resources, and I can't imagine what my first semester would have looked like without her. I don't think I fully realized at the beginning of this semester how much I would need someone to talk to. Still, Bianca made it very clear that just having someone who will listen to you can make all the difference in the world.
Cristina and Tristan: we're both so grateful that you shared your stories with us, and we're happy to know that mentorship has made a difference in this especially challenging moment. We can't wait to see where it takes you next!
If you're looking to create a culture of mentorship on your campus that helps students like Cristina and Tristan, reach out to us to get started.