We are happy to welcome guest writer, Polly Goss, Advisor at Mentor Collective.
On September 16, 2020, Mentor Collective and San Francisco State University hosted a virtual roundtable bringing together over forty senior higher education leaders to discuss how higher education institutions can fulfill their promise to students during the pandemic and beyond. Here are three key takeaways:
Universities and colleges are first and foremost institutions of higher learning.
The COVID-19 pandemic has forced universities to change how they teach students at an unprecedented pace and scale. While adapting to these changes has been challenging for faculty, staff, and students, the panelists reflected that the pandemic has re-centered higher education leaders' focus on pedagogy and student success. Dr. Catherine Koshland, Vice Chancellor for Undergraduate Education, University of California, Berkeley, commented: "I have been at Berkeley since 1984, and I have never had so many conversations about curriculum and pedagogy as I have had in the last 6-8 months. It is truly extraordinary."
Dr. Gail F. Baker, Vice President and Provost, University of San Diego, articulated the profound refocusing that higher education was going through: "academics is at the core of a university or college—and that sounds like a very obvious statement—but think about what it was like before, and how much time we spent talking about parking, and food services, and events. All those things are part of the academic experience, but we didn't spend enough time talking about the mission of academia and why we are here." She concluded, "now it is about students, learning, and outcomes. We have an opportunity to revamp the way we talk about and think about the academy."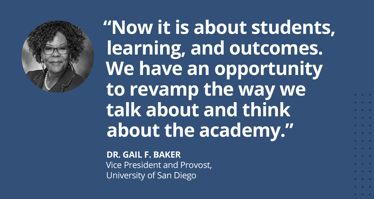 You need to be proactive and intentional in how you support students.
Higher education has profoundly changed in 2020, and panelists agreed that this is not a temporary shift. Dr. Jennifer Baszile, Interim Vice Chancellor for the Division of Student Affairs and Success, University of California, Santa Cruz, called for higher education leaders to "release a set of expectations for going-back." She urged higher education leaders to re-think how they approach student support, "The entire way that we engage with students has to change, fundamentally. We cannot assume that critical resources on campus are 'nice-to-have' for students, where we force them to walk in the door because, literally, there is no door for them to walk in. There are virtual spaces where we have to be proactive and thoughtful about the ways we engage with students." She added, "making engagement and belonging time and location independent, that is the new challenge for us."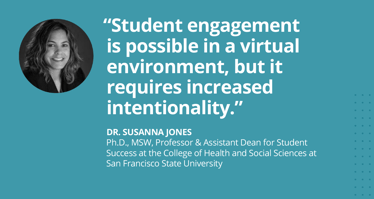 Dr. Susanna Jones, Ph.D., MSW, Professor & Assistant Dean for Student Success at the College of Health and Social Sciences at San Francisco State University, stated, "student engagement is possible in a virtual environment, but it requires increased intentionality." One of the ways that SF State's College of Health and Social Sciences provides students with opportunities to build relationships and connect virtually is through the Peer2Peer Mentor Collective program. Dr. Jones noted the "significant increase in communications and touch-points between our mentors and mentees" this semester, compared to last academic year, reflecting students' strong desire for peer connection at this time.
Civic engagement is part of the fabric of higher education.
The panelists agreed that higher education institutions have a critical role in facilitating students' civic engagement. At this time of intersecting crises and a national call to action by the Black Lives Matter movement, colleges and universities are grappling with creating safe virtual and physical spaces for students to practice civic engagement. Dr. Koshland spoke of the continued student activism at UC Berkeley in the virtual space: "We have our Public Service Center, and they have been very actively engaged with students virtually, involving them particularly around issues surrounding the election and preserving our democracy as a central focus."
Dr. Baker shared how the University of San Diego created two, one-credit-hour courses - one about the COVID-19 pandemic, and another called Black Lives Matter. Faculty from a cross-section of disciplines were called on to deliver these courses and frame the issues within the context of their academic fields. Dr. Baker shared, "while the students are not here, we can bring these topics to them in a way that makes sense." She added, "I think this is something we will do going forward as really pressing issues come up. It gets faculty engaged, it gets students engaged, and we are talking to the students about things they are dealing with right now. What is the cost? One credit hour. Students usually have at least that space in their curriculum."
Dr. Jones reflected, "We think of civic engagement as something outside of the institution, but I think it happens within the institution, and we need to talk about that explicitly with students, when a student volunteers to give their time to support other students, that is civic engagement. The more opportunities we can provide for students to be involved at whatever level—with an individual by mentoring them, getting involved in a social justice movement, participating in a protest in the city of San Francisco—those are all ways we need to think about civic engagement at the broadest level."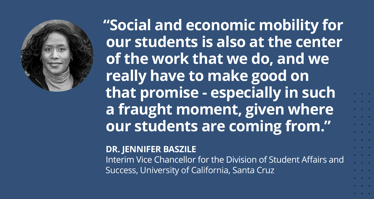 Closing the discussion, Dr. Baszile powerfully centered higher education's mission around improving students' life outcomes. "Social and economic mobility for our students is also at the center of the work that we do, and we really have to make good on that promise - especially in such a fraught moment, given where our students are coming from."
The full recording of our conversation is available here. To start a conversation about how to best engage and support your students, contact Mentor Collective today.