To mitigate declining enrollment numbers, higher education institutions are working hard to understand the challenges that lie between students' desire to attend and enrollment.
What we know for certain is that institutions are better equipped to provide solutions when they know these challenges as early as possible.
Peer mentorship is a powerful tool that enables institutions to discover the student voice and shape the student journey even years before they arrive on campus. Every touch point from when a student applies to when they enroll can be improved by the data peer mentoring programs can capture.


---
On July 20, 2022, Mentor Collective held a virtual roundtable discussion with higher education experts from around the country to learn how their institutions are using peer-to-peer mentorship to hear from students earlier, as well as leveraging this information to help ensure success in their learning journey.
The roundtable was hosted by Mentor Collective's Partnerships Director Kevin Bates and Principal Product Manager Shannon LaCount and featured higher education experts from around the country:
Dean Kahler, PhD, Vice Provost for Strategic Enrollment Management, University of Idaho
Marc Soevyn, MBA, Associate Director of Admissions, Molloy University
Tony Larkins, Senior Assistant Director of Admissions, Central Michigan University
Laura Mears, Former Associate Vice President of Admission and Enrollment Services, Mentor Collective
Here are a few of their insights.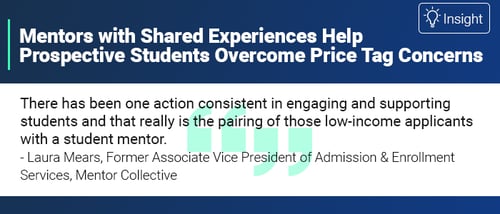 The cost and affordability of college continues to be a concern for students, and the earlier it can be addressed, the more engaged they will be and the closer they get to enrollment. Knowing the financial concerns early on means institutions can provide the questions they need answers to, and even peer support infused with on-the-ground experience.
You can also provide unique solutions to help lower income students get to enrollment. Pairing applicants with student mentors expands their opportunities and also provides guidance on getting financial aid and accessing other resources. Being able to discuss this with a student peer who has walked through the experience makes an impact.
"In order to expand opportunities to low-income students, colleges really need to consider new approaches to admissions and financial aid as they weigh out that access and affordability," said Laura K. Mears, Former Associate Vice President, Admission and Enrollment Services, Mentor Collective. "There has been one action consistent in engaging and supporting students and that really is the pairing of those low-income applicants with a student mentor."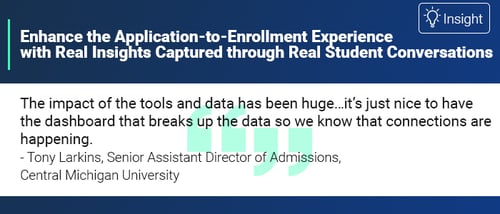 The authentic conversations students are having with their peer mentors provide valuable insights that can improve your institution's strategies and marketing, as well as remove friction points from the application and enrollment process. When peer mentors report the flags from the Mentor Collective dashboard that are coming up in their students, that can be used to improve their experience.
"The impact of the tools and data has been huge," said - Tony Larkins, Senior Assistant Director of Admissions, Central Michigan University. "It's just nice to have the dashboard that breaks up the data so we know that connections are happening. Also, when a student does need that additional nudge, we know about it."
Flags can also be used to ideate creative solutions that engage students and help them earlier in their journey. For example, through application workshops with guided one-on-one instruction for filling out applications, peer mentors can help schools identify areas of the form where applicants struggle and pause, and provide assistance. This information can even be utilized to improve the application process for future students.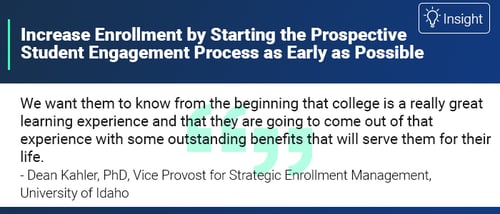 Institutions have discovered the value of starting the engagement much earlier in a learner's journey, even before the consideration of even applying to schools is made. The University of Idaho visits up to 7,000 students in various age groups every year—starting as early as the fifth grade.
"We want them to know from the beginning that college is a really great learning experience and that they are going to come out of that experience with some outstanding benefits that will serve them for their life," said Dean Kahler, PhD, Vice Provost for Strategic Enrollment Management, University of Idaho.
As a result, the university saw a 17 percent increase in their freshman class in 2021.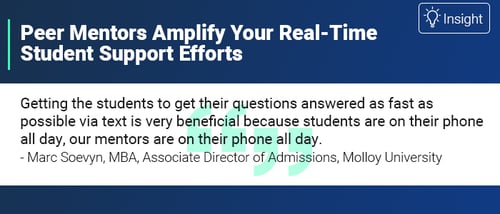 Peer mentors are also a great advantage in their ability to communicate through the channels students are most comfortable with.
"Getting the students to get their questions answered as fast as possible via text is very beneficial because students are on their phone all day, our mentors are on their phone all day," said Marc Soevyn, Associate Director of Admissions, Molloy University. "It's easy to just send a text. We still do spring phone calls to admitted students, but we're really relying on the Mentor Collective program now."
Real-time communication is what students expect from their interactions, and it deepens their connection with the mentor and the institution as a whole. It's not just about enrollment, it's about creating a sense of belonging and bringing students into the community in a meaningful way.


---
Mentor Collective roundtables encourage conversation and peer- to-peer interaction. The insights offered were valuable to university leaders as we collectively work to ensure student success. Mentor Collective strives to empower every student to form the relationships they need to build resilience, self-efficacy, and a sense of belonging.
The full recording of the roundtable discussion is available here. To start a conversation about how to utilize mentorship to engage and support your students, contact Mentor Collective today.