We are happy to welcome guest writer, Polly Goss, Advisor at Mentor Collective.
Derrick Brown is a graduate student at Oklahoma State University (OSU) and a volunteer peer mentor in the OSU Mentor Collective, a program in which he supports six first-year students. Dr. Jeanette Mendez, Vice Provost of Academic Affairs, said that OSU partnered with Mentor Collective (MC) because "we want to support our students in life, well-being, and finishing their degrees at OSU."
Derrick joined Mentor Collective's CEO and Co-Founder, Jackson Boyar, and VP of Product, Erin Mayhood, to share his insights into how universities can unlock the full potential of peer mentorship at their institutions.
Why did Derrick volunteer to mentor?
Derrick volunteered to be a mentor because he wanted to help students fulfill their potential.
Derrick also mentioned the personal touch and sense of trust conveyed by MC in their recruitment materials, which helped inspire him to sign up. "Honestly, just seeing how much you guys believed in me as an individual and that true sense of empowerment you gave me made me volunteer," he said.
Since the Fall Semester of 2020, MC has recruited over 28,000 volunteer mentors to support more than 150 mentorship programs. Jackson urged higher education leaders to trust that students want to be mentors, and it is a beneficial experience for both the mentor and the mentee. "I would like to dispel this notion that students don't have the time for this; in many ways serving as a mentor is an incredible professional development experience," Jackson said.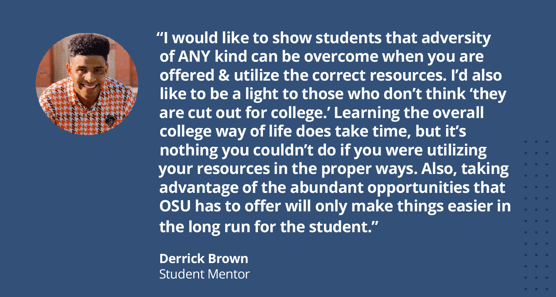 What was Derrick's experience with MC's training?
Live mentor training is fundamental to MC's product design. "There is something magical about live training," Erin said. MC offers over thirty training sessions every week so mentors can comfortably complete training at a time that works for them. For those mentors who can't attend a live training, MC provides alternatives.
Derrick found the training helpful and motivating: "I loved the training experience with Mentor Collective, it was very engaging. You guys definitely give us the resources (and then some) to do our jobs well."
As an organization committed to learning, Erin was keen to highlight that Mentor Collective will never consider training "done." "Our training is always evolving," Erin said, as MC responds to the changing needs of students across our global Collective of institutions.
What do Derrick's relationships with his mentees look like?
Mentors and mentees are matched according to shared interests and preferences about what they are looking to gain from the mentorship. Participants communicate this through a matching survey they complete when registering for the program.
Derrick highlighted his mentorship with one OSU student, Benji, and the strength of the match: "We have such similar experiences that I am able to help him a lot, and I love that." Derrick continued, "Benji comes to me a lot for different advice related to financial aid and stuff like that. We have been working on teaching him key skills so he can implement them."
Derrick called out how critical the Insight Flag feature is; it allows mentors to flag issues that their mentees are facing, and these flags are sent directly to the program coordinator at their university. "I'd say that feature is one of the features that both myself and my mentees love. Being able to take that early action shows the mentees that we care, genuinely, which has helped me to cultivate that relationship with them. They are able to actually see you taking action on their behalf, which I think is very empowering for them, seeing someone believing in them and taking action on their behalf," he said.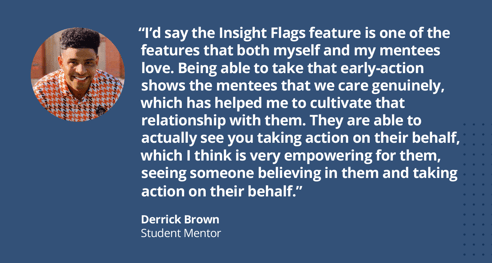 What has Derrick learned as a mentor?
Being an effective mentor is an essential professional skill and a key tenant of impactful leadership. Derrickdescribed how volunteering as a mentor has helped him battle imposter syndrome and strengthened his leadership skills. "It has helped me grow professionally in the sense of being out of my comfort zone, the additional training, really just forcing myself to overcome imposter syndrome—it has helped a lot with that for me personally," he said. "The empowerment you offer, and the genuine interest in us as mentors has really helped my career."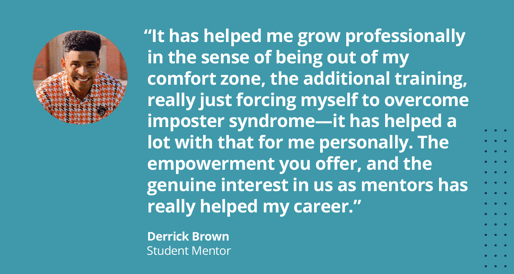 To access a recording of the full conversation, please see here. To explore how mentorship can help empower your students, contact Mentor Collective today.