We are happy to welcome guest writer, Polly Goss, Advisor at Mentor Collective.
On October 22nd, Mentor Collective and the University of Alaska Anchorage hosted a webinar to discuss equipping first-generation students with the relationships and resources vital to actualizing a successful college experience during these unprecedented times. We were honored to be joined by panelists Dr. Claudia Lampman, Vice Provost for Student Success at the University of Alaska Anchorage, Dr. Ozalle Toms, Assistant Vice Chancellor for Student Diversity, Engagement and Success at the University of Wisconsin-Whitewater, and Dr. Ande Durojaiye, Vice Provost for Undergraduate Academic Affairs at Northern Kentucky University. Here are three of our key takeaways:
Higher education leaders need to think collectively.
Spring enrollment is looking bleak at many universities across the country. This Fall saw a 4% national decline in undergraduate enrollment compared to 2019. Decreasing college enrollment and persistence among low-income students is particularly concerning, and calls into question the ability of higher education to be a vehicle for social mobility. Faculty, staff, and students are all suffering from virtual burnout after months of teaching and working online. Universities across the country are facing budget-cuts, exacerbated by the potential of many students not returning next Spring or Fall. The panelists agreed that at this critical juncture, universities must start to think and act collectively around student success. "We've got to move out of the mindset that good things that are happening on our campuses are trade-secrets that we shouldn't share out with other individuals. When we talk about student success, that is the goal of every institution, so if we are looking for student success, we should be thinking about how students can be successful on our campuses and also on other campuses," Dr. Ande Durojaiye said. He added, "Even if we just retain the students we have, it has a huge financial benefit for our institution and higher education as a whole."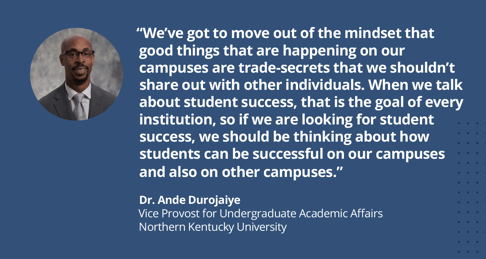 You need to keep students connected.
40% of students identify as first-generation at the institution the University of Wisconsin-Whitewater (UWW). Dr. Ozalles Toms said that at UWW they always adopt a "first-generation mindset" when thinking about student success and support. "A lot of students talked about how they lost that social piece, the orgs, the clubs, they were totally isolated. Socially, the pandemic has had a profound effect on students," Dr. Ozalles Toms shared. She added that COVID-19 and the subsequent economic downturn in the US has "hurt a lot of students financially, and unfortunately, a lot of our students didn't even finish the Spring semester; they just disappeared." UWW has focused on keeping student-workers employed remotely in an effort to retain students.
Northern Kentucky University recognizes that the "new normal" may well persist beyond the 2020-2021 academic year. The institution is reviewing their first-year experience programming in preparation for a potentially longer-term shift towards hybrid or virtual learning environments. Dr. Ande Durojaiye posed the important question: "how do we build opportunities and experiences for our students, so they feel engaged and connected to the institution?" Ensuring that students feel a strong sense of belonging has been shown to be critical to student success. Northern Kentucky University, like many other institutions, is now grappling with how to create that sense of community for students in a virtual environment.
Mentorship creates a safe space for students to be their authentic selves.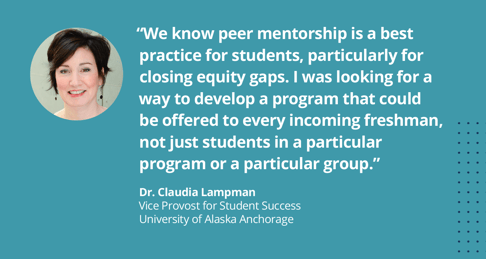 For years, Dr. Claudia Lampman has known that peer mentorship is a high-impact practice; however, the University of Alaska Anchorage (UAA), like most universities, struggled to scale mentorship programs. "We know peer mentorship is a best practice for students, particularly for closing equity gaps. I was looking for a way to develop a program that could be offered to every incoming freshman, not just students in a particular program or a particular group," she said. Mentor Collective provided UAA with the team of experts and customized technology that is needed to offer large-scale mentorship to every incoming first-year student this Fall. When hundreds of students signed up for a mentor within days of launching the program, the university decided to expand the program to match every student that expressed interest (new or returning) with a mentor. To date, more than 500 students have been matched with a mentor.
UAA, as part of its strategic focus on student success, recently updated its advising practice. They decided to invest in peer mentoring in addition to expanding advising because Dr. Lampman recognized that students, particularly first-generation students, often feel more comfortable confiding in a peer. "An advisor or a faculty member is sometimes just not the person our students need to talk to. Sometimes students want to ask a question they think is dumb, and they feel more comfortable asking that question to a mentor rather than a faculty member or an advisor."
Dr. Lampman remarked how impressed she has been by the depth of the relationships between mentors and mentees in the SeaWolf Mentor program. "It has been really great to hear and see our mentors talking about the things that students need one and another for, and for those tips and tricks that only another student can provide. There is a safety when talking to a student who maybe has had the same issues you have had, who is also a working parent, who also started school early as a high school student," she said. UAA is currently exploring peer and alumni mentorship for graduate students through Mentor Collective. Dr. Lampman noted how powerful a mentor could be in normalizing imposter syndrome for graduate students and helping students plan for their careers from day one of graduate school.
To sign-up for our next webinar or keep updated with Mentor Collective virtual events, click here. You can also view the full recording of this webinar here.