We are happy to welcome guest writer, Dr. Jenna Harmon, Mentorship Research Lead, Mentor Collective

Over the last few weeks, a spate of surveys have cropped up attempting to capture the current mindset of American high school seniors as they contemplate their college options in the fall. A steady drip of bleak headlines predict massive drop-offs in enrollment numbers, with at least one survey suggesting that up to a quarter of inbound first-years are reconsidering their college choices. Digging into two recent surveys shows a common thread to what is driving student worry and uncertainty -- namely, the loss of personal connections that are a hallmark of the college experience and the attendant social capital students are able to accrue through them. The good news? Mentorship can help.


Will College be Worth the Price?
At the beginning of May, StudentPOLL released findings from a survey of 1,171 representative American high school seniors. Respondents were asked questions related to concerns about potentially attending college online for a period of time, and whether an online education is worth the money. When asked about the appeal of an online degree as an (affordable) alternative to the traditional, "IRL" college experience, 59% of respondents had no interest in enrolling in an online program. According to the study's principal researchers, "Students understand, or have bought into, the value of the in-person experience."

While this is good news for schools concerned about losing students to less expensive online-only schools or MOOC programs, results showed that "the value students place on a traditional college experience has powerful cost implications." Only 19% of surveyed students would be willing to pay the same tuition rates if their fall semester were to take place online. Put bluntly, students seem to feel the college experience is only worth the price if they are confident they'll reap the social benefits.
Lost Social Connections

Concern around lost social connections also emerged as a strong theme in Eduventure's COVID-19 Senior Impact Research Report, which surveyed 7,117 college-bound high school seniors. When asked between March and April 2020 about concerns related to their current high school experience, 67% were extremely concerned about the loss of school events and activities, and 51% were extremely concerned about the loss of in-person connection to their friends. These were the #1 and #3 concerns for the surveyed students, and their concerns are valid: this is a population of students who have suddenly lost their peer community at a time when the typical expectation is that they will form new ones at college.

But if schools are not open in the fall, how are they expected to do this? This worry is reflected in responses to another question asking about alternative ways for students to ascertain if their chosen school is the right fit for them. For alternatives to traditional campus visit activities, students largely preferred live video sessions over recorded videos. When it came to "getting to know current students," 56% preferred a live video session compared to only 27% preferring a recorded video. The only other activity with similar levels of preference for live connection was regarding financial aid information (63% preferred live video to 28% recorded video).
How Will I Find Community?
These surveys help crystalize two sets of questions. Setting aside financial concerns for the moment, for students the question is: how will I find community and a sense of belonging at my school of choice if my classes are online? For schools, the questions are: how can we meet these "traditional college experience" expectations in the time of COVID-19, and how can we capture as high a yield as possible? A compelling answer to both questions is: mentorship programs.

Mentor Collective offers a suite of mentorship programs that seamlessly foster connections between students and mentors, both online and in-person. With students more concerned than ever about the value of the personal connections forged during their college years, offering mentoring programs that pair students with a trained and relevant mentor at scale is an effective way to demonstrate to students that an institution is invested in providing as much of a connected experience as they can, short of having everyone physically back on campus.
Fall 2020, Retention, and What You Can Do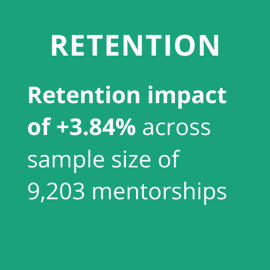 Mentor Collective partners have already seen how prioritizing these social connections leads to hard outcomes, including a 2020 meta-analysis showing that students with Mentor Collective mentors were retained at a 3.84% higher rate on average compared to their non-mentored peers. Programs at Montclair State University, Eastern Michigan University, and Prescott College between fall 2018 and spring 2020 saw an impressive pooled average treatment effect on melt reduction, with mentored students seeing a 13.6% lower melt rate than their mentored peers (study forthcoming).

These recent surveys show that students are more attuned to the import of social connections now more than ever before. Mentorship programs at scale, like those created and run by Mentor Collective, offer a proven way of creating and fostering those connections on the virtual and physical campus.
To start a conversation about how to best engage and support your students, contact Mentor Collective today.