North Carolina Agricultural and Technical University (NC A&T) has honed a culturally responsive lens known for uplifting the next generation. The leading and largest HBCU in the country with top 50 placements in both social mobility and innovation, the institution continues to affect transformational change through high-impact student success practices - among them peer and alumni mentorship across the entire university.
On March 1st, we hosted Dr. Kevin L. James, Dean of the Willie A. Deese College of Business and Economics at North Carolina A&T to discuss how structured mentorship with Mentor Collective enabled the No. 1 Public HBCU Business College to scale their previous efforts in mentorship, while fortifying relationships with corporate partners and alumni.
Watch the full webinar or read key learnings from the event below.
About the programs:
Deese First-Year Experience is a peer-to-peer mentorship program through Mentor Collective that uses a highly responsive platform to design, manage, and analyze large-scale mentorship programs. Focused on building higher sense of belonging within the institution and helping lay a solid foundation for academic success, the program matches incoming Deese students with upper-division peers that volunteer to be mentors. Key points of success have been the tripling of program engagement year over year (since the integration of the program within the first-year seminar curriculum) and identifying emerging student barriers in the Mentor Collective Partner Dashboard.
Deese Career is a career-readiness program through Mentor Collective that engages alumni as mentors for upper-division students. Matched by life experiences and career interests, the program offers students an opportunity to build social capital while setting and achieving professional and academic goals. Key points of success include networking and development for the next graduating class and facilitating deeper relationships between the institution, alumni, and corporate partners.
Our panelist: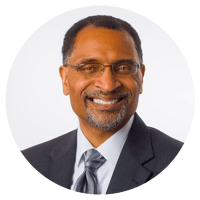 Dr. Kevin James
Dean, Willie A. Deese College of Business and Economics at North Carolina Agricultural and Technical State University
Key Learnings:
Students were asking for first-year mentorship, but the university needed support to build a program to scale and boost administrative capacity.
To grow mentorship at Deese College, Dean James recalled both the value and challenge of evolving programs past the departmental level. Administrative strain and the attention required to get an in-house program off the ground seemed unmanageable.

"We started [a mentoring program] at the department level and wanted to scale up to the college. We tried to do that and really had trouble scaling it at that level. We just did not have the resources or the know-how to do that well. That was the impetus for us to collaborate with Mentor Collective." - Dean Kevin James
The first-year experience is important and difficult to navigate for this incoming class.
A common thread throughout many conversations among leaders in higher education is the impact of the pandemic on the next few incoming classes and how mentorship, specifically among first-generation students and students within marginalized populations, is a critical tool for supporting the formative first-year experience.

Career mentorship satisfies the need to help upper-division students build social capital while facilitating a more connected and engaged alumni and corporate partner community.
In Spring 2021, Deese College went a step further in creating full lifecycle mentorship and expanded its Mentor Collective program to serve the unique needs of upper-division students preparing to embark on professional careers post graduation. Dean James noted the symbiotic relationship between institution, alumni, and students that mentorship at scale allows and how engaging with alumni and community partners aligns with the college's mechanisms of mobility:
Evidence-Based Instruction

Professional Engagement

Community Engagement

High-Quality Impactful Research
Alumni appreciate and value the mentorship experience as much as students.
The college's extensive network of alumni continue to embody the Aggie "We Do" spirit and has been energized with the prospect of giving their time and knowledge to equip the next generation with the insider info needed to make informed career decisions. Dean James says the experience has been rewarding for all participating and even has the college's namesake, Willie A. Deese, involved as a mentor to 3 students.
Mentorship is facilitating a deeper relationship between corporate partners and the institution.
To hear more about the North Carolina A&T Deese College programs, watch the full recording of the discussion. To start a conversation about how to utilize mentorship to engage and support your students, contact Mentor Collective.