Today we announced $3M in new funding from Lumina Foundation, IU Philanthropic Ventures, Strada Education Network, 10x Impact, Emerge Education, and EduLab Capital Partners. We are thrilled to have attracted the support of such mission-driven investors and know these partners will help us realize our vision of equity, access, and relationship-centered education.
Since our early days, we have added more than 60 colleges as partners, created more than 30,000 mentoring relationships, and developed research-backed expertise in supporting first-year experience, career development, and adult learners. In July and August of this year alone, MC facilitated a mentoring conversation every 3 minutes.
However, when Mentor Collective started, James and I personally managed MC's first-ever mentorship program: a pro bono pilot serving 23 students. We had no technology, no best practices, and separate full-time jobs. While running the program was anything but easy (i.e., 1-on-1 Skype training with every mentor and spreadsheet matching), its transformative impact on students inspired us to think bigger.
In many ways, our experience was similar to that of the many valiant administrators we now serve. While mentorship is broadly understood to be impactful, it is often relegated to a side project and added to an already long list of administrative responsibilities. As a result, Gallup and Strada recently reported that fewer than half of recent undergrads reported an effective mentoring relationship during college. At MC, we believe mentorship is foundational to the college experience, and today, thanks to new support from a consortium of impact investors, we are proud to drive
that belief forward.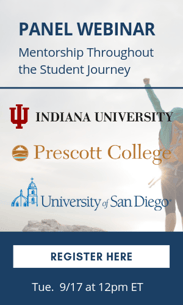 This new funding will help us expand our network of partner universities while continuing to launch improvements to our core programs. We were selective about who we partnered with and could not be more pleased to align with Lumina's mission to make post-secondary learning work for everyone.
Thank you to our community of partners, mentors, and mentees. We could not be more excited for our next chapter of growth. If you want to be involved, please consider staying in touch by subscribing to our newsletter, applying to join the team, or attending our upcoming webinar.
Thank you for being a part of Mentor Collective.

Co-founder and CEO, Mentor Collective