This year the global COVID-19 pandemic changed every area of the higher education experience, from enrollment to commencement. Amid the massive transition to learning online, it is critical for institutions to consider how their student support systems will translate into this new virtual environment, as well.
Faculty advising and tutoring will continue in this new online higher education reality, but helping with academic success is only a fraction of student support. One of the greatest threats of COVID-19 has been to the pillars of higher education: relationships and community. Without classes, dorms, the dining hall, clubs, and study groups, college students now lack the points of social connection that are integral to student satisfaction and success. Now, more than ever, it is important that socially distanced students have a relevant and engaged support network.
Physical, Not Social Distancing
Mentor Collective believes that peer mentorship is a key solution for Fall 2020 and beyond: a scaled, location-agnostic support network where every student is empowered to form the relationships they need to build resilience, self-efficacy, and a sense of belonging in a chaotic time. For six years, Mentor Collective has supported tens of thousands of virtual peer mentoring relationships, ensuring that students at our partner institutions can engage with a relevant, trained mentor from their community.
A structured, scaled peer mentorship program that can be executed virtually creates a reliable and consistent network of resources and support during a time of turbulence and transition. Mentor Collective can help you build this network at your institution.
What if a Student Needs Additional Support, Beyond Their Mentor?
Mentor Collective's Insight Flag notification feature lets mentors raise a "flag" to MC and the institution when a student is experiencing a serious or safety-threatening challenge. The flag triggers an immediate notification to the school encouraging leaders to reach out and offer more specialized support to the student.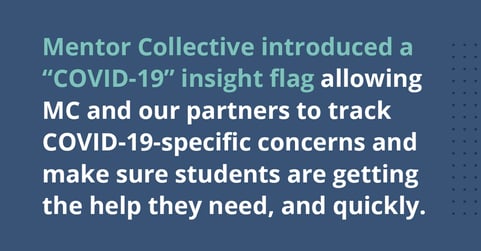 In response to the current crisis, Mentor Collective introduced a "COVID-19" specific insight flag category. This allows both MC and our partners to track COVID-19-specific concerns and make sure students are getting the help they need, and quickly. Notifications are triggered to the school as soon as a mentor reports a concern and flags that the mentor thinks the school could help.
Between March 23 - April 2, 2020 57% of received flags were COVID-19 specific. Mentors report a range of student challenges related to COVID-19, including increased anxiety, caring for sick family members, and financial stress.
Mentor Collective Ensures Relationships Will Continue Through COVID-19
Mentor Collective data shows a higher volume of mentor-reported conversations in March 2020 vs. 2019. This data point suggests that, in addition to program growth year-over-year, mentor and student pairs continue to engage even though they are now physically distant. The mentorship relationships persist even as the global crisis continues.
It is now more critical than ever that socially distanced students have a relevant and engaged support network. Whether you are focused on supporting the experience of a specific student population, such as first-generation college students, or ensuring retention for an entire incoming class, Mentor Collective knows a strong mentor match can lead a student to feel like they belong.
If you're ready to see how we can help support student relationships, then contact Mentor Collective today so we can discuss how to design a program that's exactly right for your institution.