We're pleased to present to you the winners of our 2021 Mentor Collective scholarship contest. In the coming weeks, we'll share snippets of essays and videos that our winners shared with us, painting a picture of what mentorship has looked like in this unprecedented year—and how it has provided the support crucial to surviving and thriving through it. Today, we're saying congratulations to our second winner, Holly Mullaney of Millersville First Year Mentor Collective.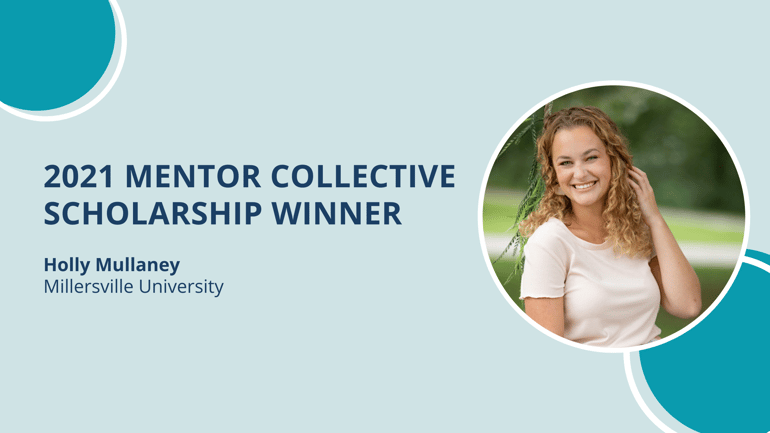 As 2020 wore on and we realized that our forthcoming first-year classes would have both an unexpected end of their high school careers and a highly unorthodox start to their college careers, we wondered about how that would impact the affected students. Our second scholarship winner, Holly Mullaney of Millersville University gave us a peek in the experience in her contest submission. "I remember the exact moment that I found out that I would never go back to finish my senior year," she wrote:
I thought to myself, "If I can't finish out high school normally, how do they expect me to start my college journey normally?" How was I supposed to get through not only a new freshman, but now a freshman during a pandemic?
But by taking advantage of the opportunity to work with a mentor through Millersville's Mentor Collective program, Holly was able to share some of those concerns with her mentor Angelica Fajarado. Holly's affection for Angelica is clear in this short snippet from her submission video:
Holly had previously voiced worries about who would help her navigate the uncertain seas of a first year in college, given her status as a first generation student. But in Angelica, she found not only reassurance from someone who had been through the experience before, but also reassurance that her own instincts could - and should - play a part in her decision making. The result? A connection that Holly sees as not only instrumental to her success in her first year, but as a relationship that will unquestionably continue as she moves through her Millersville career.
As she put it toward the end of her submission video:
It's truly been a blessing and I've been so lucky to have her by my side through this crazy first year of college. And I'm really excited to see not just where she goes and I go, but where our friendship goes together.
When asked where Holly sees her journey taking her, she answered, "I dream of becoming an elementary school teacher, hopefully to teach in the second through fourth grade age range. I also want to graduate with a minor in psychology. Eventually, I want to go for my masters and my doctorate in the field of education." And to Angelica specifically, Holly had this to say to her mentor: "Thank you, Angelica! You have made my college experience even more worth it. You helped me more than you know."
To Holly: we're so glad that mentorship turned what you thought would be an uncertain time, into a confident moment of growth. We can't wait to hear all about how you continue to thrive - both with Angelica's help, and in your own right as a budding educator.
If you'd like your students to feel the same burst in confidence and competence as Holly, contact us to find out how your institution can start a culture of mentorship.