Indiana University Bloomington's Center of Excellence for Women and Technology (CEW&T) is an interdisciplinary center dedicated to engaging, empowering, and advancing the plight of women seeking technology skills. Through classes, trainings, events, and the mentorship program, they aim to keep women persistent and impactful in tech. As one of our strongest programs, we took a moment to ask Michelle Bartley-Taylor, the Assistant Director at CEW&T a few questions. Read about her thoughts on mentorship as a strategy to support women in STEM below.
"We know from experience and from data that there is a drain of women in technology jobs to begin with. They go into the field in higher numbers, but then they drop off and leave. So one of the ways we focus on retention is- we connect them early on with a mentor who is working in the field that might be able to troubleshoot some potential problems they may have in the future, or make them aware of the way things usually are."
– Michelle Bartley-Taylor, Assistant Director,
IU Bloomington's Center of Excellence for Women and Technology
When looking at the biggest challenges for women in STEM, what do you identify as the most significant barrier?
There are experiences women have in the tech world that aren't outright sexism, but subtle biases that still exist—even among well-intended men. Being able to talk with a woman who's living that day to day can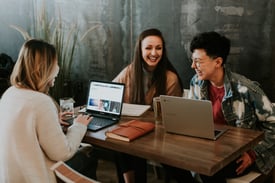 surface good tips on surviving that.
It's a double-edged sword because we do know what the environment is like, so we want to prepare them. It'd be unrealistic to say [this bias] doesn't exist because we want them to be prepared. We want [mentors] to do that in a positive way, and give positive suggestions on how to deal with it, respond to it, and how to stick with their goals.
In CEW&T's estimation, what are the benefits of mentoring as a means of support for women in STEM?
There's lots to be gained by having a connection with a mentor. Sometimes personal relationships develop, which is great—ongoing ones, past the mentorship program. Our program values knowledge on what it's like the first or second year out of school. That's not something an undergraduate always has a really good perspective on– what it's really like day to day. Sometimes that information can come from a faculty member, but they don't always have the experience working in industry or business because many have always been in academia.
So it's a great opportunity – and a neutral opportunity. There's no power differential because this is not a supervisor, someone in their own company, or a faculty member who might be controlling grades. This is someone who's only interested in connecting with students, who they can be honest [with] and get good feedback from.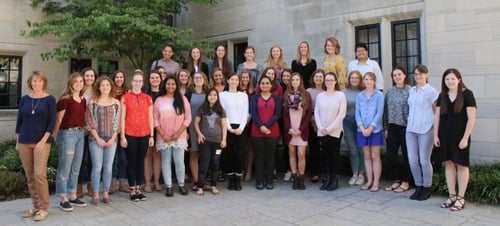 Members of the Emerging Scholars Research Experiences for Undergraduate Women (CEWiT REU-W)
What advice would you give to peers at other institutions who are seeking to deal with the same challenges and goals? How can they tell if a mentoring program is a good solution?
The best advice is to be very specific about what [other institutions] trying to accomplish, and share that with Mentor Collective to design and support the program.
I think the biggest benefit of Mentor Collective is the ability, because of the platform, to reach more students. That's really the benefit: that you can expand it. And the reason you can expand it is because Mentor Collective is running the program and has all the marketing pieces and staff in place to do it.

More about CEW&T and Mentor Collective: Closing the Opportunity Gap in STEM Through Mentorship
Curious how Mentor Collective can strengthen your mentoring initiative? Contact us to learn about our research and approach.
*Portions of this interview have been edited for length and clarity.
Learn more about our work at 4 colleges at IU in our case study →