As the COVID-19 pandemic raged on, it forced higher education institutions to adapt on the fly. Karen Dunston was determined to make lemonade out of the situation.

High school students' pandemic struggles were compounded when they could not connect with counselors during their college application process. Potential enrollees did not know how the pandemic would affect their future educational goals from instruction to social interaction and beyond.

As Pacific University's Associate Vice President of Enrollment Management for Undergraduate Admissions, Dunston saw a prime opportunity. One in which a peer mentorship program could bridge this new gap. "The timing was just perfect for this year knowing that high school students probably needed a little extra help 
in learning how to do college search and making their final decision."
According to an Inside Higher Ed/College Pulse survey of 2,000 college students, 73 percent were most comfortable sharing issues most important to them with peers. 31 percent felt the same way about academic advisors. Clearly, there is an incredible amount of potential concern prospective students must have addressed to form confident decisions when choosing a school.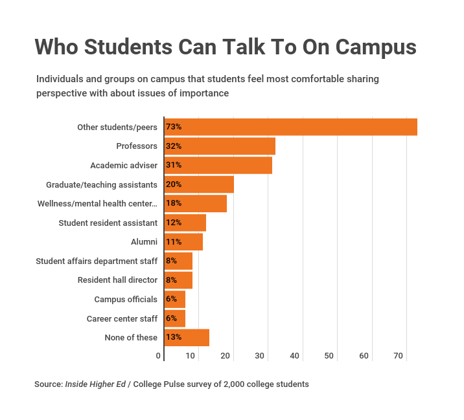 This is where the benefit of Insight Flags—a key part of Mentor Collective's programs—comes into play. Students express their needs and apprehensions to mentors who then pass the information on to administration such as Chandler Paterson, one of the Pacific University's admissions counselors.
"Not only are [prospective students] building that relationship and having someone on campus that they could potentially be friends with if they do end up coming," said Paterson. "But then we're getting that Insight Flag that helps intervene a lot sooner.
"
With the use of these Insight Flags, Paterson and other admission faculty could both address major worries and showcase what the school about 26 miles west of Portland, Oregon in the shadow of Mt. Hood offered.
Paterson explained once students made it to campus, communication reports furnished by mentors only further presented a chance to flesh out their mentee's experience.
"Right around that time when we were getting the reports, our institutional scholarship application deadline was coming up," said Paterson. "That was really helpful when we did hear, 'Oh this student really enjoys music.' We did not know. Let's get them connected with music scholarships to make sure they get an application in before that deadline."
Both Chandler and student mentor Kaylee-Brooke Manuel found a tremendous deal of mentees had financial burdens. Considering Manuel was working diligently to supply 50 individuals with practical advice tailored to their needs, she was grateful for the opportunity to positively impact so many lives.
"Just knowing that my mentee will have someone to talk to about it is a great feeling," said Manuel. With so many members of the student body trusting a peer with such sensitive information, this only highlights how impactful peer mentorship has been for Pacific University and the 100+ institutions that have partnered with Mentor Collective.
As the nation recovers from this physically and mentally taxing stretch, the efforts of Dunston, Chandler, Manuel and others not only helped weather the storm, they set both current and prospective students up to excel and enjoy a positive educational experience for years to come.
"I really feel that the Mentor Collective and students having mentors they can count on is something that's really helped us this year," said Dunston. "My admissions counselors are awesome, but the better voices are the current students when prospective students want to know what really happens on campus."
To learn more about how you can make your admissions process more personal, visit mentorcollective.org/enrollment or watch the virtual event recording featuring Pacific University.