We are happy to welcome guest writer, Polly Goss, Advisor at Mentor Collective.
To date, Mentor Collective has matched over 36,000 peer and alumni mentors with over 70,000 students at universities and colleges across North America. Mentorship has been shown to have a powerful impact on students' sense of belonging, career outcomes, and their likelihood to persist and graduate from college. Serving as a mentor also has positive effects for the mentors, including increasing their social capital and leadership skills.
Deciphering the effects of mentorship can be challenging because every mentor and mentee have a unique relationship. What is the role of a mentor? What makes someone an effective mentor? I interviewed three volunteer mentors with Mentor Collective to get their perspective on the ingredients for effective mentorship. Here is what I learned:
No one is an expert at life.
Mentoring is first and foremost about creating supportive relationships. Within higher education, a near-peer mentor helps students navigate college and identify and work toward achieving their goals. Renee Washington is a mentor with the Lehigh University Mentor Collective and has been a mentor through multiple organizations and clubs throughout her life. She has "always believed there is such a benefit from being able to learn from someone else." Renee volunteered to mentor with Mentor Collective in April of 2020 and was matched with her mentee in May. Renee noted that they had such similar backgrounds and experiences that they could easily form an organic relationship. She urged mentors not to "be too pushy or persistent that you deter your mentee," stating that "everyone has been impacted in some way by 2020, now more than ever you have to know when to step back and wait."
Renee recommended that mentors are "very personable," advising that "you aren't another parent, teacher, or coach." Mentors and mentees should have a special relationship where mentees feel comfortable having personal conversations. Asking about mentees' interests outside of academia and being open to more informal communication methods, like texting, can help mentors build authentic relationships with their mentees.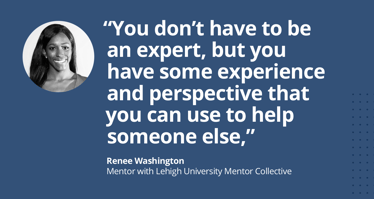 "You don't have to be an expert, but you have some experience and perspective that you can use to help someone else," Renee reflected. Mentors can often feel pressure to have all the answers, but as Renee said, "no one is an expert at life." Mentors can help students develop a growth mindset by being prepared to be vulnerable by sharing how they've dealt with challenges in their own lives.
Be empathetic and adaptable.
Empathy is the foundation of effective mentorship. A mentor needs to empathize with their counterpart and adapt their approach to meet the mentee's needs. Mirza Tahirović has been a mentor with the Berklee Online Mentor Collective program for almost three years and has mentored eleven students during this time. Mirza shared that he has learned "every mentee is different" and that it is essential to adapt your communication style to meet your mentees where they are. Mirza advised potential mentors to pay close attention to how mentees respond to your initial outreach, as "their first reply gives you a lot of insight into their current state of mind." Mirza shared that he will adapt his messages' frequency and content to mentees, depending on their responses and expressed needs.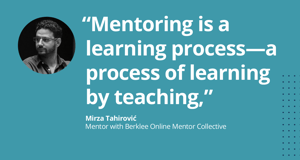 "Mentoring is a learning process—a process of learning by teaching," Mirza shared. Mentors must remain open-minded and approach the relationship through a genuine desire to learn from and help mentees. "Listening is more effective than immediately trying to give your conclusions or suggestions," Mirza reflected.
Commit to the relationship.
Mentees need to perceive mentors as committed to the relationship and readily available to help them. All of the mentors interviewed stressed the importance of being proactive and consistent in their communication with mentees. Parmida Pourmandi, a mentor with the California Polytechnic State University, San Luis Obispo Mentor Collective, has been matched with three mentees through the program. "I wanted to serve as a consistent source that my mentees could rely on for help. I wanted to be the person that I did not have when I began university for someone else," Parmida said.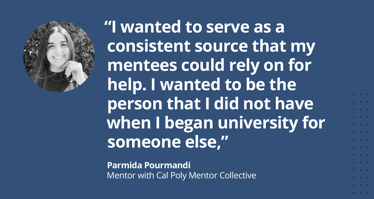 For Parmida, the characteristics and behaviors of an effective mentor are: "keeping an open mind, being invested in your mentorship, and being an active advocate for your mentees." Mentors can advocate for their mentees by connecting them with resources to support their academic success and well-being.
Not every match is perfect. Mentoring relationships sometimes don't work out, through no fault of either party. Parmida encouraged mentors not to give up when this happens: "Some mentor/mentee matches may not work out despite your best efforts—don't let this discourage you! As long as you are trying your best to be someone your mentee can rely on, you will find the right match."
For Parmida, being a mentor has become part of her identity, "I am passionate about helping my mentees and never feel as though this is a 'role' but rather an integral part of my life!" Mentors need to commit to the relationship, and sometimes that means being prepared to reach out several times before hearing back from mentees. An effective mentor will ask mentees questions to learn how to best support them. Mentors should also be upfront with mentees about what level of support they can offer. True mentors are those we know we can turn to when we need advice and guidance; their support can change lives. It takes time to build a deep trust between a mentor and mentee. The mentor's open and proactive communication is one of the first steps to forming a genuinely life-changing mentorship.
To learn more about being an effective mentor or how to run impactful mentorship programs, check out Mentor Collective's library.