Four years ago, we launched a pro-bono project that mentored incoming international students as they matriculated to American institutions. We were working 60-hour weeks in management consulting, but somehow convinced our employer we could juggle our startup alongside a slew of strategy consulting cases. It wasn't sustainable. So, we took a sabbatical to turn our side project into a full-time job.
Today, our venture has now grown to serve over 35,000 students across North America, and we have expanded well beyond serving international students to include first-generation, low-income students, online adult learners, and in many cases, an institution's entire incoming freshman class.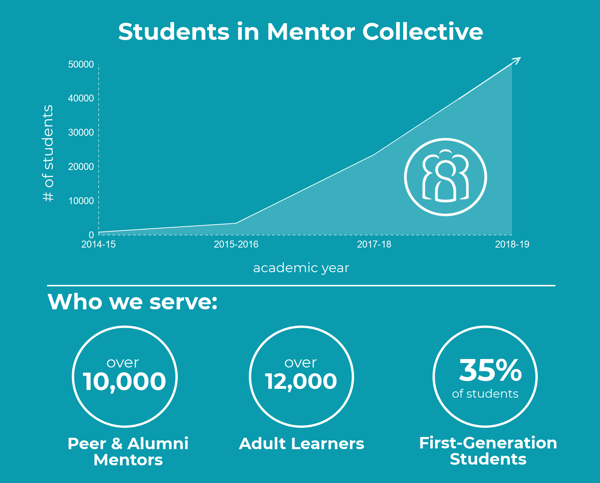 Though our service has evolved, one thing remains central: the communal power of mentorship. We are very upfront with the challenges of orchestrating an effective mentoring initiative–definitions of 'mentor' change across demographics, mentorship programs are logistically complex, and individual student differences require careful thought and consideration. Despite this, over the last 4 years our team has worked tirelessly to research, develop, and improve on a new technology-enabled model of mentorship that meets mentors and mentees "where they are" and consistently leads to increased persistence for student participants.
Today, we are thrilled to announce a brand change that reflects the mission and vision of our work: Mentor Collective.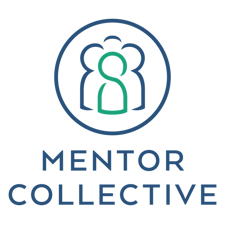 Some may recognize the name Mentor Collective as our mentor- and mentee-facing brand. With two years of incredible engagement from students and the support of our partners, we have strong conviction that Mentor Collective is the brand that best represents our company and values.
Every educational institution is built on a community of thousands of student leaders, alumni, faculty, staff, and employers–our belief is that all of these groups care deeply about student outcomes, and with the right support measures, can be mobilized to benefit the next generation of learners. In rebranding as Mentor Collective, we are aligning with and doubling down on the mission of providing every student with a transformative mentoring experience.
So what does Mentor Collective do?
1. Student stories: At the end of the day, our mission is student-centered. Over the years, we have gathered thousands of quotes from mentors and mentees describing the impact of their relationships. Here are just a few from this year:
"Learning that [my mentor] was able to balance her work life, personal life, and school life was encouraging and helped me gain a little more confidence [...] Remembering that I have the support of others is really encouraging."
- Mentee, Washington University in St. Louis University College
"I was matched with an IU alumna who graduated with a degree in Human Resources. She was a minority woman like myself and we got along instantly. She was able to figure out where I fit in and how to put my best foot forward when I was applying to jobs I felt very strongly about. She lives in Indy and we were able to meet up a handful of times to discuss life, careers, friends, and everything in between. [s]he wasn't someone I was having monthly chats with, but a friend I could confide in for more than just interview tips."
- Mentee, Indiana University
"My mentor has been incredibly supportive of my transition out of my graduate program and into my new job in a new city. I'm glad that I was able to build a supportive friendship..."
- Mentee, Northeastern University
"I'm volunteering to be a mentor because I was fortunate to have great mentors that helped me throughout my undergrad career [...] I know the struggle of undergrad as well as the rewards so I'll be able to understand what my mentee may be going through."
- Mentor, University of Hawaii - Hilo
2. High-impact partnerships: Additionally, we are fortunate to work with many of the nation's leading institutions of higher education. Our partners believe in the importance of social capital in their students' journeys and push us to innovate through hands-on feedback and collaboration. The following is a brief glimpse at some of the institutions that have helped us redefine what it means to bring personalized mentoring experiences to students at scale.
Northeastern's College of Professional Studies was an early partner and bold innovator, Northeastern pushed us to think scale + impact. Today, Northeastern is supporting thousands of mentoring relationships, with a focus on online/adult learners. Folks like Chris Mallett, Chuck Kilfoye, Kemi Jona, and Leah Ben-Ami will forever be foundational collaborators in our history.
Indiana University-Bloomington hits home for me. As a proud Hoosier, it is a dream come true to support mentoring programs across 5 colleges and departments. As tech entrepreneurs, we are especially proud to be partnering with the Center of Excellence for Women in Technology to bring additional support and role modeling to IU's underrepresented women in STEM.
Lehigh University's New Managing Director for Student Access and Success, George White, and Vice President for Equity and Community, Donald Outing, have been championing new initiatives to increase representation and support for high-achieving first-generation, low-income students. This year, every incoming Lehigh freshman has the opportunity to be connected with a trained peer mentor.
Olivet College is a small private institution, serving a majority PELL-eligible student body, committed to enriching the lives of their diverse campus community through personalized education. Olivet's Provost Maria Davis–an entomologist by training and fearless champion of student success–worked with us to conduct a study on the impact of our work on student retention. In our first year working together, mentored students saw a 14% increase in first-year retention as compared to a control group.
We look forward to serving as a conduit for best practices across our growing network:

Where do we go from here?
Every student is supported by a relevant, caring mentor.
The challenges facing higher education aren't going away. As we look ahead, there are a few important national trends in the minds of the Mentor Collective team. The college population is diversifying–there will be more first-generation students, more low-income students, and more online adult learners than ever before. Institutions are still grappling for a means of supporting these traditionally underserved populations, who often enter college with less social capital and leave with more student debt. In fact, 8 years after graduating high school, only 14% of students from low socioeconomic status received a bachelor's degree (National Center for Education Statistics).
This is the ultimate mandate to higher education: be a means for social mobility and serve those who can benefit most. Today, a rapidly changing landscape is challenging higher education in ways it has never experienced before. Our view is that 'winners' will be defined by their outcomes - success and experience of their students - rather than their inputs - selectivity, marketing dollars, or higher yield rates. To that end, every university has untapped capacity for student success in their community–it just needs to be unlocked in an intentional way.
In the coming years, we will continue to grow a network of partners committed to equity, access, and mentorship. With this network will come the development of new research-backed methods for student support, including:
Deepened measures of supporting individual students in their march to success.

New ways to support the collective student experience (e.g., cohort-based mentoring).

Engaging employers to help students cultivate social capital beyond the institution.

Linking partners to help share best practices and program outcomes.
As always, we deeply appreciate your collaboration and shared commitment to student success. Thank you for being a part of Mentor Collective.

Co-founder and CEO, Mentor Collective