We're pleased to present to you the winners of our 2021 Mentor Collective scholarship contest. In the coming weeks, we'll share snippets of essays and videos that our winners shared with us, painting a picture of what mentorship has looked like in this unprecedented year—and how it has provided the support crucial to surviving and thriving through it. Today, we're saying congratulations to our first winner, Ivy Tse of Washington University in St. Louis's University College Career Mentor Collective.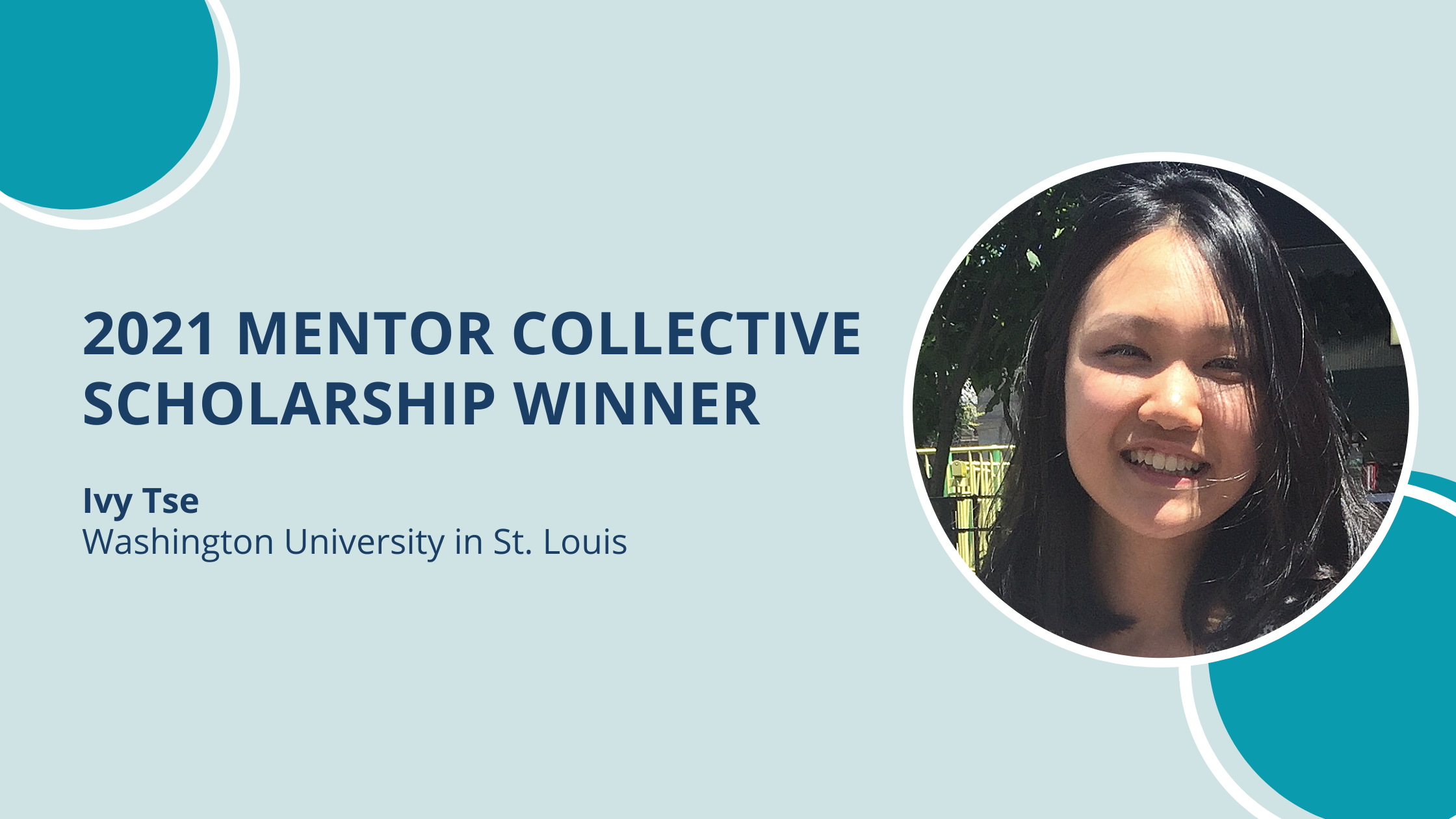 A frequent assumption about mentorship is that its primary goal is to benefit the mentee. But the first of our scholarship winners, Ivy Tse of Washington University in St. Louis's University College, demonstrated in her (now award-winning) scholarship submission that the benefits can be mutual - with the help of her mentor, Chigo Asonye.
Isolation was a common theme that has come up as we speak to mentors and mentees alike about mentorship in the age of COVID-19. Ivy was no exception, sharing, "It's been hard living alone for the first time and being separated from family abroad. The loneliness and uncertainty makes me acutely sad and anxious at times." Even as she worked toward completing coursework in her first post-baccalaureate year—with a doctorate in physical therapy in her sights—she wished to find a meaningful connection.
In a companion essay, her mentor expressed a similar sentiment, writing, "As days in quarantine became months, the human connection I missed from my routine of volunteering, research, and classes, began to bear heavy weight."
Seeing these messages next to each other, I'm sure you can imagine what happened next...and we were so pleased to hear it. Chigo and Ivy were able to provide one another support, friendship, and relief from anxiety. Ivy cited a specific moment where Chigo's support meant more than ever to her:
The tips that the pair have shared to stay well and take care of themselves are clearly benefiting them as the pandemic continues. With a light at the end of the tunnel, Ivy nonetheless anticipates that the tools they've shared will continue to help her. Her budding optimism was clear when she wrote in her essay:
When I confide in Chigo [...], she hears me out, and lifts me up with her warmth and positivity [...] In my relationship with Chigo, I have become more hopeful of better times. With her friendship and guidance, I don't feel so alone.
Chigo clearly feels the same, as her essay reflects:
The mentoring experience has helped me more than I could have imagined. Ivy provided me with emotional support in a time when I needed it the most. Often, my mentee is the first person I speak to in the day. As non-traditional students, Ivy and I have both adapted to these non-traditional times showing that despite obstacles, we are capable of pressing on towards our goals.
When asked what she wanted to share with her mentor, Ivy said simply, "Chigo, you are a blessing. Thank you for all the joy and inspiration!"
To Ivy and Chigo: it was a pleasure to see your relationship come to life through Ivy's scholarship submission, and we're so happy to play a part in this rewarding experience for you both.
If you've enjoyed Ivy and Chigo's story, reach out to us to find out how your institution can start a culture of mentorship.