Last month, MC prioritized a new discussion guide helping mentors speak on the topic of racial injustice and built features to improve the mentee and mentor experience to create a sense of community in times where everyone is yearning for social connection.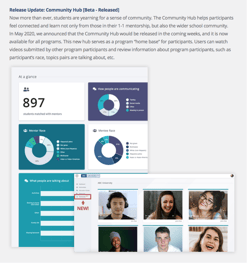 We are committed to equipping and informing our educators with upcoming and released features so that users have an inside look into our product.
Based on dozens of user interviews with our school partners and their communities, these most recent updates aim to increase value and refresh user experience to better support mentee and mentor relationships.

View the full PDF of the July product updates below.

To stay up to date on Mentor Collective's research, events, and new blog posts, subscribe to our newsletter!