For the first time in its history, Mentor Collective has offered a scholarship competition to undergraduate students participating as a mentor or mentee.

We interviewed our third prize winner, Noah Schwartz, whose scholarship submission featured tips and tricks for surviving the first year at Indiana University's Kelley School of Business.
Gaby: Congratulations on winning the scholarship competition! Tell us a little about yourself.

Noah: In short, I am a guy from Middletown, DE who loves soccer, my friends and family, and especially being outdoors. Some of my favorite activities involve being immersed with animals and nature, including visiting the zoo, hiking, and snorkeling/scuba diving. Fun fact: I just got officially open-water certified for scuba diving in Miami, FL on March 10!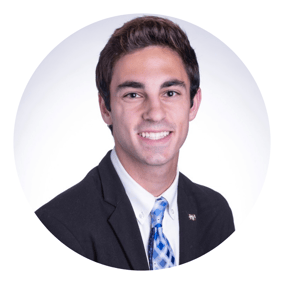 Gaby: What made you want to apply for the Mentor Collective Spring 2019 Scholarship?

Noah: For me, the reason why I chose to apply for the Mentor Collective Spring 2019 Scholarship over any other scholarship was because it allowed me the opportunity to help others if I were to win. Going into freshman year, there were so many times where a little previous advice here and there would have made some seemingly very difficult situations not so difficult at all. Still currently in freshman year, I still face problems here and there, but most of the unnecessary ones are past and gone now. Through this scholarship, I am now able to provide those rising freshman coming to IU a few words of advice on how to approach their first year of an amazing four at IU.

Gaby: Tell me about your submission. What went through your mind when making it?

Noah: Great question! Well, some of the most prominent first thoughts that flashed over while I was creating my submission centered on the more basic, structural side of any piece of writing. This includes: length of submission, structure of ideas, and making sure all of those ideas connect in one overall way. After that, while actually writing the piece, all of my thoughts generally revolved around creativity and how I would make my submission unique from the others.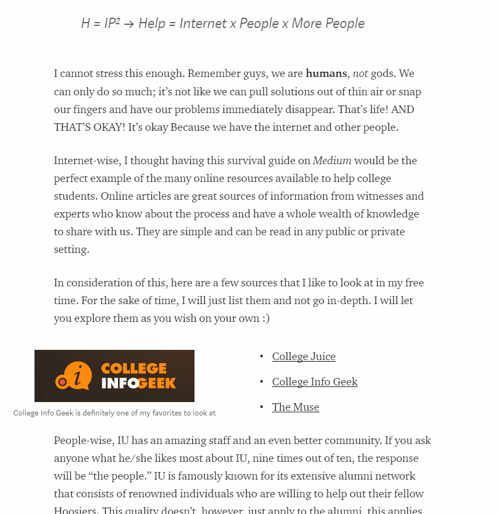 A snippet of Noah's scholarship submission
Gaby: What has your Mentor Collective experience been like?

Noah: Mine has actually been very, very helpful! My mentor had very similar career interests and has provided me excellent advice regarding that area. On a more personal note, he truly seems to care about my success and well-being in academics and social life. With that said, thank you again to him and the Mentor Collective team! I highly recommend this to any other student. Just remember that it never hurts to have an extra mentor.

Gaby: What would you share with other students thinking about joining their school's Mentor Collective program?

Noah: Make sure you take the time to accurately fill out the original mentor-mentee [matching survey]!! This will help the MC team find you the right mentor like they did for me!

Gaby: Where are you hoping to go in the future?

Noah: So I am in IU's Kelley School of Business currently majoring in Economic Consulting and Sustainable Business as well as minoring in Environmental and Sustainability Studies. After college, I hope to build a career in the sustainability field (preferably on the environmental side, but I have also increasingly become interested in social impact). At the moment, my dream job would be to lead global sustainability initiatives for the National Geographic Society. The nonprofit perfectly combines my interests in a fun, meaningful way and is a perfect representative of my personal values.

Gaby: Thank you so much for participating in our first scholarship competition! Anything else you think we should know?

Noah: Well, this is more to any future students of IU or any other school. If any rising freshman ever needs anything, please feel free to reach out to me through my email (nsschwar@iu.edu). I am more than happy to help! :) Also, I obviously didn't say everything that needed to be said in my submission, but I hope that I was able to help in at least some small way. The most important thing to remember is that you all will do great!


--
Mentor Collective helps universities realize the potential of mentorship by providing the program management and software to deliver efficacy at scale. Noah's positive experience at IU Kelley was enhanced by his mentor, who supported him through thoughtful communication and personal connection.

You can learn more about Noah and his experience on his LinkedIn.