We're excited to announce we have expanded our full student lifecycle mentoring platform to provide all admitted students with a relevant, trained peer mentor who supports them in their college selection process. This new offering is critical to our mission to broaden college access and success, and positions peer relationships at the heart of higher education.
This new program empowers admissions offices to proactively intervene and provide all students, regardless of their background or means, with the resources and support that will make a difference and increase their likelihood of enrolling and being retained long-term. Admitted students form authentic relationships with their peers, which generates insights to help colleges refine their short- and long-term enrollment strategies.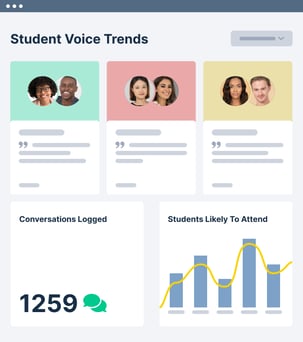 "The college selection process can be overwhelming, especially for those students that don't have a support system they can reach out to that has gone through the process themselves," said Jackson Boyar, co-founder and CEO of Mentor Collective. "What we found in our research and working with our 100+ partners is that providing prospective students 'authentic' experiences right off the bat is the missing piece in strategies to increase yield and decrease melt and, most importantly, ensure student success."
After one of the most disrupted years in U.S. higher education history and following a decade of declining enrollment, competition for students has never been more fierce. Combine this environment with the feedback gathered from the 1,000+ higher education leaders we've convened through virtual events and research interviews, it was clear that we needed to expand our large-scale, structured mentorship platform to include mentoring programs at the point of student admission.
Pacific University, a Liberal Arts College in Oregon, partnered with Mentor Collective to ensure all incoming students would have access to a trained peer mentor that would welcome them to Pacific, and help them navigate the college decision process.
"Ensuring that the students who are admitted at Pacific feel part of the Pacific family right away, have connections to other students, and can see examples of student success at Pacific are priorities for us," said Sarah Phillips, VP of Enrollment Management and Dean, College of Arts and Sciences. "We want students not to just enroll at Pacific, but to graduate from Pacific."
As a Mentor Collective partner since the summer of 2018, Montclair State University (MSU) expanded their mentoring program to provide all admitted first-year students with a relevant, trained peer mentor. The pilot admissions mentoring program launched in Spring 2021, includes 500 trained peer mentors that support 13,000+ admitted first-year students, and has generated 45,000+ message exchanges on our mentorship platform.
"My favorite thing was the fact that I got to speak to an ACTUAL student who has experienced an education in the School of Communications at Montclair," said an anonymous student at Montclair State University.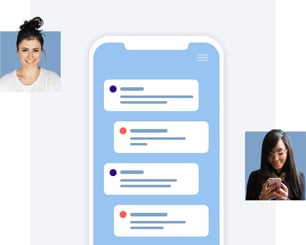 The new program has already helped pilot programs amplify their admissions operations with extensive mentor training and access to real-time and holistic student trend data. Most importantly, the program has helped foster personal and authentic relationships students can trust.
"I am so grateful for the mentor connection with Maya, who can help guide me as a Biological Sciences major and pre-med student," said Kyra, mentee at UC Davis BioLaunch. "I am eager to soak up all her knowledge and insight, and I have already sent her my first text message. Thanks again for the connection— I am so elated to be an Aggie!"


To learn more about how you can make your admissions process more personal, visit mentorcollective.org/enrollment or attend our virtual event featuring Pacific University.