At Mentor Collective, we believe the secret to effective networking is paying it forward. Connecting others keeps your network active and, most importantly, helps others connect with the people, ideas and opportunities that help them succeed.
Our work gives us the opportunity to interact with the academics, leaders, and administrators that work tirelessly to understand and improve student outcomes through mentorship. They go by many identities but have one thing in common – the desire to make an impact by challenging the way we think about higher education and the student experience.
We call them Mentorship Champions.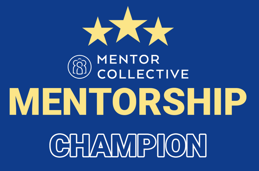 This month we're pleased to announce University of Mississippi's Assistant Vice Chancellor for Diversity and Inclusion Dr. Norris "EJ" Edney as our inaugural honoree. In 2021, we were honored to host Dr. Edney at the very first Mentorship Masterclass event where he presented his dissertation, The Collegiate Equity Mentorship Matrix: A Culturally Relevant Framework for the Meaningful Mentoring of Black Male Students.
Read on to learn about Dr. Edney's work and his views on the impact of mentorship.
About Dr. Edney
Dr. Norris "EJ" Edney graduated from the University of Mississippi in 2011 with a bachelor of arts in biology with minors in chemistry and psychology, in 2013 with a Master of Arts in Higher Education/ Student Personnel, and in 2019 with his Doctor of Education in Higher Education.
EJ's work and research focuses on mentoring and its capacity to affect issues of equity and access for marginalized student groups. His work has received numerous awards including the Donald Cole Award for Excellence in Mentoring (2016) from the University of Mississippi Black Student Union and the Laws Innovation Award from the University of Mississippi School of Education (2018).
Last April, Dr. Edney was recognized as one of this year's Frist Student Services Award recipients from the University of Mississippi. One of the highest honors on campus, the award is presented to those whom reach beyond the scope of their role at the institution in favor of helping students succeed. One nomination letter from a student included:
"Growing up with no male figure in my life was complicated. I never knew how to interact with men, to be frank. Dr. Norris 'EJ' Edney is the first male figure to be 100% vested in my success...I am forever grateful for Dr. Edney's role in my life...His love and passion for students inspired me to pursue higher education. I want to be the Dr. EJ to another student, hoping that they will also pay it forward."
Dr. Edney on Mentorship
Mentor Collective (MC): What does mentorship mean to you?
Dr. Norris "EJ" Edney (NE): For me, I see it as my occupation, which is probably unique for higher education. I think it's the single-most-important ingredient to somebody's success. It supports everything you need in order to stay committed to something long enough to see achievement.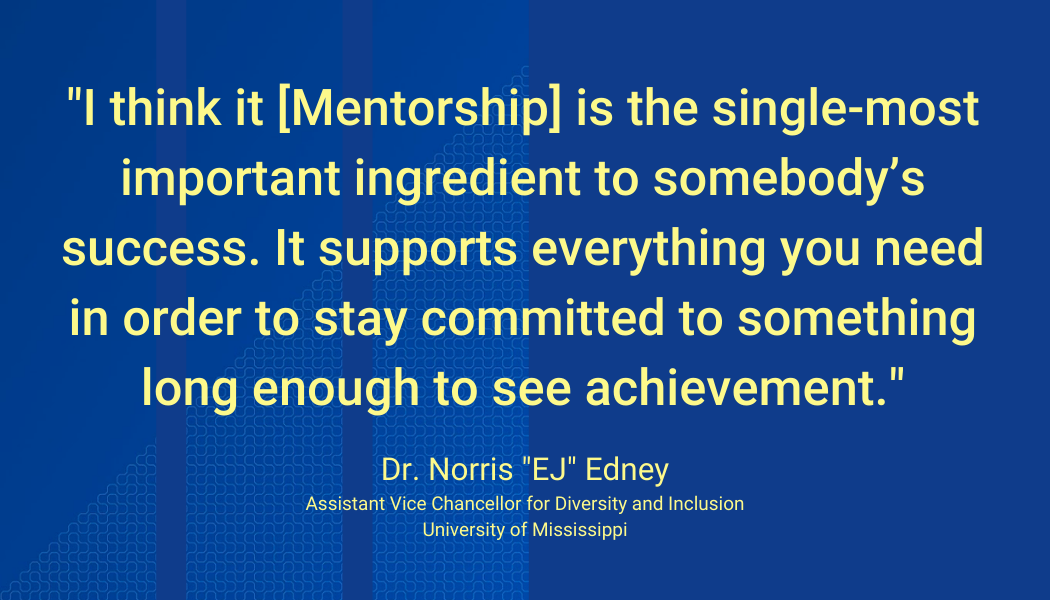 MC: What advice would you give to someone seeking a mentor, or someone who may want to make the most of their current mentoring relationship?
NE: The short answer is to put yourself in proximity. There's this weird thing now about moving in silence. What are you moving toward if you're moving in silence? Who are you moving with if you're moving in silence? I say speak boldly about the things you want to do and just know someone will be there to hold you accountable. I've never shied away from wanting the role I have [at University of Mississippi]. There seems to be this conventional thread of advice that says to keep things close to the chest. That's just unsustainable and unnecessary. Mentors are those people that you need to be speaking to boldly about what it is you want to do and the impact you want to make. They can't tell somebody they know about you if they don't know what it is you want out of life or what success looks like to you. How can people support your success if they don't know what your picture of it is or if you haven't given people the opportunity to help you refine it?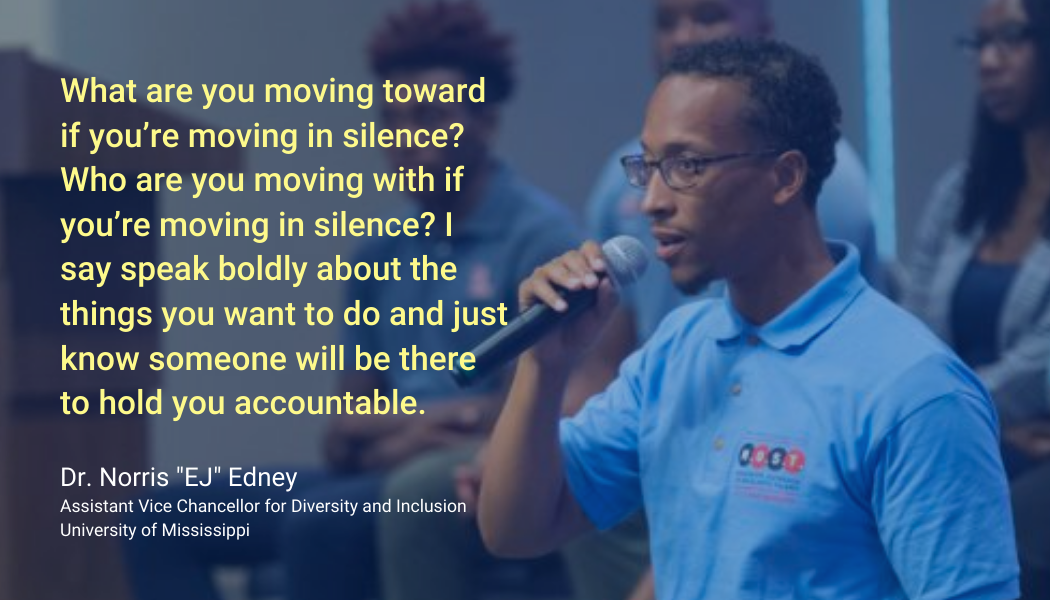 MC: How has the power of mentorship shown up in your life?
NE: My mentors all have something in common. They are all people who are super well-respected, who you might be tempted to put on a pedestal, but who are so human, accessible, and aware of what it took for them to get where they are. It's grounding to be able to share space with people who have accomplished so much. And not all of them in the way where they earn some title. Some of them are solid dads or community members, where they can't walk down the street without 100 people saying something to them.
Integrity has also been a common thread with the mentors that have been in my life. Not perfection but integrity. Seeing people apologize or admit they were wrong, admit how they could have shown up differently in a situation, and even seeing mentors wrestle with asking questions like 'what is the right thing to do,' 'what's the right choice for me to make,' 'how do I say sorry', that vulnerability really helps me accept advice like 'EJ, you really should go back and fix this situation.' The reason that they are positioned to say that to me is that we have a relationship to be able to reciprocate that. They trust me to have those conversations and I trust them to understand the dynamics at play and to weave that into their guidance and support. Those are things that are important to me in my mentoring relationships.
MC: What makes you want to champion mentorship?
NE: I don't think people take mentoring seriously enough. I don't think it's been leveraged appropriately by institutions or corporations. I think part of that is that it needs to be legitimized, and the experiences of people who have benefited from it haven't been highlighted and celebrated. I think particularly when you think about people whose lived experiences and identities increase the likelihood of marginalization – or encountering a hidden curriculum – I think particularly for those students, and all students, mentorship helps to sharpen, refine, and encourage us in ways that contribute to success.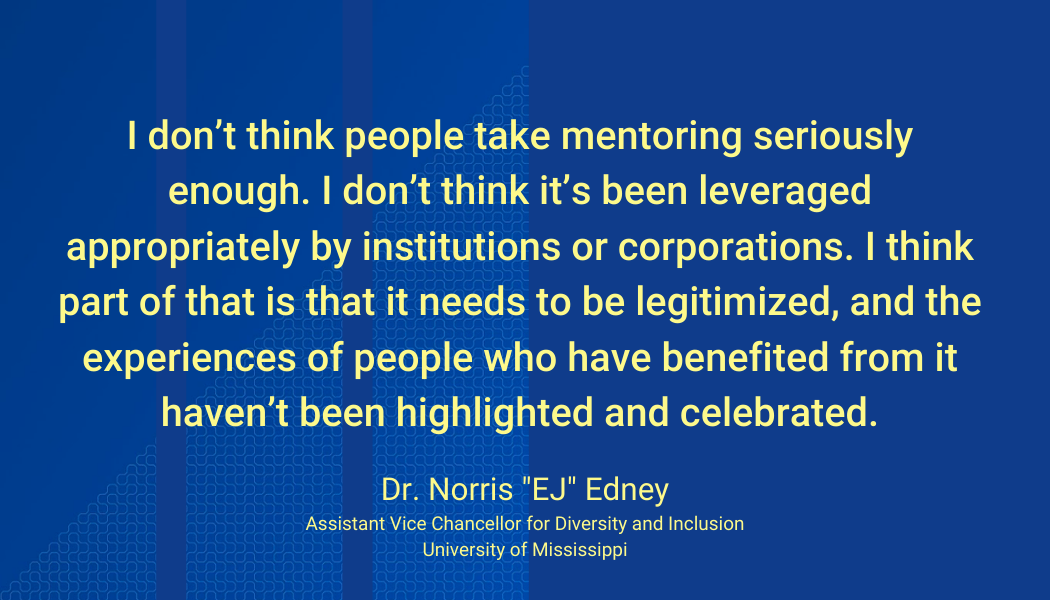 One of the qualities that underpins the value of education is that it keeps us from having to relearn, and rediscover what we already know. Mentors understand that. Mentors try to make sure their mentees benefit from their lived experiences and the wisdom, connections, and perspectives they have brought. I don't think people think about that with the legitimacy that they should.
When it comes to student success…relationships are it. They the only way to ensure that education does what it's supposed to do. Mentorship challenges people at that level, but ensures that when people have a specific need unique to their lived experience that they have someone to be able to pour into them in that specific way. I see my research as helping give practitioners at their institutions the tools and legitimacy to go in and say "Here's why we should do this. It's grounded in research." There's proof that if we do this, this is how students might experience it. It's worth the time and energy.
Do you know someone who should be highlighted as one of our next Mentorship Champions? We'd love to know them, too!
Reach out to Alexandria Glaize at alexandria@mentorcollective.org to submit your nomination and help us uplift the work of extraordinary individuals.