At Mentor Collective, we believe the secret to effective networking is paying it forward. Connecting others keeps your network active and, most importantly, helps others connect with the people, ideas and opportunities that help them succeed.
Our work gives us the opportunity to interact with the academics, leaders, and administrators that work tirelessly to understand and improve student outcomes through mentorship. They go by many identities but have one thing in common – the desire to make an impact by challenging the way we think about higher education and the student experience.
We call them Mentorship Champions.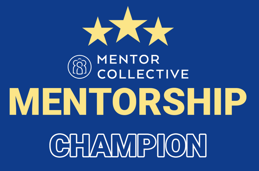 This month we're pleased to announce our Mentorship Champion as Dr. Lynn Breyfogle.
Dr. Lynn Breyfogle completed her Ph.D. in Mathematics Education at Western Michigan University in 2001, and has taught in the Mathematics Department at Bucknell University for 11 years before becoming Associate Dean in 2012. In addition to providing ongoing professional development to mathematics teachers in 12 school districts in central Pennsylvania and hosting Mathematics Teacher conferences on Bucknell's campus, she has served on the Association of Mathematics Teacher Educators Board of Directors and on the editorial panel for the National Council of Teachers of Mathematics publication Teaching Children Mathematics.
Within her role as Associate Dean, her primary responsibility surrounds first-year and second-year student success, overseeing advising, appropriate course offerings, and coordination with academic programs. Her duties include counseling students, attending to the needs of students with disabilities, initiating official University actions on student progress, serving as a liaison to faculty members and departments on advising and other student issues, working with departments and the Registrar's Office on developing the entering student class schedule and registration materials, working with student services on the living-learning climate and representing the Dean on University committees dealing with policy on student and academic issues. She also handles academic irresponsibility in the College of Arts and Sciences.
____________________________
Dr. Breyfogle has been instrumental in helping share the success of Bucknell University's mentorship program with peer institutions on the conference circuit. We recently had the honor of presenting with her at the NASPA Student Success in Higher Education Conference last spring to show how peer mentorship benefits first-generation students.
You can read or listen to Alexandria's interview with Dr. Breyfogle below:
Alexandria Glaize (AG) : What does mentorship mean to you?
Lynn Breyfogle (LB): I would say that mentorship is about connections and supporting one another. I've been involved in mentorship in various ways, as a mentee earning my Ph.D. and as a mentor. In my experience as a mentee, one of the most essential elements of successful mentoring is connecting a mentee with a mentor's network.
As a faculty member and also now an administrator, I've been involved with and launched a couple of different types of mentoring initiatives.
One of the really powerful mentorship experiences I've been involved with is through the Posse Foundation. I was a Posse mentor and have worked with many other Posse mentors and students. And what I learned from that experience -- and working with my admissions colleagues -- is thinking about how we must try to connect students with mentors, with people, who will be supportive, both peers and faculty/staff.
Years ago, I attended a conference at the University of New Mexico Mentoring Institute, which focused on moving mentoring from a one-on-one framework to a network and recognizing that every person needs a network of mentors. You need one for your academics. You need one for your personal and social circles. You might need multiple mentors in your academic career. Don't restrict yourself to just one mentor. The more connections you make with people, the better opportunities you have in the long run. That conference helped me to shift and recognize that more mentoring is a good thing, and as good as it is to be the mentee, it's actually just as beneficial to the mentor.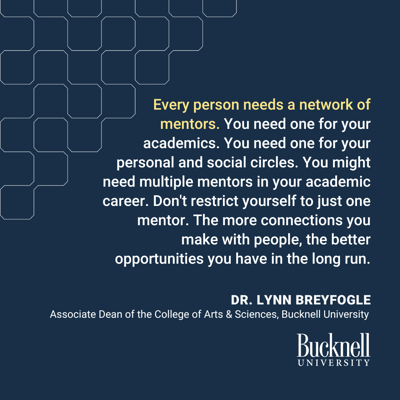 So in my role as a researcher and a faculty member, I started a project where I was developing a mentoring program for professionals in mathematics teaching. It's really funny when I think about it; mentoring has been a key part of my entire journey. Because of this, I have recognized how important it is for our students to have that as part of their experience - both being a mentee and mentor.
AG: I love that. I love hearing about the evolution of how you've seen mentorship show up in your life. The beautiful thing about the power of connection...is that it is an ever-evolving thing. Even how we make the most out of these mentoring relationships and out of these connections.
What advice would you give to someone who is seeking a mentor or someone who may want to make the most out of their current mentoring relationship?
LB: I think that's an individual choice because when choosing a mentor, you may have an idea of why you want to have that mentor. I can't tell other people what they want to get out of a mentor, but I can share my experience. For example, I was an ACE fellow. As an ACE fellow, you're looking for a mentor to give you all kinds of advice about what career path you want to be in, and I wanted to be with a president who wanted me to be a part of everything. Someone who allowed open access so I could learn as much as possible. I had a wonderful mentor as a president, and I needed someone who shared the same interests as me, who was open, and who wanted to share with me so that I could learn and grow alongside them.
My advice to someone seeking a mentor is to figure out why you want a mentor and then choose someone that will mesh with what you are looking for.
This is one of the beautiful things I love about the matching algorithm of Mentor Collective. I love that it's the mentee guiding what they are looking for in a mentorship experience. You might think from the outside that you want to put all the first-generation students together. You want the first-generation mentee with the first-generation mentor, but that might not be what that mentee is looking for.
They might not even identify as first-generation, and so they're not even looking for someone who's gone on the same path. They may be looking for someone who's in their major and already knows what they want to help them get connected to their network of friends. So I guess two things:
Figure out why you want the mentor (and it's okay to have lots of different mentors) right.
Choose someone that's going to align with your interests and goals
AG: I love that, and even that advice also works for someone looking to make the most out of their current mentoring relationship. In mentoring relationships, we often see that we're not providing those soft skills. In telling mentees, they have the authority to say: "I'm in a relationship with you because of XYZ, and I want you to help me accomplish XYZ." And that's okay.
LB: Absolutely, and you know, honestly, any mentor who's a mentor is not just doing it. They want to be helpful, and if they're not helpful, they shouldn't be spending their time that way.
AG: Exactly! I love leaning into that message that the mentee has the authority and is in the driver's seat. There are so many possibilities. Let's lean into how mentorship has shown up in your life. You mentioned this when you talked about why mentorship is important to you, but I want to dig deeper into that by just saying even beyond academia and other aspects.
How has the power of mentorship shown up in your life?
LB: I don't think I would be where I am or have the success I have without the great mentors in my life...and when I say success, I measure success as being incredibly happy with what I have with my life. I wouldn't be where I'm I'm at without them. I don't mean to get emotional.

AG: Lynn, in every single Mentorship Champion conversation we've had, there have been tears. It just continues to tell me that there's so much power in this. I love it. I get emotional because folks get emotional about how it's shown in their lives. So please continue. I love this.
LB: I mean, I think of mentorship even more broadly than what a lot of people consider. I think of my parents as role models. I still consult with my parents, and I'm fortunate to be able to do it. My husband has nothing to do with academia but is a mentor to me in many ways. I guess there's the line; I don't know, maybe it gets blurred between friend and mentor.
In my professional life, I've had people present themselves to me as mentors. I wasn't asking for them to be a mentor, but they saw the opportunity and the need for me to have a mentor. When I entered the math department -- and we have a wonderful math department at Bucknell -- there were not very many women. One of my colleagues is a really incredible mathematician, Pam Gorkin. she took me under her wing and really served as a mentor to me in my first several years.She was kind, and my goal wasn't going to be a mathematician like her, but I wanted to be a full professor like her; she was the first full Professor in our department at Bucknell, and I was the second. It really is because of her.
I've had other great mentors. My dean right now is my former department chair in Mathematics. He has also been a mentor - someone I can talk to about my goals, and my ambitions. For him to be open and say, "Yeah, I want to support you in this. It's not my journey, but I want to support you in your journey," is really incredible.
AG: I think this is probably the most powerful question that we ask because, in some sense, it is very personal. I love hearing folks talk about the power of mentorship because I think it's a very good grounding question and always a good reminder of why it's so important. Oftentimes we talk about membership like it's nice to have. If we asked that question more, we would truly understand the power and potential of how mentorship brings real value.
LB: One of the other people who has been an amazing mentor to me is the woman I followed into this position. She was the associate dean before me, and she and I have been very good friends. I still ask her for advice and guidance because there are things that come up that she understands on a deeper level.
AG: I love that.
What makes you want to champion mentorship?
LB: I think seeing the power of mentorship in my own life, but also seeing the power in former mentees makes me want to champion mentorship. I know that everyone who walks in the door at Bucknell can be successful and can thrive. For first-generation students who are also students of color, our university is not an easy place to navigate or manage. They want to do it themselves, they want to do it alone...but they don't have to. No one does it alone. I want them to ask for help, to set themselves up for success by having a support system. We're human. We're in a community for a reason. To me, mentorship helps and is so incredibly important and powerful.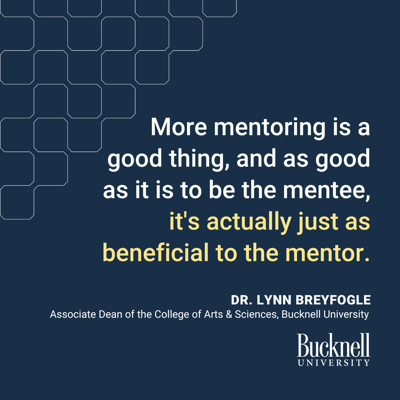 I want 100% of our first-year students to have a mentor. We've done pretty well at Bucknell with that, and in the last few years, we've been at 85%. But that's a B on the grading scale. I won't be happy until we get everyone in the program.
AG: Wow! Thank you! That was pretty powerful! This is a beautiful reminder to me of why I'm at Mentor Collective; why I love talking to the students and our partners. Folks like you have experienced mentorship and understand its power. I love thinking about how we're providing this access to students.
Do you know someone who should be highlighted as one of our next Mentorship Champions? We'd love to know them, too!
Reach out to Alexandria Glaize at alexandria@mentorcollective.org to submit your nomination and help us uplift the work of extraordinary individuals.
Want to learn about previous Mentorship Champions? Check out our previous honorees below!
Mentorship Champion: Dr. Norris "EJ" Edney
Inaugural Mentorship Champion on Speaking Boldly About Your Goals and the Impact of Relationships
Mentorship Champion: Dr. Charmaine Troy
Using Mentorship to Provide Access & Representation
Mentorship Champion: Dr. Lanze Thompson
Growing Beyond Sense of Belonging with Intentional Mentorship