Physical, Not Social Distancing

Mentor Collective had the opportunity this week to engage in conversation with Dr. Michael Tew, Associate Provost & Associate Vice President for Academic Programming and Services at Eastern Michigan University (EMU). The webinar focused on the outstanding four percent increase in retention from Mentor Collective's peer mentorship at EMU, as well as how peer mentorship helps ensure that social distancing is not a barrier to relationships during the COVID-19 crisis.
EMU and MC: Background
EMU is a comprehensive regional institution with over 18,000 undergraduate students, with a population comprised of 40% first-generation students and more than 50% Pell-eligible. EMU is considered one of the most ethnically diverse institutions in the Midwest.
Dr. Tew reported that when the partnership between Mentor Collective and EMU began, leaders at the school were concerned about the retention rate among first-generation students, as it was alarmingly low compared to the general population. A survey of past EMU drop-outs revealed that these ex-students felt a low sense of connection to the school. Dr. Tew and other leaders felt the most effective way to increase sense of belonging among first-generation students would be through peer mentorship. With that goal in mind, EMU partnered with Mentor Collective to build a scaled mentorship program. MC matched over 80 first-year, first-generation students with third and fourth-year mentors in the first year of the program and matched over 300 students the following year.
This investment in mentorship paid off: at the end of the pilot year, retention among Mentor Collective students was 4% higher than non-participants.
Strategies for Student Support During COVID-19
Dr. Tew shared several ideas and strategies on how EMU is supporting students during this global crisis.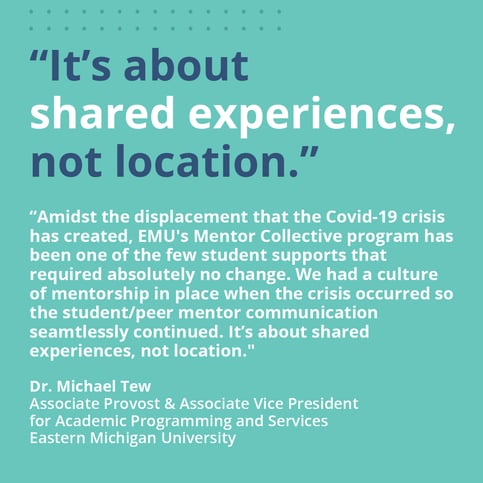 "Have clear, constant, and measured communication."


Dr. Tew advised other institution leaders to try to manage the amount of information sent out to faculty, staff, and students at a pace that is easily consumable. Don't throw everything out at once."

"It's about shared experiences, not location."
Dr. Tew reported that right now, the main goal of the mentorship program is increasing social connection and building camaraderie. Through Mentor Collective, EMU is prompting mentors to reach out to students and check on them. With this communication system already in place, EMU was immediately able to call on mentors to be in communication with mentees through the upheaval of COVID-19.
"A situation like this causes us to be even more responsive and sensitive to our students."

Dr. Tew noted that students have varying degrees of success with online learning. Learning outcomes, teaching pedagogy, and assessment of outcomes are now all challenged with the shift to virtual participation. Dr Tew suggested institutions take note of how often students are logging in to online courses. Then follow-up, not in a punitive way, but with the recognition that when students are not logging in, there may be many reasons at fault, including challenges in their personal lives that intrude on their ability to be participants in the online process. Dr. Tew noted that utilizing advisors, faculty, and mentors, in particular, allows EMU to intervene and engage with students to help them overcome those potential barriers to completion of coursework in an online environment.
If you're looking to engage and support your own first-generation students—or any other unique population, such as transfers, online learners, and more—contact Mentor Collective today to start the conversation.
Learn more about EMU's program on our webinar. Watch today!