We're pleased to present to you the winners of our 2021 Mentor Collective scholarship contest. In the coming weeks, we'll share snippets of essays and videos that our winners shared with us, painting a picture of what mentorship has looked like in this unprecedented year—and how it has provided the support crucial to surviving and thriving through it. Today, we're saying congratulations to our third winner, Mwihaki Kiiru of St. John's Career Aspire Program.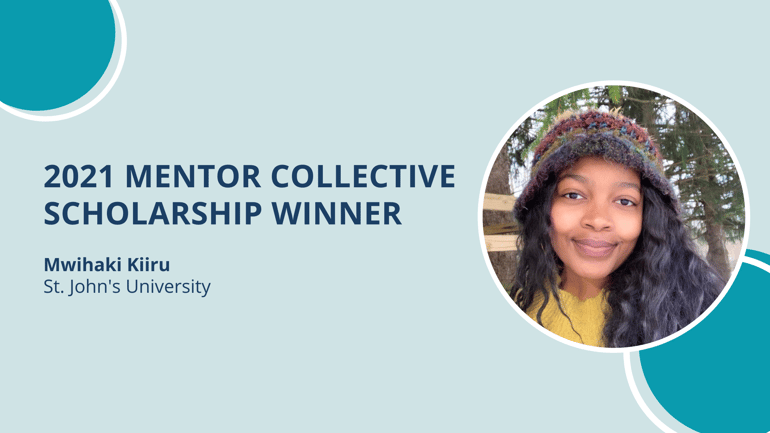 When we asked St. John's University junior Mwihaki "Haki" Kiiru about her career goals, we got an ambitious and admirable answer: "Long term wise, my bold ambition is to offer a seat at the table to everyone and anyone who comes after me, people of all races, religions, and genders." It stands to reason that she'd want a mentor to help guide her to this goal, and she found just the one she needed in Queen Ofori.
At the start of the year, Haki's focus was on landing an internship. Queen worked with Haki to meet this goal, sending along resources and internship descriptions that fit her needs. In Haki's words, Queen's help met the moment perfectly:
We'd also often have calls where she would give me tips before my interview then I'd call her after and go over the questions the interviewer asked and how I could better answer the questions in the future. Nevertheless, Queen was supportive and attentive and during this ongoing COVID pandemic, where it was very hard for many of us to figure out our next moves, she was everything I needed.
With Queen's help, Haki was able to take the time for herself that she needed, before returning to her internship search at the tail end of 2020.
2020 gave many of us more than we bargained for in the hardest of ways, but Haki is determined to stay on track and make the impact she wants to make on our world. When asked what compelled her to apply for the scholarship, her single-mindedness shone through as she answered, "I applied for this scholarship because I had a story to tell. My story. The growth and realizations I had during an all encompassing, tumultuous period of life." And she's gracious as she shares credit for how she got through this period:
When I applied to Mentor Collective I never would've figured I'd find a sister figure outside of the mentorship but then again I also never would've guessed this major event would take place this semester or even this early on [in] my life. Regardless, I will be forever grateful to this program for giving me a beacon of light during a time I so desperately needed.
And in true sisterly fashion, Queen's response echoed Haki's. "Although we connected during a troubling time," she shared, "I strongly believe it has helped both of us be stronger and better versions of ourselves. I am grateful for the opportunity and I am looking forward to all the greatness to come our way."
To Haki and Queen: we're so happy to see how your mentorship connection helped you both grow and change together, and we can't wait to see what the table you build leads to for our world.
To support connections like this on your own campus, get in touch with us to talk about developing a culture of mentorship.