Thousands of relationships are fostered through Mentor Collective programs (we just surpassed 75,000 matches!). We are thrilled to launch these new updates for November to empower students and support educators.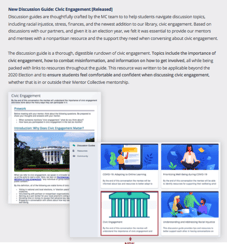 WHAT'S NEW
Discussion Guide: Civic Engagement

The discussion guide is a thorough, digestible rundown of civic engagement.

Topics include the importance of civic engagement, how to combat misinformation, and information on how to get involved

, all while being packed with links to resources throughout the guide.




Relationship Insights Added to the Individual Mentorships Page


To illustrate the details on what is happening in a given mentorship, we have launched an important new section to the individual mentorships page to allow our partners to see the mentee/mentor conversation logs. We particularly see this useful when following up on Insight Flags, so you have added context when supporting your students.

To stay up to date on Mentor Collective's research, events, and new blog posts, subscribe to our newsletter!