Our priority for this month's product updates were to improve one of MC's core features: Insight Flags. Better track and resolve your students' biggest issues with new and improved Insights Flags features within the Educator Dashboard.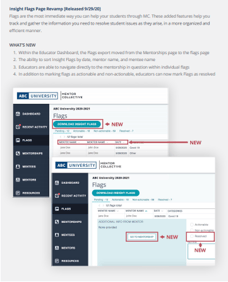 WHAT'S NEW
Within the Educator Dashboard, the Flags export moved from the Mentorships page to the Flags page

The ability to sort Insight Flags by date, mentor name, and mentee name

Educators are able to navigate directly to the mentorship in question within individual flags

In addition to marking flags as actionable and non-actionable, educators can now mark flags as resolved
Partner Spotlight
"The Insight Flags we receive from our mentors are very helpful for supporting our students. Just recently, we had a flag submitted by a mentor regarding financial issues. Our team was able to follow up with that student within one day to provide a solution to ensure the student's success. Without the flags from Mentor Collective, we may not have heard about this student's concerns, and it may have resulted in the student falling through the cracks. Insight Flags help us keep a tighter net to ensure we are supporting our students as best we can."
TONY JOHNS
Program Coordinator, First Year Student Enrichment Program and the King Scholars Program
Dartmouth College
To stay up to date on Mentor Collective's research, events, and new blog posts, subscribe to our newsletter!