At Mentor Collective, our mission is to make life-changing relationships a feature of every student's college experience.
We want to make each mentorship successful, which is why we offer extensive training and resources to support the mentor-mentee relationship. Mentors who enter the program aren't simply left to figure things out on their own; they receive training in the skills they need to be successful, from the very first conversation with their mentee, through tackling thorny issues and setting boundaries. After listening to our partners, we learned we could further improve the mentoring experience for participants through flexible learning experiences that hold mentors accountable for mastering course learning objectives. We are excited to announce on-demand training for mentors! To learn more, read on, or watch this 2-minute video.
HOW WE TRAIN
Our in-house training team of education experts, curriculum designers, and content authors has developed both a library of discussion guides to walk participants through difficult topics, and an interactive onboarding to get them ready for their mentoring relationship. Our on-demand delivery system allows participants to take the training whenever and wherever they like, which helps students and professionals fit their mentorship role into their busy lives.
The nuts and bolts of the training are designed to reduce friction in the process. When aspiring mentors log into the Mentor Collective dashboard, they are immediately greeted with an onboarding task to complete their required training module. Once they begin the module (which they can do any time, from any internet-connected device), they will be guided through a series of text- and video-based instructional sections.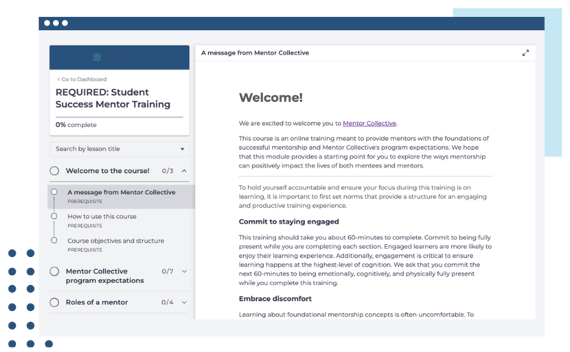 The training is designed in accordance with research-based instructional design principles, beginning with crafting the content to promote maximum engagement. It includes informative assessments spaced throughout the module to check comprehension, and a formative summative assessment that ties the learning outcomes to the learning objectives. The mentor will receive a certificate of completion that they can print, save, and/or add to their LinkedIn profile. Partners can view from their dashboard how many mentors have completed training.
LEARNING OBJECTIVES
The learning objectives for the Student Success Mentor Training previewed in the video above are:
Describe Mentor Collective program expectations for mentors
Differentiate a mentor from other student support forms
Distinguish between different stages of the mentoring life cycle
Practice an appropriate way to introduce oneself as a mentor to a mentee
Evaluate the efficacy of healthy boundaries
Practice active listening skills that build trust and empathy
Create appropriate questions to ask mentees
Each of these is evaluated in the assessments so that we can tie outcomes to the specific objectives of the course.
The participant must score at least 75% on the assessment in order to complete the training, and each component of the assessment is tied to a specific learning objective. This means that the results of the training offer us a chance to target areas where participants need the most support and resources. So, for example, if we find that participants are scoring lower on a particular section of the training, we can use this as a valuable data point by offering supplemental assistance in that area.
Our on-demand training has already yielded an increase in the conversion rate of aspiring mentors carrying through to the matching phase. Participant satisfaction with the training is high (4.75/5; n ≈ 1000), and we continue to refine our model to improve both efficacy and satisfaction as we learn more about outcomes and needs.
WHY IT MATTERS
Research shows that mentored students are up to 30% more likely to persist from term to term, and just three conversations with a mentor makes a significant impact.
We know our program partners are often pressed for time and resources. Our training is an opportunity to prepare for a successful mentorship within the program and develop participants' overall skills in communication and relationship-building. Employers are in dire need of workers with well-developed soft skills, particularly in the domain of communication; the National Association of Colleges and Employers has recently identified communication as among the most vital skills in the workplace today. By completing our training and taking part in the mentorship program, participants will be able to increase their job-readiness in these areas, and be better prepared to build professional relationships in their careers.
Our dedicated training team is a vital part of Mentor Collective's mission to make life-changing relationships a feature of every student's college experience. Our convenient, on-demand training not only supports each mentor, but also helps us understand how to improve our programs and continue to provide outstanding value in service to our mission.
To start a conversation about how to utilize mentorship to engage and support your students, contact Mentor Collective today.