We are happy to welcome guest writer, Polly Goss, Advisor at Mentor Collective.
The academic year 2020-2021 will be one for the history books. We spoke with the University of Wisconsin Madison, the University of Alaska Anchorage, and the University of San Diego School of Leadership and Education Sciences (SOLES) to understand how they are preparing students to succeed in the Fall. We also asked how Mentor Collective plays a role in their student engagement strategy. Here is what we learned:
Empower students with resources and provide multiple vehicles for engagement - UW Madison
UW Madison is adopting a hybrid approach for the Fall semester; around 40% of classes will have the option to be in-person, and students are welcome to return to residence halls. Given the state's rural nature and some students' lack of access to technology and reliable internet connection, the institution wanted to provide students with flexibility for the upcoming semester. To provide students, staff, and faculty with the information they need, the university created a website to be a 'one-stop-shop' for their questions about the Fall. The site is updated daily (many times!)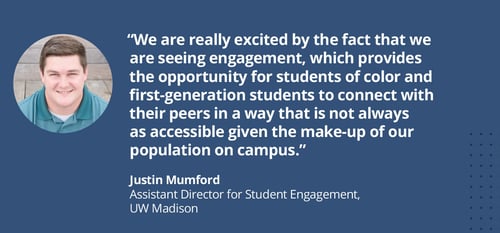 Justin Mumford, Assistant Director for Student Engagement, and Kasie Strahl, Student Engagement Manager, discussed how students struggle to make connections remotely. Mumford noted that Mentor Collective is critical in providing students with "that comfort zone, that sense of community, that person they can connect with to help navigate the college experience." UW Madison has been especially delighted to see a high percentage of students of color and first-generation students participating in the Mentor Collective program (50%). Mumford expressed, "we are really excited by the fact that we are seeing engagement, which provides the opportunity for students of color and first-generation students to connect with their peers in a way that is not always as accessible given the make-up of our population on campus."
Adapt advising and meet students where they are at - University of Alaska Anchorage
The majority of classes at the University of Alaska Anchorage will be online in Fall 2020, with a few exceptions, such as lab classes that will operate on a rotating schedule. Valerie Robideaux, Director of First-Year Student Advising & Success, discussed how they are now advising incoming students to consider a lighter course load this semester if they have concerns about online learning. Over 90% of students at the University of Alaska Anchorage are commuters, many of whom work over twenty hours off-campus. For these students, attending online events during COVID can be more convenient than attending in-person activities. Kim Morton, Director of Student Life and Leadership, noted the recent spike in attendance at virtual events.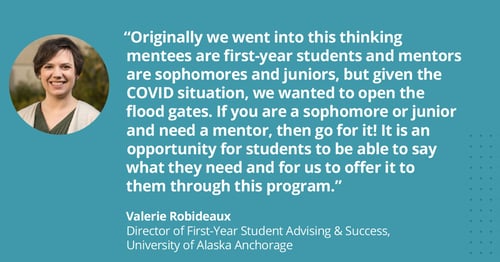 Robideaux expressed the importance of Seawolf Mentor (the university's Mentor Collective peer mentorship program) in providing students with a "supportive network" for Fall 2020. Robideaux continued that a critical focus for the institution is to encourage help-seeking behavior: "Originally we went into this thinking mentees are first-year students and mentors are sophomores and juniors, but given the COVID situation, we wanted to open the flood gates. If you are a sophomore or junior and need a mentor, then go for it! It is an opportunity for students to be able to say what they need and for us to offer it to them through this program."
Listen to your students and create space for meaningful conversation - the University of San Diego, School of Leadership and Education Sciences (SOLES)
With cases of COVID-19 rising in California every day, the University of San Diego has decided to begin the Fall semester by delivering all undergraduate and graduate courses in an online format. The university's website states that they are prepared to change to a hybrid model following future guidance from State and County officials. In line with national trends, SOLES has not seen a significant decline in graduate student enrollment. Linda Dews, Assistant Dean of SOLES, reflected, "this is teaching us that graduate students have a time-frame; sticking with the time-frame is their priority, not necessarily the temporary delivery model shift. And we do see it as temporary."
Amanda Gonzales, Assistant Director of Alumni Relations, Rachelle Ann Martinez, Assistant Director of Student Support Services, and Linda Dews, spoke about the fundamental role Mentor Collective plays in their student support strategy for the Fall. Gonzales remarked, "we are relying on MC to play a big role," noting that mentors can "provide that additional insight into what the online learning at SOLES is actually going to be like." The fact that Mentor Collective is designed to facilitate virtual relationships is significant. As Dews puts it, "there is a lot of comfort in that as an administrator who is changing nearly everything else."
Mentors can also provide space and support for students to have critical conversations surrounding what Dews aptly described as "the social revolution" led by the Black Lives Matter movement following the killing of George Floyd. Like many institutions across the country, SOLES has been grappling with how to respond to the call for social justice and change meaningfully. Dews noted that the school's approach has created "a problem-solving structure focused on the professional role that each of our students holds." Dews called out the challenge faced by many institutions right now: "it is hard for students to trust through that planning phase and that discussion phase, it's really hard (to trust us), because we aren't better yet, it's not fixed yet, we have been talking about these things for years and years."
Looking Forward
Our partners at the University of Washington Madison, the University of Alaska Anchorage, and the University of San Diego SOLES, all raised their concerns about student, staff, and faculty wellbeing. Another central theme of our conversations was taking the learnings from the Spring and implementing them this Fall to ensure a smoother virtual experience for students. Higher Education Institutions across the US, and the world, will learn a lot this Fall as they tackle unprecedented challenges around what it means to be a university in 2020. A crucial question now emerges as Kasie Strahl, Student Engagement Manager at UW Madison, articulated: "How is this moment challenging us to be a little bit more adaptable? To critique and be conscious of how we have done things in the past. Hopefully, learning at this moment, allows us to think about how we do things into the future. To be accommodating in different ways, we haven't had to before. What of this moment sustains as we go back to some sense of 'normalcy'?"