For incoming students, the time between the May 1st deposit deadline and enrollment is rife with confusion and new information. Through various social initiatives and first-year seminars, administrators may reach more outgoing groups, but what about the rest of the student population? How is higher education meeting students where they're at emotionally as they make one of the first major transitions of their lives?
On November 9th, Mentor Collective convened leadership from Nazareth College to discuss how mentorship has complemented the variety of resources already on campus and contributed to a higher sense of belonging and lower melt propensity for its incoming cohort.
A More Enriching College Experience
Wellness is a focal point for Nazareth College and woven into the student success efforts headed by Kim A. Harvey, Ed.D., Associate VP for Student & Campus Life and Dean of Students. In spring 2020, Dr. Harvey had a vision of creating a student support network geared toward building connections between the incoming class and their upper division peers long before their first day on campus. The Nazareth team enlisted the large-scale capabilities and suite of support, design, and research services of Mentor Collective to bring the Big Flyer/Little Flyer mentorship program to life - named after the school's Golden Flyer mascot.

The program closed its pilot academic year with extremely high engagement and positive trends in Mentor Collective's post assessment surveys related to sense of belonging on campus. A further analysis of melt data also revealed mentored students melted at a rate nearly 10% lower than their non-mentored peers. Now into the second year of the program, Big and Little Flyers alike continue to engage at high rates (64% have reported 3+ conversations) - a statistic that research suggests contributes to higher retention and persistence in the long-term journey of each student.
The Value of a Peer Network
Senior Counselor and Outreach Coordinator at Nazareth College's Health & Wellness Center, John Rigney believes the peer-to-peer interaction was critical to the program's success, citing the more approachable nature of a peer versus a faculty or staff member.
"I think the peer support is one of the greatest benefits of the program. They can hear from staff or faculty, but it kind of comes off as an authority. I think hearing information from their own peers is very valuable; when they share the resources with them as opposed to always hearing it from us." - John Rigney, Senior Counselor and Outreach Coordinator at Nazareth College's Health & Wellness Center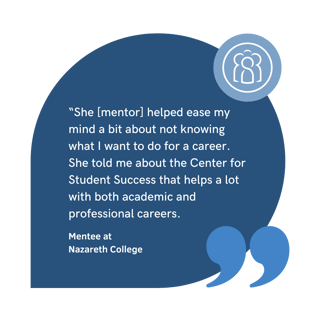 Other notable benefits of peer mentorship during the enrollment process and into the first-year experience were also highlighted within the presentation. Among them:
Information on obtaining financial aid
Social support that encourages college-going behaviors
Guidance to enroll in desired classes
Encouragement to attend morale-building social events that promote sense of belonging
Comfort of having a "first friend" on campus
Creating a Culture of Mentorship and Support
Many of the pilot program's Little Flyers (mentees) have since stepped into the role of Big Flyer (mentor) for the next incoming class. Dr. Harvey noted the importance of the program for the mentors as a chance to connect with other students and develop leadership skills.
"It's provided our students with another point of connection for their own leadership development. So when you think about what it takes to train student leaders or in mentorship, Mentor Collective has really been able to fill a gap that we've had in providing that professional development for our students who choose to be big flyers (mentors)." - Kim A. Harvey, Ed.D., Associate VP for Student & Campus Life and Dean of Students
Students are Feeling the Cultural Shift and Impact
When asked of mentees "How has your mentor helped you," students responded with: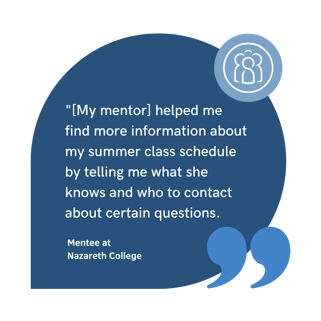 "She helped ease my mind a bit about not really knowing what I want to do for a career. She told me about the Center for Student Success that helps a lot with both academic and professional careers."
"[My mentor helped me find more information about my summer class schedule by telling me what she knows and who to contact about certain questions."
"[My mentor has helped me with] making new friends and easing nerves."
When asked of mentors "What has you experience been like as a mentor," students responded with: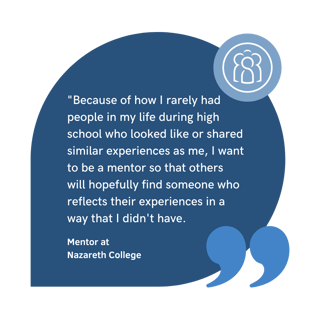 "I am volunteering as a mentor because as a transfer and a commuter, it was challenging to adjust to some aspects of a new school. I want to make others not only feel welcome, but feel that they have someone as a positive role model and a person who can be there when they feel lost."
"As a former mentee in the Mentor Collective, I want to do what my mentor did for me...Because of how I rarely had people in my life during high school who looked like or shared similar experiences as me, I want to be a mentor so that others will hopefully find someone who reflects their experiences in a way that I didn't have."
Campus Synergy Built Around Student Support
Dr. Harvey says the alignment with the school's mission of encouraging experience-based learning and civic engagement has offered other departments on campus new insights into the student experience; along with content to support recruiting efforts for the program and school at large.
"We get a digest [of the program performance] on a monthly basis that gives us an overview of the number of connections and pulls in a few student quotes. We've turned that information around and have shared it with our marketing and communications department...So when we think about how we're helping to tell the story of the Nazareth student experience to our alumni, as well as any prospective viewer on our platforms, it's really added some nice visuals and value there." - Kim A. Harvey, Ed.D., Associate VP for Student & Campus Life and Dean of Students
To hear more from the Nazareth College and Mentor Collective team about this case study, watch the full recording of the discussion. To start a conversation about how to utilize mentorship to engage and support your students, contact Mentor Collective.