Navigating the rigors of higher education is tough. What can make it easier is having a proper support system. Support systems can come in many forms, including a friend, parental figure, academic advisor or community leader.
Unfortunately, sometimes students have trouble finding a support system. Without it, students can often feel overwhelmed, which might lead to burnout, academic struggles and even force some to leave school. In the past year, those types of feelings evoked serious consequences for community colleges.
According to the National Student Clearinghouse, enrollment at community colleges dropped 10 percent from a year earlier. So, too, did enrollment at public and private nonprofit four-year institutions, albeit only at 1 percent. Minority students were hit the hardest, as the decline in enrollment for Black, Hispanic and Native American first-year students hit new lows, nearing the 30 percent mark.
The Equity Gap is Widening
Declining enrollment numbers for minority students is far from new. As outlined by The Center for American Progress, existing racial and socioeconomic gaps in higher education persist. The pandemic further widened those gaps, making it even more difficult to enroll and say on the path to a degree.
Elements like Zoom fatigue and lack of conventional face-to-face support are certainly factors. So, too, is the mental health toll many prospective students have likely been under for the last 12 months.
Current Forms of Support Need...Support
Studies show positive, interpersonal relationships lead to increased student engagement and autonomy (St-Amand, Girard & Smith, 2017). Relationships are important in any area of life. It's no different in higher education. A student's sense of belonging — meaning they feel accepted, supported, and included — is critical to higher education success.
Higher education support can come from different places. Student affairs staff can provide high-level, institution-based guidance. Instructors can provide support in class or major-specific areas. But unfortunately, those aforementioned support methods can lack the time and resources to help every student.
According to the National Academic Advising Association (NACADA), the academic advisor-student ratio is as high as 1:296. The median career advisor-student ratio is much higher at 1:1889. That means that even the best academic and career advisors likely don't have the time and resources to help every single student.
Fortunately, there are ways to combat the widening gaps and provide additional support to students.
Two-year institutions can combat those massive ratios by finding a platform that can bring the most effective mentoring models into a scalable, campus-wide system.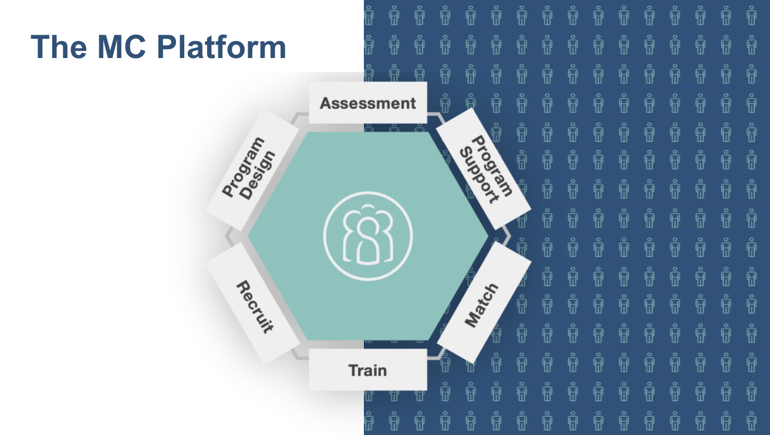 The Right People, Tools & Outcomes
Mentor Collective's platform offers higher education institutions three things they need for an effective mentoring program:
Dedicated mentorship experts to help you design and manage your program
Evidence-based technology to effectively drive connections among your students
Ongoing assessment and research to ensure you're always creating positive impact
Because of this comprehensive view of mentorship. you can feel confident that your institution can support your students regardless of what challenges arise.
"Douglas College takes a holistic view of student success," shared Brian Storey, Ph.D., Director of Global Engagement and International Student Service at Douglas College. "When the pandemic hit and we lost the opportunity to conduct in-person new-student programming, we immediately knew we needed new ways to connect international students to academic, career, mental health, and social opportunities through online channels."
Our platform connects students with mentors based on the outcomes they intend to achieve and enables institutions to tap into their most valuable resource: their own students.
"Choosing to partner with Mentor Collective was a direct result of their platform meeting the needs we had identified in our pilot program," said Storey. "The ability to quickly report on student engagement levels and for mentors to escalate concerns were factors in our choice."
The benefits of a peer mentorship program aren't just for the mentee. In fact, successful peer mentorship programs can create a cyclical culture of mentorship. That type of culture can even inspire former mentees to be mentors themselves.
"Being a mentor changes the way I acknowledge the people around me; it has transformed my life in that now, I recognize the limitless potential of all the people around me," said Nelida P., a mentor at Hartnell College. "Truly, it is shaping me into the kind of person that values all individuals on a deeper level. Being a mentor is a gift. I am so grateful for the kind of respect, acceptance and love that can build and be built by encouraging mentees to be fully engaged with their educational experiences."
Mentor Collective's proven method of large-scale, structured mentorship helps you foster life-changing relationships for all your students. These relationships provide support for the students who most need it, lead to higher student success rates and create a sustained culture of support and mentorship at your two-year institution.
To learn more about how you can build a culture of mentorship at your institution, contact Mentor Collective today.