We are happy to welcome guest writer, Polly Goss, Advisor at Mentor Collective.
Mentor Collective convened more than 600 higher education leaders this fall to facilitate a national conversation around higher education's role as a vehicle for social mobility.
To continue our series, "Fulfilling the Promise of Higher Education," Mentor Collective and Georgia Gwinnett College hosted a virtual roundtable on November 13th. More than 50 senior leaders joined us to discuss student success in 2020 and beyond. Here are three key takeaways from the event:
Student-to-student relationships are critical.
When forced to shift to an entirely virtual environment at the start of the semester, Georgia Gwinnett College had to rethink how to help students build relationships and develop their sense of belonging to the institution. Dr. Michelle Rosemond, Vice President for Student Engagement and Success at Georgia Gwinnett College, shared: "We had to pivot fully online in the first two weeks, which meant how students are onboarded to the beautiful campus had to be reimagined. We were able to nurture this very high-impact practice around peer mentoring for first-year students and transfer students who may not have been able to get on-campus right away."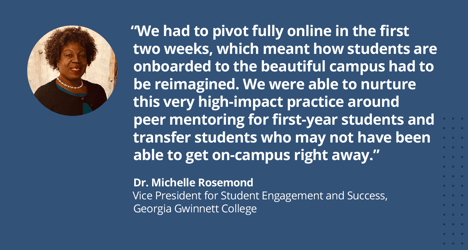 The Grizzly Mentor Collective has enabled more than 1,200 incoming students to be matched with a peer mentor to support their transition into Georgia Gwinnett College and deepen their connection to the campus community since the start of the fall semester.
Strategically engage your alumni and direct resources to fulfill students' needs.
Dr. Molly Goldwasser, Associate Vice Provost for Academic Affairs and Undergraduate Education at Duke University, led focus groups with first-generation and low-income students to outline the institution's "key pressing priorities." She then worked with her colleagues in the development office to engage alumni and direct fundraising efforts to support first-generation and low-income students' success. Dr. Goldwasser stressed the importance of this close collaboration between her office and the development team: "Thinking about us controlling the conversation so that we don't have misinformation, stigmatized information, classist information going out to donors and alumni. And we can direct the dollars and gifts-in-kind to places where we really need it."
Be flexible to meet students and faculty where they are at.
Dr. Joan Lorden, Provost and Vice Chancellor for Academic Affairs at the University of North Carolina at Charlotte, reflected on the challenges faculty faced this year. With many K-12 schools in their local area also operating remotely, Dr. Lorden noted that many faculty are juggling teaching their children at home and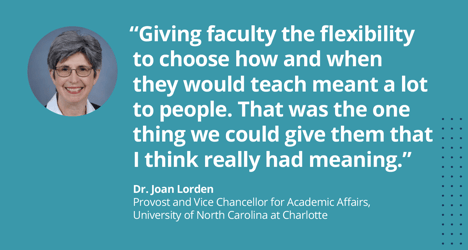 teaching students at the university. She remarked that "it is really hard to recognize people in the way we are accustomed in a remote environment." She advocated for administrators to provide faculty with as much flexibility as possible. "Giving faculty the flexibility to choose how and when they would teach meant a lot to people. That was the one thing we could give them that I think really had meaning," she said.
Dr. Rosemond noted how Georgia Gwinnett College had extracted data from their learning management system to discover that students were most active between 11.00 p.m. to 4:00 a.m. This insight has altered how they are thinking about student participation outside of the classroom. "One of the things we are thinking about is taking these great student success workshops, recording them, and making them available on the platform. Because student behavior is student behavior, and we need to meet them where they are at." She continued, "what would it take for us to reorganize the resources, so that they can chime into these 'virtual doorways,' like Mentor Collective, like these wonderful workshops, on their time and at their readiness."
The full recording of the roundtable discussion is available here. To start a conversation about how to utilize mentorship to engage and support your students, contact Mentor Collective today.