The headline says it all: According to a recent survey from Inside Higher Ed, College Pulse and Kaplan, "college mentor relationships reach savvy students the most."
The October 2021 Student Voice survey looked at the mentorship experience of 2,000 students from more than 100 institutions. More than half of the students surveyed have had one or more mentors—but those students don't represent a full picture of who needs mentorship.
Students who had significant social capital—students who already had a leg up in the world of higher education—were more likely to have a mentor than students who did not. These "savvy" students were benefiting from the kind of mentor relationship that every student can use.
Mentor Collective changes that. It democratizes mentorship, making it accessible to more students—especially those who are from historically-marginalized backgrounds. The Student Voice survey showed that many students and institutions know their mentor programs could be working better, but they don't always know how to fix the issue—or have the resources to implement a large-scale mentorship program on their own.
Through Mentor Collective's high-impact mentorship programs, where all student mentors receive ongoing high-quality training, that can change.
Clearing Up the Confusion
Students know that having a mentor is important—but the process of finding one and maximizing the relationship feels difficult and unclear.
Where should I look for a mentor?
How do I ask someone to mentor me?
What characteristics should a mentor have?
And then—once I get that mentor—how do we develop our relationship?
When students have a mentor through a formal mentoring program, they typically have a good experience: Almost 90% of the students who participated in the Student Voice survey and found their mentor through a program said they were at least somewhat satisfied with them. Those statistics get even stronger when the student works with Mentor Collective specifically.
Having a mentor helps students persist through their first year of college, a crucial time of change and upheaval in a student's life. According to Mentor Collective research, students with a mentor were about 30% more likely to persist through their first year of college compared to their peers who weren't mentored. And students with a mentor had a 14% increase in their sense of belonging on campus—often a difficult feeling to achieve when you don't look like the majority of people at your institution.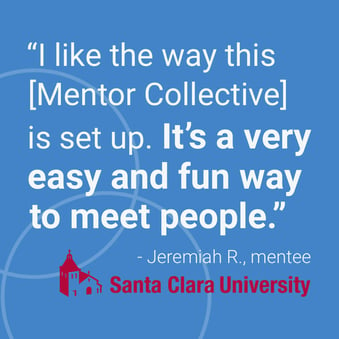 Mentor Collective goes beyond just connecting students with a mentor: we also help both parties learn how to develop an effective mentor-mentee relationship. Mentor Collective's engagement hub has many resources for both mentors and mentees, including Discussion Guides, that help guide the relationship. Participants in a Mentorship Collective mentorship also regularly receive automated "nudges" via text message and email reminding them to connect with their partner.
This is working for the student mentees, as Jeremiah R. from Santa Clara University noted: "I like the way this [Mentor Collective] is set up. It's a very easy and fun way to meet people."
And universities are seeing the benefits, too.
"The numbers are far exceeding what we thought we would get, and we are looking forward to what comes of this," said Dr. Jeanette Mendez, interim provost and senior vice president of academic affairs at Oklahoma State University. "I love seeing every week the number of students that are engaged at a time when engagement is very tough."
Eliminating Barriers to Entry
Students who are more likely to have a mentor aren't always the students who need mentorship the most. The Student Voice report showed that mentorship is more available to students who have some form of social capital. Maybe they went to a private high school or now attend a private college. Maybe they are a legacy student at their college. They're also highly confident in their goals for their lives after graduation and feel "somewhat or extremely prepared" to enter the workforce or move on to their next degree, according to the report. They're also more likely to have a trusted adult (or two, or four) in their personal lives who can offer advice on navigating higher education.
In other words, the Student Voice survey shows that students who are more likely to have a mentor are typically wealthy and white. Mentor Collective is designed to cater to students from both ends of the spectrum, providing support to both "savvy" students and students from historically-marginalized backgrounds.
It makes a significant difference for those students.
"I don't think things truly got under control until I found communities of people like me who were struggling through the same problems," said Amelia H., a Mentor Collective mentor at East Carolina University.
Finding Someone Like You: The Benefit of Peer Mentorship
The Student Voice report points out what anyone paying attention to higher education already knows: Faculty and staff are overworked and not properly acknowledged (or compensated) for the additional hours they put in to mentor students outside of their regular teaching, research and service duties. The natural solution for many universities, then, is to turn to peer mentoring. Often, this works well—but, as Theodorea Regina Berry, vice provost for student learning and academic success and the dean of the College of Undergraduate Studies at the University of Central Florida, points out in the Student Voice survey – "[students] can also be very misinformative with each other."
Mentor Collective's program works tirelessly to equip its peer mentors with the kind of training that ensures misinformation is kept to a minimum. Peer mentors receive ongoing live and on-demand training grounded in research-based best practices. Training is designed to make peer mentors better leaders and give them diversity, equity and inclusion skills.
And Mentor Collective's peer mentors are highly motivated – because they remember what it was like to be in their mentee's shoes. Danielle, a mentor from UC Riverside, said that's exactly why she signed up to mentor in the first place:
"I'm volunteering because I would have loved to have someone with more experience than me explaining to me common things that sometimes can be scary to ask. Basically, I would like to be who I needed when I was a freshman."
To start a conversation about how you can utilize mentorship to level the playing field for your students, contact Mentor Collective today.