The dedicated Career Services team at St. John's University in Queens, New York has never underestimated the power of mentorship and social capital. Finding the right vehicle to connect their junior class with the school's vast alumni network of more than 190,000, however, proved to be difficult.
On July 14th, Mentor Collective convened key players of St. John's leadership to dive deeper into this challenge and discuss how the private institution went from an impersonal alumni networking software to impactful relationships that prepare students for personal and professional success in today's global society.
Our esteemed panel included:
This virtual event pairs with a complete case study available for download.
Beginning With the End in Mind
St. John's location in the heart of metro NYC positions it to make a great impact on a very diverse student population. Many are first-generation students and/or are of low socioeconomic status, and the school actively works to bridge these equity gaps through student support. Dr. Kathryn Hutchinson, VP for the Division of Student Affairs says serving those that are historically underserved has been the school's North Star for much of its strategic planning. It currently ranks #39 on the country's Social Mobility Scale (#1 Catholic university) — a scale that measures how well institutions graduate students receiving PELL grants.
Building off a successful first-year experience mentorship program (E.P.I.C) that focuses on student retention, Dr. Hutchinson and her team turned their attention to a step further into the student journey - helping upper-division students gain career decision self-efficacy. The career readiness program, named Aspire, set a goal of leveraging the university's own social capital to broker opportunities between students and alumni.
"We had already had in place a very successful mentoring program (E.P.I.C) for students from underrepresented groups in terms of focusing on retention," said Dr. Hutchinson. "We also want them to have that next step in success. And so as we were looking at that complete lifecycle of the student, one of the concerns that we had was, how would we be able to connect our students to those opportunities and help them clarify their career readiness."
Scalable, But Personal. Meaningful, Not Transactional.
Despite purchasing an alumni networking platform and eventually dedicating a full-time
staff member to design and implement Aspire, Executive Director of University Relations Paulette Gonzalez-Sierchio saw only a fraction of the relationships she knew were possible: just 87 students engaged out of a junior class of 3,000 - less than 5% of the class.
In addition to low participation rates, Executive Director Gonzalez-Sierchio and her team encountered a range of challenges with their current approach of FTE staff + alumni networking software:
Manual and labor-intensive matching process
High degree of effort required to recruit mentors and mentees
Mentor training that was not sustainable or scalable
Little to no insight into engagement or communication between pairs

How many times did they meet or exchange texts?
What were they discussing?
What additional support might those students need?

Too many staff hours
In approaching Mentor Collective, Executive Director Gonzalez-Sierchio knew what needed to change with the Aspire program - the impersonal networking software and time required of the Career Services team.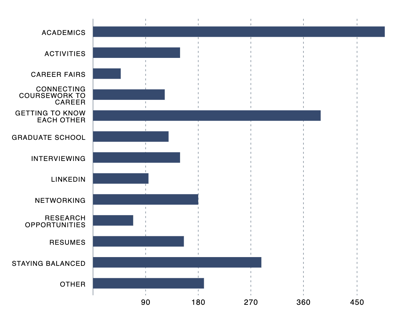 "Profiles do little. Matches are a good start. But engagement is what really matters. How many conversations have they had? How are they benefiting from the mentorship? Those are the real relationships and that's where there's impact."
Using the Partner Dashboard analytics, the St. John's team saw student engagement jump from 5% to 20% and that mentors and mentees were connecting on a meaningful level with their 2,000+ logged conversations. The dashboard also gave a window into the academic and non-academic challenges that influenced student persistence and achievement via the platform's Insight Flags. Less time required of the Career Services team and more insight meant the university could focus on supporting students when they needed it most.
Non-Monetary Alumni Giving
Director of Career Development Joni O'Hagan discussed the enthusiasm and pride within the school's vast alumni network, many of whom share similar backgrounds with the diverse student population. The Aspire Program through Mentor Collective provided them an opportunity to build upon the support they felt they received while studying at St. John's and to give back in a non-monetary way. Director O'Hagan noted the program is also user-friendly with resources to support organic conversations between mentor and mentee.
"We're not just asking them to put their name in a database. We're proactively matching them and sending them tips. We have a calendar of what their mentee should be doing at different points in time. Guiding them through in a way, but not telling them exactly what to do, because we want it to be an organic conversation as well."

Executive Director Gonzalez-Sierchio added "We are not transactional. This program is designed for alumni to grow a relationship throughout the course of the academic year and maintain contact and hopefully organically develop a relationship that will carry forward after that year."

Hear more from Dr. Hutchinson and the St. John's University Career Services team on getting decision-maker buy-in for scalable mentorship programs by watching the full webinar.
We'd love to see you at one of our events! Register to join future events with other senior leaders from around the country shaping today's educational landscape.