A Case Study with Prescott College and CU Denver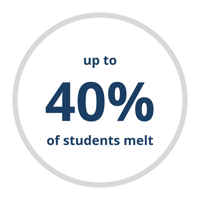 Every summer, high school graduates across the country who have said "yes" to a college are eagerly preparing to start a new chapter in their lives when the fall semester begins. However, surveys show that up to 40 percent of these students won't actually get there.
The circumstances of "summer melt"—the higher education term for the drop-off between the number of students who enrolled in the spring to the number who start classes when the academic year begins—can vary, with low-income students and first-generation students often being the largest populations.
Why Do Students Melt?
Melt affects schools of all shapes and sizes. The reasons why students don't make it to classes in the fall vary, from not filling out their financial aid paperwork properly to failing to register for courses on time. A common theme with why students melt, however, is a lack of support when it comes to the often-complex process of enrolling in college:
Students are out of contact with their high school guidance counselors by this time.
Their parents are sometimes navigating these confusing waters for the first time as well.
They have yet to connect with anyone at their college who they feel they can go to with questions.
"There's a wide range of complex tasks that students need to complete at a time when they often don't have access to support," says Ben Castleman, an education researcher at the University of Pittsburgh and co-author of Summer Melt: Supporting Low-Income Students Through the Transition to College.
What Can Colleges Do to Prevent Melt
Since a lack of support is often a key issue, colleges can help their enrolling class by offering them the chance to connect directly with someone at their school in a real way.
We will look at two of our partners, one, an innovative liberal arts school in the southwest, and the other, a research focused urban university in the Rocky Mountains and how both schools used mentorships to make those very real connections.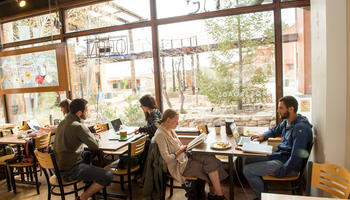 Take Prescott College, a small, private liberal arts school in Arizona: Through the implementation of a robust peer-to-peer mentorship program managed by higher education partner Mentor Collective. Starting Spring 2016, a pool of incoming Prescott undergraduates were given the opportunity to enroll in a pre-arrival, peer-to-peer mentorship program. The program had an immediate impact on melt, with a rate of 16 percent for participants in the program compared to 50 percent for non-participants.
| | | | |
| --- | --- | --- | --- |
| | 2016-2017 | 2017-2018 | 2018-2019 |
| Mentored Students Melt | 16% | 18% | 2.7% |
| Non-Mentored Melt | 51% | 25% | 29% |
By the 2018-2019 academic year, the impact of Prescott's mentorship program showed a significant impact on melt, with 94.4% of participants confirming enrollment, compared to just 62% of non-participants. An indicator of the program's success was the recorded engagement during the year - with 244 individual conversations taking place between pairs. Over time, the mentorship program has become stronger and students are utilizing the service even more.

Not only is melt at Prescott at an all-time low, but the program also has far-reaching impact beyond just better enrollment rates. When surveying participants, Prescott College found that they:
Were excited to attend Prescott and were more likely to enroll
Found social support and confidence from their peers and felt part of the Prescott community before arriving on campus
Were more prepared to start their academic careers and be successful at Prescott
Mentorship vs. Melt at CU Denver
In the 2018-2019 academic year, the College of Liberal Arts & Sciences (CLAS) at CU Denver sought to increase engagement with their student population—many of whom are commuters and nontraditional in both age and background—to support their connection to the CLAS community and campus. Their hope was to make sure that students have a more positive experience at CLAS, as well as decrease summer melt.

To achieve this goal, CLAS implemented a Mentor Collective program in which all incoming first-year students in General Chemistry and English Composition were invited to be partnered with a recent alumni mentor. More than 900 students were invited, and 400 alumni volunteered to participate.
CLAS set themselves a goal to create 200 mentee/mentor matches—they exceeded their goal by 266% with Mentor Collective's support with a total of 533 matches with extremely high engagement:
1,700+ conversations logged
4,400+ SMS relay texts sent

Because of this stronger connection (measured by the pairs' engagement) that incoming students were experiencing, the melt rate for students with a mentor was 77 percent lower than those without, at 3 percent for participants and 14 percent for non-participants.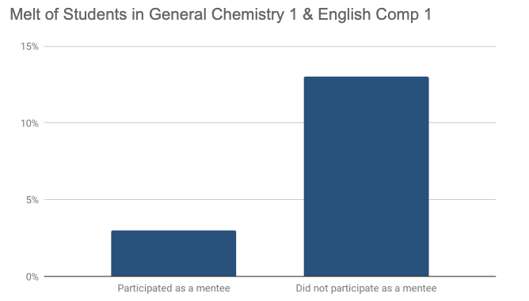 Beyond the improvement to melt, CLAS also saw multiple other benefits through the Mentor Collective program—all without needing to add a single additional staff member:
As a majority commuter campus, ensured incoming students felt at home and part of the CLAS community
Engaged alumni
Mentors provided insight that helped retain additional students
Freeze Your Melt With Mentorship
Prescott College and CU Denver are just two active examples of how a properly scaled and measured mentorship program can have a huge impact on summer melt at institutions of all shapes, sizes, and goals.
Hear from leaders at CU Denver to learn more about their program by downloading our webinar.

If you're ready to see how we can help you enroll—and retain—more students, then contact Mentor Collective today so we can discuss how to design a program that's exactly right for your institution.