Critical to the success of the Mentor Collective platform and programs is the team of professionals dedicated to dissecting, examining, and reconstructing the makings of quality mentorship. Our team of researchers, DE&I leaders, published academics, and in-house curriculum designers regularly meet to discuss the latest research on mentorship and higher education. Through this collaboration, this team is able to positively impact key indicators set by every institution, including increased access to social capital and a reinforced sense of belonging on campus regardless of race, gender, creed, or economic background.
With this in mind, we proudly announce our updated Mentor Training Curriculum. With foundations in Bloom's Taxonomy and best practices in pedagogy, this required training for all mentors reinforces skills proven to positively impact formal mentoring relationships.
Prior to being matched with a mentee, this training provides mentors the opportunity to cultivate integral mentoring skills. Learners are guided through a 60-minute session of interactive lessons on active listening, engagement strategies, and best practices for guiding mentees through challenging times. Through breakout sessions, hypothetical scenarios, and role-playing exercises that allow them to delineate where their role differs from other campus resources, future mentors are positioned to confidently support and connect with their mentees.
Following training, mentors are also given access to on-demand discussion guides that address various concerns and situations that may arise in a mentorship with that student's university experience - whether a First-Year, Transfer, or Graduate student.
We recently sat down with Mentor Collective's Head of Curriculum Development and Training, Jennifer Kious, Ed.M., to discuss her professional background, her approach to this curriculum, and why guided mentor training is critical to the efficacy of formal mentorship programs.
Some people naturally gravitate toward mentorship - whether they've previously mentored someone informally or simply want to take their knowledge and "pay it forward". Why is formal training needed if you feel you have the right instincts?
Jennifer Kious: Having an intrinsic motivation to guide others is the perfect foundation to be a successful mentor, but formal training is necessary to build on this foundation. Objective-based and data-driven training provides mentors with the skills necessary to tackle any challenge in their mentorship - whether that means problem-solving a hardship the mentee is going through or setting expectations for consistent engagement. Providing mentors with the tools to thrive in their mentorships has been proven to yield impactful results on student undergraduate and graduate program success. It also ensures mentors feel confident in their choices, are able to add their own voice to the process, and know they have a community of mentorship experts supporting them.
You have an extensive background in curriculum design, equity advocacy, and education. How is all of that incorporated in the 60-minute training session?
Jennifer Kious: The curriculum leans on long-trusted and established research that secondary and post-secondary educators have been using and improving for well over half a century to effectively and systematically build a mentor's comprehension of their role. In that sense, it's very informed by my time as an educator and instructional coach. Mentor Collective's mentor training curriculum is structured as a gradual release of responsibility. As mentors move through the session, a moderator encourages them to recall their own experiences with mentorship to solidify abstract concepts, such as the mentorship cycle. Mentors then have breakouts with their peers to practice discussions they might have with a mentee and apply techniques in active listening, goal-setting, and offering feedback. Finally, mentors independently hypothesize solutions to potential challenges that might arise in a mentorship.
From an equity perspective, mentors are given broad training in how to be responsive to the unique needs of their mentee. Mentors learn how empathy can be used as a tool to form bridges and build partnerships, as well as how to direct their mentees to the appropriate on-campus resources that further support diversity, equity, and inclusion.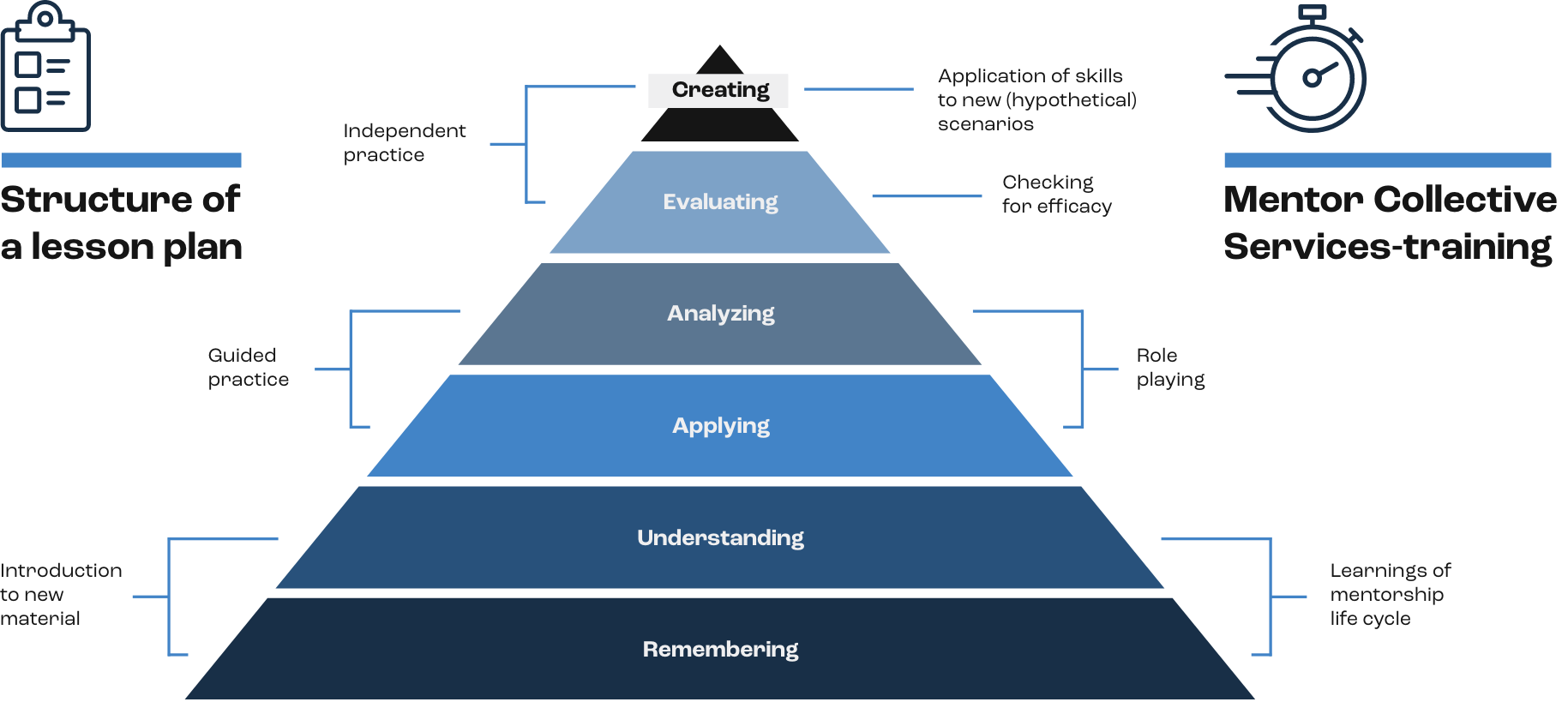 Mental resilience is so important for everyone, let alone college/graduate students working toward goals in such a complicated time in history. How does the MC curriculum address that aspect of student success?
Jennifer Kious: Part of the curriculum focuses on healthy boundary setting and how this skill contributes to both the efficacy of a mentorship and a successful undergraduate or graduate career. Mentors learn how to navigate where their scope of responsibility begins and ends, and when to reach out to their school for additional support. Additionally, after they complete training, discussion resources specific to each Mentor Collective program are provided to mentors that cover everything from how to have conversations about racial justice to navigating micro-aggressions in the workplace to resources specific to COVID-19.
Reach out to your Partner Service Manager or fill out this form to learn more about Mentor Collective's programs and services!